A Magical Theater Show!
STEP RIGHT UP & get ready to Laugh, Have Fun, & Celebrate a magical night out with Carnival of Illusion! This top-rated theater show is "Revitalizing Magic" by blending their international travel theme with all the charms of a Vaudeville-inspired roadshow. Carnival of Illusion is an evening of Old-World Magic! It is perfect for a date-night out with your honey, or celebrating a special occasion with the family. Journey with your hosts, Roland Sarlot & Susan Eyed, the national recipients for "Excellence in Magic", & catch a lively slice of magical theater! Experience the Magic, Mystery & Oooh La La!
Want to know more?

Carnival of Illusion has several locations in the Phoenix area, and with all those choices you will be sure to find a dining option nearby that suits your tastes. And with two shows on Saturday night, one at 4:30pm and one at 7:30pm, there's a choice for those who like early dining and one for those who like to eat late and close down the town. Seeing Carnival of Illusion at the Arizona Biltmore Resort? Then check out either of the two restaurants at this lavish historical resort; there is Frank and Albert's and Wright's at the Biltmore. If you are looking to just have cocktails, then the Wright Bar is the place to be. Reservations are recommended. Or maybe you have chosen to see our show at the Tempe Center for the Arts. Great, because Tempe is home to some wonderful restaurants close to the center. So for those that are looking for a Phoenix dinner show, there are oodles of options.

A Little History

Think back to those decadent Romans, reclining on couches and eating their sumptuous meals while being entertained. Dinner show you ask? In a way yes. But the heydey of the true dinner theater came in the 1970s, when dining and seeing a play was all the rage, even though the idea was around as early as the 1950s in the good old USA. Many shows featured old movie stars during the heydey in the 70s, when there were as many as 147 dinner theaters in operation. It wasn't long though before operation costs etc. prompted the decline of the once popular dinner theater. One specialty type of dinner show was called the Madrigal Dinner often occurs during the Christmas season. It includes several courses of food and Medieval music and a play. We at Carnival of Illusion think a Phoenix dinner show is a great idea because we all love to eat, laugh and have fun, all in one night! And with so many great restaurants just around the corner, dinner and a show is a click away.

What Other's Are Saying!

At the end of the show, you could still hear people oohing and ahhing about what they had just witnessed. Bravo to Susan and Roland for their stellar performance!
-Chad

Thank you so much for a wonderful evening. We especially enjoyed the intimacy of the event and your warmth and the way you allowed people to take small risks while also feeling safe, both the oooh la la and the chocolate.
-Judy

Ever since I was a kid, I always wanted to see a magic show live. I never thought it would be this good of an experience.
-Chris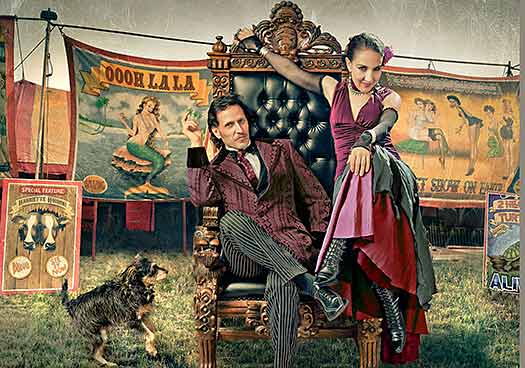 For more ideas in the Phoenix area, visit Phoenix dinners and theater shows.