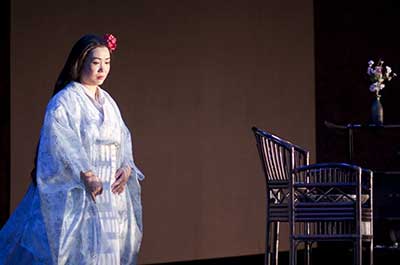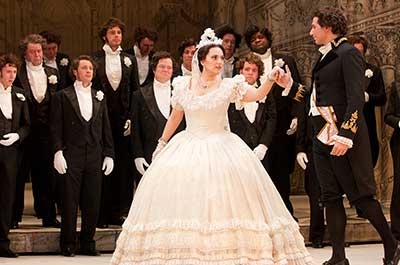 Arizona Opera is home to opera in both Tucson and Phoenix, bringing this powerful and moving art form to not one but two cities. If you have never seen a live opera performance, you cannot know the talent, depth, emotion, and passion that is an opera experience. Stories that move us and remind us of all the things that make us human, both the strengths and weaknesses. Larger than life characters and moments that make you weep as well as laugh. The operatic voice is a phenomenon to behold. Add great staging, elaborate costumes and make-up and a professional orchestra and you've got the power that is opera. Arizona opera produces several operas every season from classics like Madama Butterfly to new works. Arizona Opera has been going strong for over 40 years and continues to bring great opera to appreciative Arizona audiences.

UPCOMING PERFORMANCES THROUGH 2019-2020. ALL DATES ARE LISTED FOR PHOENIX PERFORMANCES ONLY.
SHINING BROW:
September 27 - September 29, 2019 - A wonderful new piece about the life and troubles of famed architect Frank Lloyd Wright. Affairs, fires and passion all figure in this compelling story.
FELLOW TRAVELERS:
November 8 - November 10, 2019 - Another modern tale of suppressed love and government control. Set during the McCarthy era, no one it seemed was safe... not communists and certainly not homosexuals.
LA BOHEME:
January 24 - January 26, 2020 - Puccini's 1830s love affair between Mimi and Rudolfo lives on. This tale of timeless love and tragedy still moves us today.
RIDERS OF THE PURPLE SAGE:
February 28 - March 1, 2020 - This adaptation of Zane Grey's classic novel was commissioned by Arizona Opera in 2017 and is returning to the Arizona Opera stage. The Southwest vistas are brought to life by Arizona artist Ed Mell.
ARIADNE AUF NAXOS:
April 3 - April 5, 2020 - A comic opera full of twists and comedy of errors. Two pieces are commissioned for a party, but both must play simultaneously. Humor and music combine for a delightful evening of opera.
All Phoenix Performances are at Symphony Hall, 75 N. 2nd St., Phoenix AZ unless otherwise noted.
All Tucson Performances are at Tucson Music Hall, 260 S. Church Ave. Tucson AZ unless otherwise noted.
Phoenix: (602) 266-7464 • Tucson: (520) 293-4336

HIGHLIGHTS AND OUTREACH AT ARIZONA OPERA INCLUDE:
PRE AND POST SHOW TALKS - Get into the story even more when you attend the free talks both before and after the show. Arrive an hour early for the pre-show talks.
OPERA-TUNITY SCHOOL TOURS - Contact Arizona Opera to find out how to bring opera to your classroom and expose children of all ages to this timeless and high artform. Other great programs through the schools are also available including Find Your Voice workshops and an opportunity for students to create their own opera.
ARIZONA OPERA BOOK CLUB - A book club that revolves around opera and great literature. The cost is free to join but you must sign up to learn about events. Some events may have a fee to participate.
PODCAST - Learn more about the productions through the official podcast "Overtures" which focuses on previews, the music, history, and characters along with other details that will serve to enrich your opera experience.

ARIZONA OPERA'S MISSION STATEMENT
"Arizona Opera elevates the transformative power of storytelling through music cultivating community and strengthening a state and people as adventurous and diverse as the place they call home."