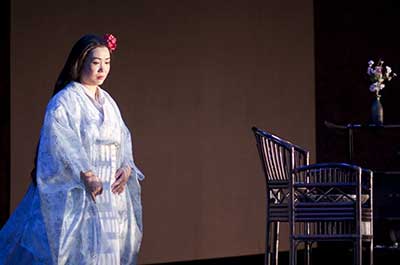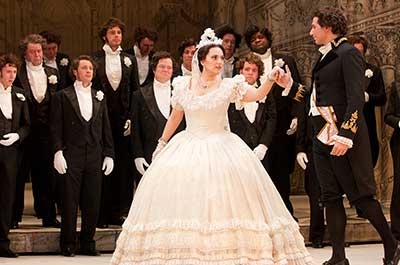 Arizona Opera is home to opera in both Tucson and Phoenix, bringing this powerful and moving art form to not one but two cities. If you have never seen a live opera performance, you cannot know the talent, depth, emotion and passion that is an opera experience. Stories that move us and remind us of all the things that make us human, both the strengths and weaknesses. Larger than life characters and moments that make you weep as well as laugh. The operatic voice is a phenomenon to behold. Add great staging, elaborate costumes and make-up and a professional orchestra and you've got the power that is opera. Arizona opera produces several operas every season from classics like Madama Butterfly to new works. Arizona Opera has been going strong for over 40 years and continues to bring great opera to appreciative Arizona audiences.

UPCOMING PERFORMANCES THROUGH 2018-2019
MARIA DE BUENOS AIRES:
September 28 - September 30, 2018 - Tango ryhthms combine with operatic intensity in this surreal new work. This is a dramatic and gritty work by Astor Piazzolla. In her quest for freedom Maria finds herself turning her back on innocence as her world devolves.
CHARLIE PARKER'S YARDBIRD:
November 9 - November 11, 2018 - After his death, the jazz saxaphonist examines his life and the demons that propelled him. This opera by Daniel Schnyder is infused with the spirit of jazz and the music of Charlie Parker.
LA TRAVIATA:
January 25 - January 27, 2019 - A classic opera by Guiseppe Verdi, the story follows the life of Violetta, a Parisian who throws the best parties in town. She soon follows her heart and finds herself faced with the realities of life.
SILENT NIGHT:
March 1 - March 3, 2019 - This is a modern masterwork that won a Pulitzer prize. In 1914 the soldiers on both sides of the trenches, stopped their fighting for one night... Christmas Eve. This is the story of what happened on that special night when peace was more important than war.
THE MARRIAGE OF FIGARO:
April 5 - April 7, 2019 - Mozart's timeless piece about the follies of love and marriage. Figaro is to be married but his master Count Almaviva is a little too interested in the bride. It is a witty and timeless tale.

WWW.AZOPERA.ORG All Phoenix Performances are at Symphony Hall, 75 N. 2nd St., Phoenix AZ unless otherwise noted.
All Tucson Performances are at Tucson Music Hall, 260 S. Church Ave. Tucson AZ unless otherwise noted.
Phoenix: (602) 266-7464 • Tucson: (520) 293-4336

HIGHLIGHTS AND OUTREACH AT ARIZONA OPERA INCLUDE:
PRE AND POST SHOW TALKS - Get into the story even more when you attend the free talks both before and after the show. Arrive an hour early for the pre-show talks.
OPERA-TUNITY SCHOOL TOURS - Contact Arizona Opera to find out how to bring opera to your classroom and expose children of all ages to this timeless and high artform. Other great programs through the schools are also available including Find Your Voice workshops and an opportunity for students to create their own opera.
ARIZONA OPERA BOOK CLUB - A book club that revolves around opera and great literature. The cost is free to join but you must sign up to learn about events. Some events may have a fee to participate.
PODCAST - Learn more about the productions through the official podcast "Overtures" which focuses on previews, the music, history and characters along with other details that will serve to enrich your opera experience.

ARIZONA OPERA'S MISSION STATEMENT
"Arizona Opera elevates the transformative power of storytelling through music—cultivating community and strengthening a state and people as adventurous and diverse as the place they call home."