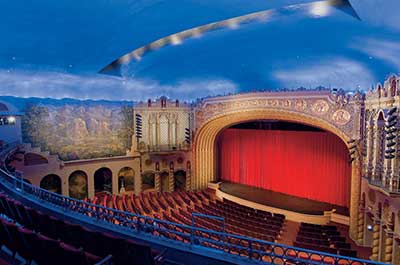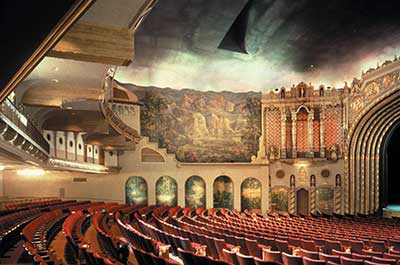 This is one venue that not only has great shows, but the venue itself is well worth the visit. Built in 1929, it has undergone extensive renovations and has been brought back to life as a jewel of the city. It's grand reopening took place in 1997 and it has since become a one of the City of Phoenix Convention Center venues. Once the home of plays, movies and vaudeville, this theatre has a more intimate feel with just over 1,300 seats. It has gone through several name changes, such as the Paramount and Palace West, but it was originally built as part of the Orpheum Theatre chain that spanned North America. Sitting in the theatre is an experience in itself and at first one doesn't know where to look... you seem to be sitting in a Spanish Villa complete with a changing sky and distant views of a pastoral landscape. See a great modern performance at the Orpheum and at the same time, step back in time to another great era of entertainment.

UPCOMING SHOWS
Not all shows at the Orpheum Theatre are listed. For a complete list of shows, click
HERE.
MARIACHI FESTIVAL 2018:
November 10, 2018 - An evening of Mexican delight with Mariachi Nuevo Tecalitlan, along with their international Ballet Folklorico. Hosted by Jose Armando Ronstadt, the evening will include other mariachi musicians and soloists.
AN IRISH CHRISTMAS:
December 5, 2018 - Take a journey to Ireland and celebrate this special time of year with traditional Irish music and dance. Featuring the dancers Caterina Coyne, Tyler Schwartz and Connor Reider, along with members of the Kerry Dance Troupe, The Kerry Voice Squad and the Kerry Traditional Orchestra.
LEGALLY BLONDE: THE MUSICAL:
January 25 - January 27, 2019 - An American Theatre Guild presentation. Calling all blondes, revel in this fun and upbeat musical about the challenges of law school and the absurdity of sterotypes. Blondie Elle and her chihuahua take on Harvard and win!
EVITA:
March 1 - March 3, 2019 - An American Theatre Guild presentation. Eva Peron is immortalized in this award winning musical about her rise to become the First Lady of Argentina. Mixing musical styles with latin, pop, jazz and musical theatre, the score has something for everyone.
DAVID SEDARIS:
May 4, 2019 - An evening of wit and humor with David Sedaris, an award winning author of books, plays and articles for magazines like The New Yorker. He is also a regular contributor to BBC Radio 4.

WWW.PHEONIXCONVENTIONCENTER.COM/ORPHEUM-THEATRE203 West Adams Street, Phoenix, AZ 85003
Phone: (602) 262-6225

HIGHLIGHTS AT THE ORPHEUM THEATRE INCLUDE:
GET A TOUR WITH A DOCENT - Tours take place on alternating Tuesdays at noon and 1pm and last 1 hour. These tours are free to the public and go on throughout the year. This beautiful building is well worth a look-see.
VOLUNTEER AT THE ORPHEUM - Become part of the ongoing history at the Orpheum and call about volunteer opportunities including ushering or becoming a docent.
AVENUE OF THE STARS - Help the friends of the Orpheum Theatre to keep this historic landmark alive. Become one of many ordinary and not so ordinary citizens who have purchased a brick for installation on the Avenue of the Stars.

ORPHEUM THEATRE MISSION STATEMENT
The Friends of the Orpheum Theatre
"Our mission: to support the art, culture, and history of the Orpheum Theatre through outreach, education, and volunteerism."