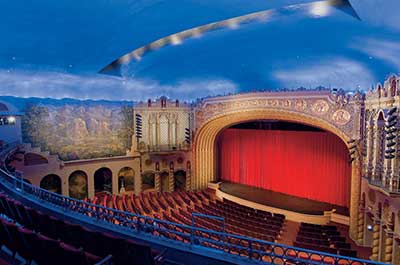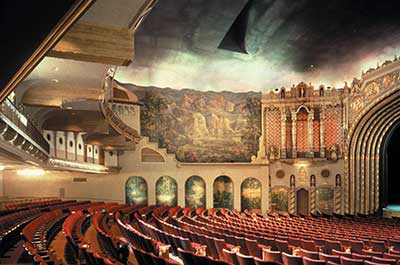 This is one venue that not only has great shows, but the venue itself is well worth the visit. Built in 1929, it has undergone extensive renovations and has been brought back to life as a jewel of the city. Its grand reopening took place in 1997 and it has since become a one of the City of Phoenix Convention Center venues. Once the home of plays, movies, and vaudeville, this theatre has a more intimate feel with just over 1,300 seats. It has gone through several name changes, such as the Paramount and Palace West, but it was originally built as part of the Orpheum Theatre chain that spanned North America. Sitting in the theatre is an experience in itself and at first one doesn't know where to look... you seem to be sitting in a Spanish Villa complete with a changing sky and distant views of a pastoral landscape. See a great modern performance at the Orpheum and at the same time, step back in time to another great era of entertainment.

UPCOMING SHOWS
Not all shows at the Orpheum Theatre are listed.
PINK MARTINI:
March 25, 2020 - This very large band (12 strong) brings all kinds of beats, songs and expressions to the stage. It's a world beat extravaganza. Fun, fun, fun!
THE ILLUSIONISTS:
March 27 - March 29, 2020 - A stage full of magic props, mind blowing acts and surreal illusions. Join the Illusionists for an evening of magic from some of the world's top magicians.
ADAM ANT:
April 25, 2020 - Friend or Foe tour. Adam Ant will perform the album Friend or Foe in its entirety. From his early punk rock roots to his pop icon status, Adam Ant has been rocking audiences for over 40 years.
RIVERDANCE:
May 29 - May 31, 2020 - Join this popular Irish dance troupe as it tours the world. Feet will be flying and stomping and kicking and you might find yourself with a lilt in your step on the way home!
203 West Adams Street, Phoenix, AZ 85003
Phone: (602) 262-6225

HIGHLIGHTS AT THE ORPHEUM THEATRE INCLUDE:
GET A TOUR WITH A DOCENT - Tours take place on alternating Tuesdays at noon and 1pm and last 1 hour. These tours are free to the public and go on throughout the year. This beautiful building is well worth a look-see.
VOLUNTEER AT THE ORPHEUM - Become part of the ongoing history at the Orpheum and call about volunteer opportunities including ushering or becoming a docent.
AVENUE OF THE STARS - Help the friends of the Orpheum Theatre to keep this historic landmark alive. Become one of many ordinary and not so ordinary citizens who have purchased a brick for installation on the Avenue of the Stars.

ORPHEUM THEATRE MISSION STATEMENT
The Friends of the Orpheum Theatre
"Our mission: to support the art, culture, and history of the Orpheum Theatre through outreach, education, and volunteerism."