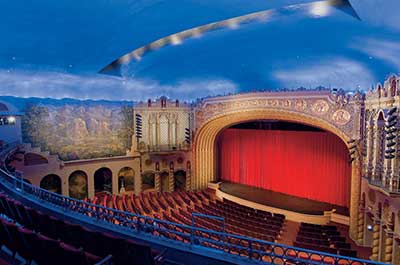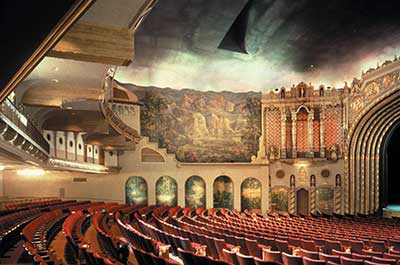 This is one venue that not only has great shows, but the venue itself is well worth the visit. Built in 1929, it has undergone extensive renovations and has been brought back to life as a jewel of the city. Its grand reopening took place in 1997 and it has since become a one of the City of Phoenix Convention Center venues. Once the home of plays, movies, and vaudeville, this theatre has a more intimate feel with just over 1,300 seats. It has gone through several name changes, such as the Paramount and Palace West, but it was originally built as part of the Orpheum Theatre chain that spanned North America. Sitting in the theatre is an experience in itself and at first one doesn't know where to look... you seem to be sitting in a Spanish Villa complete with a changing sky and distant views of a pastoral landscape. See a great modern performance at the Orpheum and at the same time, step back in time to another great era of entertainment.

UPCOMING SHOWS
Not all shows at the Orpheum Theatre are listed.
CALEXICO, AND IRON WINE:
August 16, 2019 - This iconic Southwest band is joined by friends and collaborators Iron and Wine for this concert of alternative music.
TEO GONZALEZ:
August 24, 2019 - The pony-tailed comedian from Mexico, Teo honed his craft while playing soccer and telling jokes to his teammates. This show is all in Spanish.
RUPAUL'S DRAG RACE:
September 16, 2019 - Get ready, get set, it's a drag queen competition like no other. Put on plenty of lipstick and head on down to the Orpheum for some campy fun.
JUSTIN WILLMAN:
October 13, 2019 - Justin is a very funny magician or is he a very magical comedian? It's hard to say, but one thing is for sure this show will have you both laughing and gasping out loud.
BIANCA DEL RIO:
November 13, 2019 - Roy Haylock otherwise known as Bianca Del Rio is a drag queen extraordinaire. Catch his (or her?) comedy tour.
CHAMPIONS OF MAGIC:
November 15 - November 16, 2019 - This large stage production includes a whole line-up of spectacular and mystifying magicians that bring magic to the stage in a big way.
FINDING NEVERLAND:
January 10 - January 12, 2020 - Presented by Broadway at the Orpheum Theater, this enchanting musical follows the story of the writer and creator of Peter Pan, J.M Barrie.
203 West Adams Street, Phoenix, AZ 85003
Phone: (602) 262-6225

HIGHLIGHTS AT THE ORPHEUM THEATRE INCLUDE:
GET A TOUR WITH A DOCENT - Tours take place on alternating Tuesdays at noon and 1pm and last 1 hour. These tours are free to the public and go on throughout the year. This beautiful building is well worth a look-see.
VOLUNTEER AT THE ORPHEUM - Become part of the ongoing history at the Orpheum and call about volunteer opportunities including ushering or becoming a docent.
AVENUE OF THE STARS - Help the friends of the Orpheum Theatre to keep this historic landmark alive. Become one of many ordinary and not so ordinary citizens who have purchased a brick for installation on the Avenue of the Stars.

ORPHEUM THEATRE MISSION STATEMENT
The Friends of the Orpheum Theatre
"Our mission: to support the art, culture, and history of the Orpheum Theatre through outreach, education, and volunteerism."