Valentine's "Dinner and Show" Gets a Facelift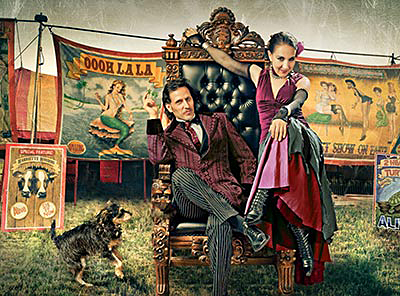 Valentine celebrations aren't what they used to be!
Local arts, culture fans, and sweethearts have been flocking to Carnival of Illusion, the weekly blockbuster vaudeville-inspired illusion show now in it's 6th season and 225+ sold out shows in a row. Carnival of Illusion rotates weekends between three 100 seat boutique theaters at the Arizona Biltmore Resort, the Mesa Arts Center, and the Doubletree Hotel in Tucson. Tickets are at
carnivalofillusion.com
.
For Valentine's weekend, the Tucson Doubletree is offering Carnival of Illusion guests a special "fixed price" upgraded three course dining experience for $39.50 per couple. Dinner includes two glasses of house wine (or non-alcoholic beverage), Market Stand appetizer bar, choice of special entrée, and a couple's dessert. Dining on property is optional and purchased at the hotel. Reservations are highly recommended.
Lendre Kearns, General Manager of Broadway in Tucson, says "I absolutely love Carnival of Illusion! I return to see the show often, especially with out-of-town guests, and am thoroughly entertained with each visit. Since the beginning I've called them Tucson's best kept secret, but no more, the secret is out. They sell out every show!"
Carnival of Illusion blends their "Around the World in 80 Minutes" international theme mixed with all the charms of a Vaudeville-inspired road show. Carnival of Illusion is an evening of Magic, Mystery and OOOH La La!
Sarlot and Eyed are the National Recipients for "Excellence in Magic" and have performed as house entertainers at the world's top resorts, Fortune 100 CEOs, to the 200 Most Powerful Women in America and are now one of the top attractions in Tucson and Phoenix.
Tickets and show times at
carnivalofillusion.com
(520) 615-5299.