Dear Carnival Friend,

We give you permission to procrastinate while we lure you away from your accounting to peruse the latest news at the Carnival of Illusion...
FINAL DATES FOR THE SEASON
All available show tickets are now online so hurry, scurry and grab your friends. Our parlour show is just like the carnival... catch it now before we pack it up for the summer. Pass it on, we'd love to meet your friends and family. We promise to take care of them and treat them right!
Carnival of Illusion tickets available HERE.
BAD DOG BREAKS THE LAW!
Ms Houdini refuses to fill out Department of Treasury IRS Special Form K-9 W-9. She has been employed with the Carnival of Illusion for one and a half seasons. She won't complete the legal document until she gets more star treatment including peanut butter infused snacks, more floppy squeaky toys, first edition of Albo's Classic of Magic Apparatus Vol 1, and backstage access for her kitty fans. Any suggestions?

WHAT FUN! The Phoenix audience was all abuzz after our first run of parlour shows at the Arizona Biltmore Resort. We decorated the room with our fancy new Viennese stage curtains from a recent trip to Hollywood, CA. Oooh la-laaaaa. Our guests returned their love with the wonderful word of mouth promotion as upcoming shows near capacity, PHENOMENAL!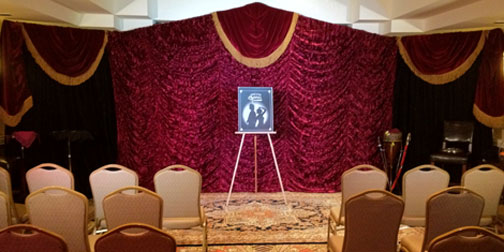 STOCK UP ON ANTIHISTAMINES The spring flowers in Arizona are in bloom. Get out and enjoy the weather...aaaah choo! On second thought, 86 the antihistamines and bring on the energy drinks! It's high octane season and we'll need all the vitamins we can get... Along with our 75 show parlour season, we double that with private events. You just might run into us as the entertainment at banquets, client appreciation dinners, fundraisers and for high profile VIP events. If you like to make your next event special, we'll make it happen, with an extra dose of Vitamin B, of course. Contact Alisha at (520) 490-7757 or alisha@carnivalofillusion.com.
No more procrastinating... now, back to taxes unless you're done, then congratulations and hope you have time time for the spring flowers. If you don't see them where you live, they're on their way!

Wishing you many happy springtime sunshine filled days and a hefty tax return,
-Susan, Roland, Alisha and Ms Harriette Houdini