What are the BEST Magic Shows (in London) for 2023?

Posted:
Whether in London as an eager-eyed tourist or a tube-saavy local, you can catch the magic by seeing one of many shows such as Derren Brown, Conjuring at the Court, The Magic Hour, and The Gentleman Cheater Magic Show to name a few.
As every grade-school child will tell you, Great Britain is the home of magic because of Harry Potter. Older, more seasoned magic buffs have known about Merlin's magical abilities for centuries. It is only natural then that London would be a city thriving with magical treats and illusionists par excellence. So whether you get there on an iconic double-decker bus, or know how to navigate London's underground tube, there are plenty of ways to find yourself at one of London's magical parlours, or a London magicians' well-crafted show. And if you really try, you might even find yourself magically transported to Hogwarts, unless of course you're a muggle.
ALL London Magic Shows TODAY
Radisson Blu Edwardian Mercer Street Hotel
20 Mercer St
London, WC2H 9HD

Once a month, you can find Christian Gambin in London doing... you guessed it... magic! Christian is The Gentleman Cheater, and his specialty is close-up magic, which he performs mostly with a deck of cards. You will be mesmerized by this award winning international magician and his card tricks. In an intimate setting, you will find yourself face-to-face with Christian, his charming French accent, his humor, and his mastery.

This interactive show is a must for magic lovers. The closer you get, the less you see! Be sure to check out The Gentleman Cheater!

Show Duration: Approximately 1 hour


Palace Theatre
Shaftesbury Avenue
London, W1D 5AY

This is the 8th book in the beloved Harry Potter series by J.K. Rowling and the first of the stories to be made into a live stage performance. Witness the magic and mystery that is Harry Potter and enter the wizarding world. Harry is now much older and married with three children. His troubles are far from over as his son Albus struggles with his families past. Adapted for stage by John Thorne and Jack Tiffany, Harry Potter and the Cursed Child is pure enchantment and wildly theatrical. The secret to this magical theatrical experience is that it is in two parts. So if you want to get the full story, you have to see two plays.

Criterion Theatre
218-223 Piccadilly, St. James's
London, W1J 9HR

A cast of seven talented performers bring the theatrical vision of Derren Brown to life. Derren has co-created and reimagined magic with his long-time collaborators Andy Nyman and Andrew O'Connor. They have fused theatre and art of magical illusionism to create something spectacular. The cast includes actors, dancers and musicians, along with the audience who will be an essential element of the show. Derren promises an experience like no other and an evening of bewildering trickery. Note: Derren Brown will not be performing in this production.
The Last Talisman
171-173 Bermondsey Street
London, SE1 3UW

It's a magical bottomless brunch at The Last Talisman. Not only do you get 90-minutes of your choice of 4 bottomless cocktails, but the event includes entertainment of the mysterious, magical kind. Your host for this afternoon-affair will stun you with mind-reading, magic and hypnosis. Didn't you just say to your friends you were looking for something different to do on a Saturday afternoon? And yes, for the price of your ticket you do get brunch, which is a dish selected from their Asian inspired brunch menu. It's new, it's exciting and it's fun!

Show Duration: The event duration is 90 minutes
Food and Drink: Included in ticket price along with show


The Centre for the Magic Arts
12 Stephenson Way, Kings Cross
London, NW1 2HD

This members club for magicians began in 1905 with 23 professional and amateur magicians and now has over 1500 members worldwide. Even if you are not a member, they host several regular events that are open to the public. You will be able to learn a little about the history of magic, view magic memorabilia and of course see a magic show, where many of the world's best magicians today are showcased. Make sure you buy tickets for these events in advance. The Magic Circle also has its own line-up of awards given out to magicians in special categories. Some awards include the close-up magician of the year and the young magician of the year awards.

Food and Drink: There is a bar offering beverages on premises.
Age Restriction: Check individual shows for age restrictions as they vary by show.
Parking: Accessible by tube, bus or taxi.


Sheraton Park Lane Hotel
Piccadilly, Mayfair
London, W1J 7BX

Travel back in time to the early days of parlour magic with Tony Middleton 'Sonic'. His show, "The Magic Hour" is filled with stories of Victorian magicians and their secrets, while he amazes you with his up-close talents. The evening takes place in a plush room with seats for only 68 people. Children above the age of 10 are welcome. Tony is a very personable and engaging entertainer who like to get to know his audience before and after the show.

Show Duration: The show is 1 hour and 45 minutes with an intermission.
Food and Drink: There is both a restaurant and lounge onsite at the Sheraton Park Lane Hotel.
Age Restriction: Ages 10 and up.

Leicester Square Theatre
6 Leicester Pl, West End
London, WC2H 7BX

Come and see various magicians showcase their talents. Award-winning magician Oliver Tabor is joined by magicians and variety acts from all over Great Britain. The show is suitable for ages 5 and up. You can also sign up your young budding Houdini for magic classes, where they can learn some basics of magic, and go home and impress their friends and family. Props and materials are provided.

Show Duration: The show is 2 hours with an intermission.
Age Restriction: Suitable for the whole family ages 5+.
Parking: Accessible by tube, bus or taxi. The closest parking garage is in China Town.


Secret Central London Location
London,

Simon's house is like no other. This 4,000 sq. ft. mansion is all decked out for an evening of magic and mayhem. Walk through the spooky enchanted garden, explore the haunted cellar, enjoy dinner and a show and then top it all off with dancing, because who wants to go home after having all that fun? Simon Drake has worked extensively in theatre, stage, and film as well as being a premiere magician. His home has been turned into a unique entertainment experience, and you get to explore each sumptuous room, filled with curiosities and unique magic treasures. Although the House of Magic is often booked for private parties, there are several public events throughout the year, so plan your trip, get your tickets and enjoy a unique evening out at a fascination London magic show.

Show Duration: Public events: Doors open at 7pm and the venue closes at 12:15am
Food and Drink: Public event tickets include a 2 course buffet dinner, drinks are available for purchase.
Age Restriction: Ages 18+.
Parking: Accessible by tube.


Belair House
5 Gallery Rd, Dulwich
London, SE21 7AB

This magical performance company specializes in. . . you guessed it. . . illusions! They have many public performances throughout the year, often featuring special guest performers. They are based out of Belair House in Dulwich, a gorgeous 18th century mansion. Owner and performer Barry Westwell is joined by a host of performers in the magic arts, all of whom bring something special and unique to the team. Relax at the bar, tour the mansion and be prepared to be amazed.

Be sure to purchase tickets early as they WILL sell out.

Show Duration: 2 Hours and 30 minutes with an intermission. The venue will be open from 6pm to midnight.
Food and Drink: Cocktails and bowl food available from the bar.
Parking: Accessible by train or bus. Car parking available.

Drayton Court Hotel
2 The Avenue
London, W13 8PH

Every month, Conjuring at the Court brings to the stage four different performers, including mentalists, illusionists, jugglers and more. Each show is different and is jam-packed full of entertainment. You get a full 2 hours of unbelievable magic. Tickets are very reasonably priced and the food in the hotel is decent, so you can grab a bite to eat before the show. Seating is limited, so be sure to purchase in advance or arrive early. It is common to see Magic Circle members here enjoying a show.

Show Duration: This is a 2 hour show with an intermission.
Food and Drink: Food and drink available for purchase in the hotel.
Parking: Accessible by tube, train, and taxi. Also there is a small carpark onsite (Gordon Road) and a few free spaces at the front of the Drayton Court.


Barons Court Theatre
London,

Richard has been producing, designing and performing magic shows in London since 2002. He has a list of shows including two afternoon shows that are fun for the whole family. His first show is The Magic Cavern, which takes place in the small and intimate space known as Barons Court Theatre. It is a mysterious and dark space where the seemingly impossible happens before your eyes. His second show, The Fun Fair at the Magic Cavern involves several fair games and contraptions, where magic is woven into an immersive theatre show. The show is 1 hour and 15 minutes of fun and fairground surprises. Some of his other shows include The Magic Symphony and Cave 13. You will delight at Richards creative and artistic scenery that he makes himself, and will find his shows to be a wonderful way to spend an afternoon.

Show Duration: The shows typically run about 75 minutes.
Food and Drink: Drinks are available for purchase at the bar upstairs.
Age Restriction: Most shows are family friendly with age recommendations ranging from 6 to 8 years of age for the different shows.
Parking: Accessible by tube, train or bus.


The Ivy House
40 Stuart Rd
London, SE15 3BE

Two magicians from the Magic Circle, Roberto Forzoni and Simon Rosselli got together to create this magical holiday show for families, that happens twice a year around Christmas and again at Easter. This show is great for the kids, and lots of fun for adults too. You get a lot of magic for your money. You get two very different acts along with the added bonus of other playful performances such as juggling or ventriloquism. Every show is different, and so you can make it a holiday tradition for your whole family. Children get to leave with an extra treat such a million dollar pound note or bunny copters. You may want to go to the show just to find out what a bunny copter is!

Show Duration: This show is 1 hour long.
Age Restriction: Family friendly.

Smoke and Mirrors, Bristol
8 Denmark Street
Bristol, BS1 5DQ

The theatre is home to Bristol's #1 event, The House Magicians Comedy & Magic Show. Some of the legendary names from the world of magic include AGT 'The Real Sherlock Holmes' Colin Cloud, 4 times FISM winner Matthew Wright, Las Vegas headliner Jeff McBride, BGT's Jamie Raven, Matt Edwards and John Archer. Located on Bristol's historic Denmark Street, Smoke and Mirrors serves a selection of the best beers, ales and ciders and delicious stone-baked pizzas.

Show Duration: 60 minutes
Food and Drink: Pub food and drink available.


The Cauldron
5d Stoke Newington Road
London, N16 8BH

Not a show, but an experiential magical bar! We've included it since it has a wickedly fun magical theme. Upon entering you will receive a magic wand with which you will make your very own magical potion. This interactive experience includes spell-casting 101 and potion making tutorials, where you will be brewing your very own concoction, as well as other wild and crazy experiences that your wand and your magic skill will help to unfold around you. Your potions can be alcohol infused or non-alcoholic... your choice. The resident potion master will be on hand to help guide you in this wonderful new world of magical fun.

Show Duration: 1 Hour and 45 Minutes
Food and Drink: Yes!


Touring Throughout Great Britain
London,

These two chaps met at Oxford and decided that spending a lifetime performing "miracles" and yucking it up on stage would be much more fun than becoming scientists. The "time-traveling" duo look as if they've stepped off a train in the latter half of the 19th century, swirly mustaches and all. They have several shows to choose from, ones for all ages, and the others that are geared specifically towards children. You will find them performing in many different communities and theatres as well as having occasional London dates. There is plenty of wit, whimsy, and magic to be had at a Morgan and West show.
London, home of wizards, pixies, fairies, and magic!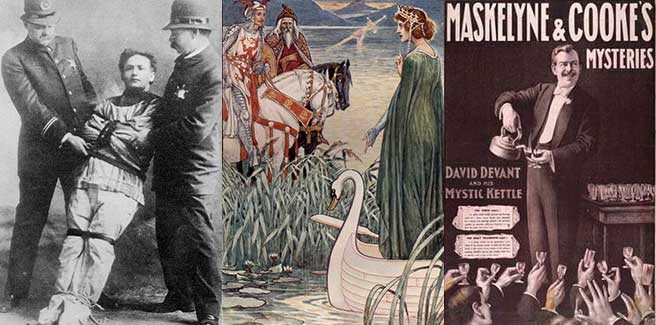 Of all the cities of western Europe, none have had a front seat to shaping the face of the globe quite like London. From nation building to conquering new lands to influencing modern society, London has been a key player in the history of the world. But if you look deeper, that history has quite a bit of magic to it.
Before there were bangers and mash, strange names for everyday objects (it's a cookie, not a biscuit) or strict adherence to the metric system, London was a lush, green piece of land with access to the ocean via the river Thames. The earliest settlers of London were Iron Age people known as the Trinovantes. This early, Pagan-Celtic people practiced their own religion that bordered on mysticism along with nature worship. Later, leaders of this culture and religion were referred to as Druids. The Druids took pagan worship up a few notches when they erected a bunch of huge rocks fondly called Stonehenge. Still a mystery as to why the very formation elicits feelings of the mystical.
Passing from one conqueror to the next, London (and the rest of England) changed hands multiple times before the modern era. And with each conquest came the unpleasant task of learning a new language coupled with the magic of new mystical beliefs or the having preexisting beliefs suppressed.
By the eleventh century, London was shaping up to become the thriving commercial and political center it is today. At that time, travel shared ideas and the idea of buskers, or street performers, became a popular profession in London. The first performers started out with song and dance then quickly moved on to feats of magic, sleight of hand, illusion, and even simple alchemy. Buskers were good for attracting business to shops, but some were also good at picking pockets as well. Around this time, the now well-known wizard Merlin started to appear in various literary works, the character being pulled from Welsh poetry and myths. His supernatural powers are told, in one version, to come from the fact that he is born of a mortal woman and an incubus. Certainly the idea of otherworldly powers was starting to have a popular hold on the general public.

By the time the Renaissance rolled around, back in London, well-established street magic was a part of London life permeating other mediums as well. Some of Shakespeare's plays—the bane of many a high school student—used magic as a major plot device (Macbeth and the witches anyone?). The Bard used the power and fear of the mystical to drive his plays and keep people interested and coming back for more.
As London became the hub of a powerful country, its influence spread and attracted numerous performers. The great Harry Houdini even used London as his home base as he toured Europe and performed some of his most daring escapes. Also in the early 20th century, the British magician David Devant was the talk of the town, and was sought after for Royal Command Performances. He was the first president of London's famed Magic Circle and his easy banter and suave, witty style won him many fans, some calling him England's greatest magician.
Modern day London still embraces magic and honors its long history in illusions. Davenports' Magic Shop is the oldest magic shop and school in London. Established in the late 1800s, Davenports is still offering classes and fun tricks to try out. London is also home to world-class magicians who perform for celebrities and royalty alike. Performers such as Etienne Pradier, Tariq Knight, and Drummond Money-Coutts, have made a name for themselves with their mastery of sleight of hand and illusion for the rich and famous. And then there is Derren Brown! A master mentalist with truly mind-bending capabilities in hypnotism and the power of suggestion, Brown will make you question many things. Watch an episode of Mind Control and you'll be a believer as well.
London has always been a place of rich culture, heritage, and magic. This is true both in London and Great Britain in general and has led to the birth of the hugely popular magical phenomenon—the Harry Potter series. The power, imagination, and joy of magic has obviously not been lost on the English.

PAST Magic Shows London
David Blaine

Eventim Apollo
45 Queen Caroline St, Hammersmith
London, W6 9QH

David Blaine is very well known for his TV special "Street Magic" wherein audiences were treated to new era of magic. He was fresh, different and street smart. Since that time, David has gone on to do some pretty crazy stuff. From being buried alive for seven days to tricks named "Frozen in Time" and "Vertigo", he has endured things that astound and amaze. In David's touring show you will witness amazing and daring escapes and magic that continues to blow audiences away. Be sure not to miss this master artist at work.

Mandy Muden: Cunning Stunts

Simon Drake's House of Magic
London,

Mandy Muden is taking her talents and her show Cunning Stunts on a tour of Great Britain with fourteen dates. Her comic genius and magical skills are a wonderful blend, creating for a super entertaining evening. Mandy was seen (and loved) on Britain's Got Talent, and has traveled the world, being one of only a handful of great female comic magicians. Her show includes audience participation, and a charming wit that just doesn't quit. The show is suitable for ages 14 and up.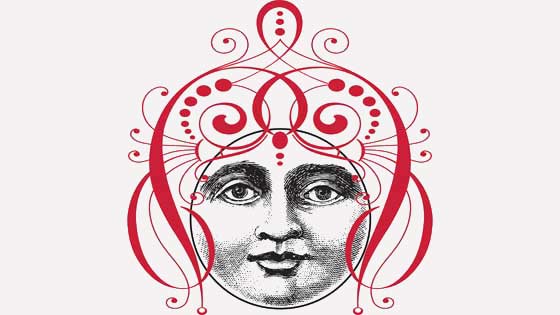 The Magic Oracle is a FREE site but I still must pay dastardly server fees! Please, donate ANY amount... $1, $5, $10, why not $1 million?
THANK YOU for keeping magic alive... and me, a Jolly Genie!