BEST Magic Shows Chicago Illinois 2019
Chicago may be known as the windy city (for its air-driven politicians) but it also has a long history as a Magic City. You've come to the right place for the list to find the Best Magic Show Chicago has to offer: from the up-close, intimate parlour shows to the large scale touring theatre productions from Broadway and beyond. Forget the Blues and catch some fun, windy-city Chicago Magic.
CURRENT Chicago Magic Shows
Genesee Theatre
203 N Genesee St
Waukegan, IL 60085

The "bad boys of magic" have been wowing audiences in Las Vegas for over 20 years. Why bad boys you say? Well, they have the bad habit of revealing how it's done! But it never seems to take away from the amazing wow factor of what they do! Their act is surprising, clownish, and well... unconventional. They have been making headlines for years with their many TV shows, Broadway performances, Las Vegas magic show, and sold out runs. The chemistry between this duo is magical. They love to meet their fans, so don't miss the "meet and greet" after the show.

Spiegeltent ZaZou - Cambria Hotel
32 W Randolph St
Chicago, IL 60601

Opening July 18, 2019

This wonderful show is called Love, Chaos and Dinner. You will find all those things and more with Teatro Zinzanni. Join this modern day circus in their spiegeltent, and enjoy a multi-course dinner as you are thrilled by acrobats, musicians, divas, illusionists, madmen, and aerialists, (not necessarily in that order). There is a little bit of everything in this show: comedy, cabaret, live music and of course magic! It is an exciting ride. Something new and special in the Chicago area so if you're asking yourself what's the best magic show Chicago has to offer, you're going to want to visit here.

5050 N. Clark Street
5050 N Clark St
Chicago, IL 60640

Shows Every Night

Behind an unassuming entrance that leads into a laundromat, is the secret door to the 7,200 square-foot Deco-styled Chicago Magic Lounge. Once you've solved the mystery of how to get in, you hope ordering yourself a cocktail at one of two bars won't be anywhere nearly as difficult. Then enjoy the Chicago magic in the bar with no ticket required. Or come to see the show which begins with an hour of up-close magic followed by a cabaret show. There are both in-house magicians and special guests, so there is always someone new to see at the Chicago Magic Lounge. You can also order fun "small plates" from their full kitchen for a snack during the show.
Kimpton Hotel Palomar
505 N State St
Chicago, IL 60654

One Evening a Month

This is not your typical sit-down magic show. The idea is to experience a full evening of entertainment: food, cocktails, music, mingling, and of course... magic. Each event will feature four top Chicago magicians doing up-close magic right in front of you. There's also live music, appetizers and an open bar. Open bar means guests must be 21 and over, and elegant cocktail attire is required. This special evening will be one you won't soon forget.

Palmer House Hotel
17 E Monroe St
Chicago, IL 60603

Fridays and Saturdays

Enjoy an elegant and classic evening of magic and mind-reading with magician Dennis Watkins at the historic Palmer House Hotel. The Magic Parlour is for small intimate audiences of under 50 guests, cocktail attire suggested. The price of your ticket includes a selection of wine, beer, and soft drinks. Dennis is a 3rd generation magician who learned many of his classic tricks from his grandfather. He is also known for originating the role of Houdini in the production of Death and Harry Houdini, where he played for seven sold-out runs of pure Chicago Magic.

3453 N Halsted Street
3453 N Halsted St
Chicago, IL 606570

Thursday through Sunday

This show is an affordable treat, and a quick something to do after dinner. The show itself is a short one-hour long, but tickets prices won't break the bank. The venue is intimate at just 30 seats and everything happens just a few feet away. The decor is sumptuous and old-world. The age limit recommended is 12 and this is a BYOB venue, so if you are over 21, you can bring in your own beer, wine or liquor. But what about the magician you ask? Aaron and his trusty side-kick, Hoppy the amazing psychic wonder bunny, put on a very entertaining show, and it is obvious that Aaron loves what he does.
The Chicago Illinois Magic History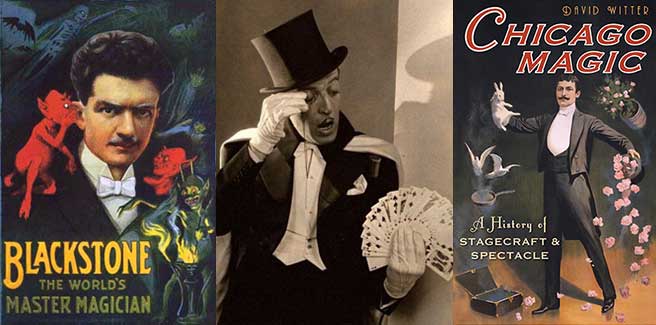 Even from the earliest days of Chicago, magic was present in a different form. Now one of the largest metropolitan cities in the Midwest, Chicago started out as little more than extensive Native American settlements of the Algonquin and Miami Confederacy of tribes. Before the first Western settlers came in to settle the area, Native American tribes practiced their own rituals and religious experimentation that looked akin to a type of mysticism to early settlers.
Early settlers gave way to bigger and more organized parties of Western inhabitants. Chicago grew, thrusting out the native population in favor of ever-expanding newcomers and their technology. Soon, Chicago became a major transportation hub for the great lakes along with the local rivers. With the rise of industry and commerce, Chicago became a thriving metropolis. As the city grew, so did the number of visitors making Chicago the perfect location for notable people to meet.
While Harry Houdini was a resident of New York, his magic show took him all over the United States and even the world. However, his early days, when he was a struggling magician, found him at the 1893 Chicago World's Fair Tunisian Village exhibit. Performing tricks for small change among wandering patrons, Houdini met Howard Thurston, also a struggling performer at the time. The two fledgling magicians would later become fabulously famous, known for their flair for the dramatic. And it all started in Chicago.
Fellow illusionist and Chicago native, Harry Blackstone Sr. became the king of the Vaudeville magic show. He introduced illusions like levitation, perceived impalement and sawing a woman in half . Paired with a lovely female assistant with a hardy scream, Harry amazed people, making them believe that he could magically re-attach what he seemingly cut in half.
While the golden age of magic seemed to make Chicago come alive with tricks and illusions, the Great Depression quickly dried up the gold. It wasn't until post World War II when the economy was booming that disposable income left many in Chicago seeking entertainment. The second wave of magic shows was born.
This newer form of magic did away with large props that sought the wow factor and focused on close-up magic, pioneered in the Chicago magic clubs. This style of illusions was less about over the top performances and more about skill. Smaller, more impressive tricks were shown closer to the audience, drawing them in and leaving them wondering how it was all done. The greats of this new intimate style were Bert Allerton who performed at the famous Ambassador East Hotel Pump Room , and Matt Schulien who owned his own family restaurant and bar. Then the 1970s brought a counterculture backlash against the magic shows of Chicago, causing the acts to change to suit audience demands.
Today, Chicago still boasts a robust magic scene with magicians and acts to amaze even the biggest fan and cynic alike. You'll find here our list of favorite things to do in when wanting Chicago magic in your evening.
PAST Chicago Magic Shows
Justin Willman

Thalia Hall
1807 S Allport St
Chicago, IL 60608

Justin Willman is on the road with his Magic in Real Life tour, a show with oodles of incredible magic, illusion, and laughs. What is special about Justin? Well, for one thing, his quirky sense of humor. You might have seen him on his latest Netflix specials, Magic for Humans where he levitates while doing goat yoga, (yes I said goat), and does some very funny stuff with kids and marshmallows. Beloved by TV hosts such as Ellen and presidents such as Barack Obama, Justin has made a mark with his sometimes silly, but always fabulous illusions. His touring show is for all ages.

Michael Carbonaro

The Chicago Theatre
175 N State St
Chicago, IL 60601

Michael is probably best known for his television show The Carbonaro Effect. He is a prankster at heart, and on his show he would pose as a regular joe who then pulls magic tricks out of his hat (so to speak) to freak out the unsuspecting public. His sometimes ridiculous explanations for what was going on, (never letting on that it was magic), made the situation even funnier. In his live show Michael brings all his wit and quirky humor to the stage, with sleight of hand, performance art and bizarre antics that will surely make for an evening of upbeat fun.

David Parr

Chicago Magic Lounge
5050 N Clark St
Chicago, IL 60640

David has been an avid magic fan since he received his first magic kit as a child. He loves magic, its history, and teaching and writing about magic. He has created several magic shows and is also known for having fooled Penn and Teller on their show, Penn and Teller: Fool Us, where magicians try to stump the famous duo. David's current show, Cabinet of Curiosities, is an hour-long show, containing, of course, a cabinet full of odd magical artifacts with outrageous stories. Each item chosen for that night's show becomes magically alive in David's able hands.
Tape Face

Park West
322 W Armitage Ave
Chicago, IL 60614

How can a guy that doesn't talk and has tape covering his mouth even entertain? The answer is... very well! Tape Face has taken Vegas a bit by storm with his impish sense of humor and Herculean abilities to engage audiences of all ages. Although not a magician in the traditional sense, Tape Face has a magical show that you'll find charming and touching.

The Illusionists

Why see just one magic act when you can see five different acts all in one night! The Illusionists feature The Daredevil, The Deductionist, The Inventor, The Manipulator, and The Trickster. Each performer has their own flavor and style, keeping the evening fresh and fun. The show is full of drama and technical thrills, as well as some heart-stopping moments.

Rosenkrantz Mysteries

Dr. Ricardo Rosenkrantz is a doctor and a magician! You could say he deals in the mysteries of life. His show the Rosenkrantz Mysteries takes place in an intimate setting with impressive set design and a sense that you are being cared for. That the "other side" of things is being revealed, opening us up to new possibilities, to hope and to a bigger picture. Ricardo's unique perspective of being in both the arts and the sciences helps him to bring something new and different to his performances.

Jamie Allan's iMagician

Harris Theatre For Music and Dance
205 E Randolph St
Chicago, IL 60601

Jamie is big in his native country Great Britain. He has appeared on numerous primetime TV programs. He brings his own special brand of magic to the US, wich includes integrating the old with the new. His shows include the use of modern-day technology including lasers, holograms, and iPads. His high-tech and stunning illusions create a show that is great for the whole family. Even hard-to-please teens will enjoy this British illusionist.
Chicago has a great history of magic and that hasn't stopped to the present day. Whether you're looking for a big illusion show or an intimate parlor show, we trust we've introduced you to the best Chicago Magic Shows!
Now Trending...