Best Magic Show Los Angeles California 2019
Welcome to Magic City central! LA has an exciting history of great shows that are completely different than the rest of the country and you're in luck. This is THE LIST of the most popular and Best Magic Shows Los Angeles has to offer. They range from the small quirky theater to the intimate and up-close, the beautiful Edwardian style, and the huge theater productions who are touring the world. Forget the Sunset Strip and Pink's hot dogs downtown. Catch one of many shows in LA, and it may just be the most amazing magic shows you will ever see! It's LA, you're here, and you're in luck.
CURRENT Magic Shows Los Angeles California
Fred Kavli Theatre, Thousand Oaks, CA
2100 Thousand Oaks Blvd
Thousand Oaks, CA 91362

Adam is well known for his work with the Broadway smash show The Illusionists, touring with them for their first two fabulous U.S. seasons. He has since then created a solo show "The Illusionists Present the Magic of Adam Trent" which is fun for the entire family and includes many of his pieces from The Illusionists as well as new material. He is also known for his 10 episode TV series on Red Bull TV, called "The Road Trick: The Magic of Life on the Road". You get to travel with Adam around the world while he mystifies the people he meets with his magical abilities.

Pala Casino Resort Spa
11154 CA-76
Pala, CA 92059

Michael is probably best known for his television show The Carbonaro Effect. He is a prankster at heart, and on his show he would pose as a regular joe who then pulls magic tricks out of his hat (so to speak) to freak out the unsuspecting public. His sometimes ridiculous explanations for what was going on, (never letting on that it was magic), made the situation even funnier. In his live show Michael brings all his wit and quirky humor to the stage, with sleight of hand, performance art and bizarre antics that will surely make for an evening of upbeat fun. This show is for a 21+ audience.

Geffen Theatre
10886 Le Conte Ave
Los Angeles, CA 90024

Helder's new show, "Invisible Tango" is opening in 2019 at the Geffen Playhouse. This new show is directed by renowned director Frank Marshall of Jurassic Park and Back to the Future fame. Helder is a sophisticated magician whose new show aims to explore how far we will go to reveal a secret. His last show, "Nothing to Hide" also premiered at the Geffen Playhouse and was extended four times before moving to New York. The video teaser below is from his show "Verso".
Irvine Barclay Theatre
4242 Campus Dr
Irvine, CA 92612

Ivan's show Secrets and Illusions takes you on a journey to Paris, where you will be taken through the Louvre Museum galleries, accompanied by live cello music... the musical muse bringing to life priceless works of art and illusion. Each artful vignette is thoughtfully created, weaving stories and magic throughout. This show has a wonderful blend of audience participation and storytelling. The Boston Globe has described Ivan's performance as "Magic with a Message".

1418 Fourth Street, Santa Monica
1418 4th St
Santa Monica, CA 90401

Friday through Sunday

Magicopolis is a magical live theatre experience, as magic was meant to be seen. The magic duo of Steve Spill and Bozena Wrobel present "Escape Reality" which is a one-of-a-kind show, meant for all ages. Include in the mix are sleight-of-hand, unbelievable optical illusions, a jaw-dropping act of levitation, mind-reading, disappearances, and a Houdini inspired escape. Steve's father was a manager at the Magic Castle in the 1960s, introducing Steve to magic at a very young age, and giving him the opportunity to be tutored by many great magicians. After many years of performing around the world, Steve returned home to create Magicopolis with his wife Bozena.

1719 N. Hudson Ave. Hollywood
1719 N Hudson Ave
Los Angeles, CA 90028

Thursday through Saturday

The Houston brothers, famous in LA for opening trendy clubs and hip new night spots have ventured into magic with the Black Rabbit Rose Theatre. Located in Hollywood, the 40-seat theatre has a few tricks up its sleeve with some architectural quirks that will catch your attention. The room itself is lush with turn-of-the-century details and the cocktails are a story unto themselves. The cast of magicians rotates and you can also catch some jazz or burlesque show here on certain nights. The neighboring restaurant Crying Tiger is also a part of the experience, with a fusion of Thai/Chinese food available.
7001 Franklin Ave, Hollywood
7001 Franklin Ave
Los Angeles, CA 90028

Monday through Sunday

The Magic Castle is a magic clubhouse for members only and their guests. It was the brainchild of two brothers Milt and Bill Larsen, who came from a family of magicians, and it opened its doors in 1963. The large mansion has become known as a place for the rich and famous to hobnob and it enforces a strict dress code. There are several shows per night and three different theatre spaces, as well as a full restaurant and five bars. Magicians from around the world of all caliber have performed here. There are areas for active magicians only like the library, classes that anyone can take, and an annual "Academy of the Magical Arts Awards" event. All things magic happen at The Magic Castle.

Anaheim Majestic Garden Hotel
900 South Disneyland Drive
Anaheim, CA 92802

Fridays

Join David for a night of "Magic and Wine" Spend the first hour enjoying a flight of four different wines along with delicious hors-d'oeuvres. Then comes an intimate 90-minute show (100 guests only), with plenty of close-up magic by one of the best. In 2007, David won first place in the close-up category of the International Brotherhood of Magicians' annual Convention. The combination of wine and magic makes for a very popular date night show. Dress is relaxed cocktail (no tie required). Wine will only be served to those guests 21 and older, but feel free to bring children 10 and up. David's performance is sure to please everyone! He's already made fans out of people such as Rob Reiner and Johnny Depp.

Rib Trader Bar and Grill
2710 E Chapman Ave
Orange, CA 92869

Friday through Sunday

It's a rare find to go to a dinner show these days but at the Rib Trader Bar and Grill you will find just that. The show is geared towards family fun and is a great idea for hungry kids who enjoy magic. As the name implies, this is a BBQ joint and the portions are large and delicious, so no one will go home hungry. Arrive early for the show for a good seat as seating is first come, first served. The decor is nothing to write home about but everyone will leave with a smile after having a filling dinner and seeing Joseph Derry's magical dinner show.
The Hollywood Roosevelt
7000 Hollywood Blvd
Los Angeles, CA 90028

Justin Willman's show is simply called The Magic Show and is 90 minutes of incredible magic and illusion. What is special about Justin? Well, for one thing, his quirky sense of humor. You might have seen him on his latest Netflix specials, Magic for Humans, where he levitates while doing goat yoga, (yes I said goat), and does some very funny stuff with kids and marshmallows. Beloved by TV hosts such as Ellen and presidents such as Barack Obama, Justin has made a mark with his sometimes silly, but always fabulous illusions. His show is recommended for adults 18 and older.

Three Clubs Cocktail Lounge
1123 Vine St
Los Angeles, CA 90038

Monthly

Daniel Donohue & Eric Siegel are the New Bad Boys of Magic. Young, irreverent and vaudevillian are a few words to describe them in their one hour show, Dirty Tricks. They combine Chicago-style sketch comedy with their own twists on some favorite tricks and some illusions that you just might not have seen before. This isn't kid-party magic fare, so be prepared for an edgy evening with two young comedians who happen to also be great magicians.

7600 Beach Blvd. Buena Park, CA
7600 Beach Blvd
Buena Park, CA 90620

Fridays and Saturdays

There's so much going on at Teatro Martini, we don't know what to talk about first. There's the four-course dinner with soup, salad entree, and dessert. Cocktails are extra, but there is a lovely list of martinis of course. Then there is the show with an international cast of performers. The show is immersive, fun and full of variety, modeled after a European type variety show. Comedy, music, acrobatics and of course magic! The costumes are over-the-top, the performers are a worldly band of merry characters and the dress code is well... dressy! You must be over 18 to attend.
Los Angeles: City of Illusion and a History of Magic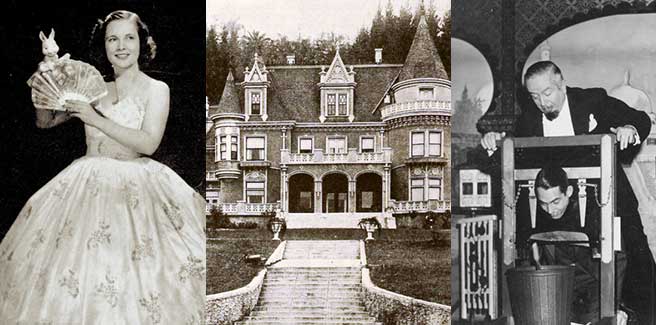 Here's a brief history of magic and magicians in Los Angeles, a metropolis which stretches from the Angeles National Forrest to the Pacific Ocean. A large, sprawling city with close to four million people within 503 square miles, Los Angeles is ranked as one of the biggest cities in the United States. However big Los Angeles is today, it wasn't always so large, and yet it always has appreciated and promoted magic and magicians alike.
As Los Angeles traded hands from natives to the Spanish to the Mexicans and finally the United States, a dusty city was born and started to grow. Later, with cheap and plentiful land and the birth of motion pictures, entertainment companies soon popped up around Los Angeles, making the City of Angels the land of movies. But film entertainment wasn't the only industry growing in the Golden State. As actors and actresses sought entertainment, clubs and shows became popular. Magic shows in LA also became a popular entertainment choice.
To investigate the history of magic in Los Angeles one need look no further than the Larsen family. This family of illusionists started Genii magazine in 1936, which is the longest running magic magazine. But that wasn't all the Larsen family did. The most influential aspect of Los Angeles and magic was the creation of The Magic Castle. Brothers Bill and Milt Larsen bought a derelict, Gothic style mansion and transformed it into the premier magic club that it is today. Bill and Milt's parents were considered pioneers in the field of magic and had always had the dream of starting an exclusive club just for magic, magicians and magic enthusiasts. With the purchase of the mansion, their sons made that happen.
Once completed, The Magic Castle became the magic hot spot. With members-only criteria, the best magicians were attracted along with Hollywood's big names. It wasn't uncommon to see stars and starlets frequenting the establishment, taking in a show and having a drink. Today The Magic Castle is still a popular hang-out for the Hollywood elite.
The Magic Castle also spotlighted the talents of Geraldine Larsen, a magician in her own right. In a day when women in magic women in magic were only the assistants, Geraldine not only soloed as a performer but was also the first woman to perform magic on TV. The Magic Castle became the official clubhouse for the Academy of Magical Arts, and a membership is still required to get in the door if you aren't lucky enough to be the guest of a member.
While Los Angeles has historically been the birthplace of the modern entertainment industry, so too has it been the mecca for all things magic. This website lists our favorite things to do in LA that are centered around magic and magic shows Los Angeles.
PAST Magic Shows Los Angeles
Derek Delgaudio and Helder Guimaraes: Nothing to Hide

Derek and Helder were seen by Neil Patrick Harris at LA's Magic Castle and Neil was impressed. He decided to helm an extended run of the duos show at the Geffen Playhouse, as he himself is a huge fan of magic. The show, Nothing to Hide, is simple yet awe-inspiring. The two magicians have an easy and playful way about them and armed with several decks of cards and a willing audience, they kid and joke and seemingly do the impossible. The show builds speed and the tricks get trickier until you find yourself with your mouth wide open and your head shaking. Derek and Helder make a magical team... no pun intended.

Penn and Teller

The "bad boys of magic" have been wowing audiences for several decades. Why bad boys you say? Well, they have the bad habit of revealing how it's done! But it never seems to take away from the amazing wow factor of what they do! Their act is surprising, clownish, and well... unconventional. They have been making headlines for years with their many TV shows, Broadway performances, and sold out runs. The chemistry between this duo is magical. They love to meet their fans, so don't miss the "meet and greet" after the show.

Champions of Magic

Five international magicians come together for one fantastically theatrical show. Included in the grand spectacles are levitation, disappearance, and teleportation, as well as some wonderful up-close magic and mind-reading. Together these top magicians have over 20 million online views between them, and they will be sure to thrill and surprise audiences everywhere. There are only three shows, so get tickets early to this world-wide touring illusion show. The Saturday matinee show is a great choice for a family treat, as this show is suitable for all ages.

The Clairvoyants

This Austrian duo wowed American audiences in 2016 on America's Got Talent. They made it all the way to second place. They have won many awards for Mentalism and also the title Stage Magicians of the Year 2016, awarded by the Magic Castle. They have appeared in the stage production The Illusionists and have traveled the world mystifying audiences with their show The Clairvoyants. Their show is a thought-provoking display of mentalism and illusion.
We love Los Angeles for its history of entertainment. Whether it's film, music, dance or magic, we trust we've introduced you to a few new shows options to experience that you may not have known before. So whether you were looking for a funky little back alley theater performance or a big Broadway touring illusion show, we know you will enjoy the Best Magic Shows in California!
Now Trending...