Catch the "Magic, Mystery & Oooh La La"
More than a GREAT theater show, it's a FUN old-world illusion show for anniversaries, date nights, and special evenings!
Imagine a vaudeville inspired theater show with old-world magic, add a twinkling hint of 1900's Parisian humor, shake and stir for 100 minutes for your passport filled with FUN! YOU are a passenger in this interactive theater of illusion. CHECK DATES & AVAILABILITY.
Here's what

they're saying...
Talk about Old-World charm! Your connection with the audience is spot-on, so is the attention to detail and your travel-themed magic. Bravo! I'm ready for another 'trip around the world'.

Bill, Phoenix

My group had a delightful evening of illusions both big and small. We enjoyed being so close to the stage and loved the audience participation. Thanks for making our night... magical!

Yuko, Scottsdale
(Awww, we have the BEST guests ever!)
All Our Secrets in 75 Seconds
"BEHIND THE MAGIC" illustrates (EXPOSES????) the never seen attention to detail that occurs even before the Carnival of Illusion show begins. We think you'll love the groovy music too, so... turn up the volume!
Hurry, Shows Sell Out!
Select your City and Date for pricing.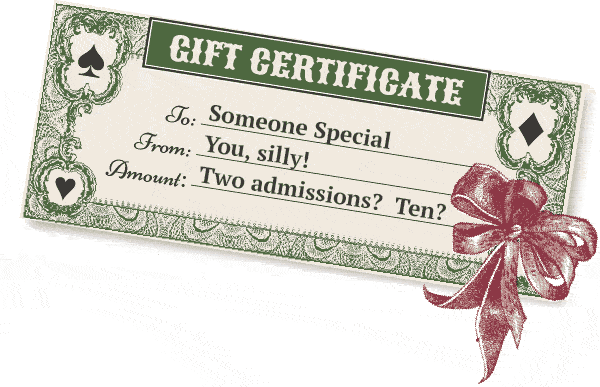 Gift Certificates
Give the gift of magic with Carnival of Illusion gift certificates. Perfect for friends, family, co-workers, teachers or any other "Muggles" who would love a fun, up-close magical experience. It's easy and you're a step closer to crossing one more item off that "to do" list! PHOENIX Gift Certificates or TUCSON Gift Certificates.
Birthdays, Anniversaries

& Special Events

Do something different, celebrate in one of our boutique theaters! Grab your friends and family and head for a fun memorable evening. Write a note at the end of your order to recognize your special occasion and we'll give a shout out in the show! Special Evenings Made MORE SPECIAL!

100% Old School Fun!

No smoke, no mirrors, no divas. If you are expecting large-scale Vegas-style pyrotechnics, showgirls, wind machines, Tyrannosaurus Rex, or "hip" & "cool" attitudes... this is NOT your show! BUT, if you're up for unique entertainment with a sweet nostalgic feel, a "vaudeville road show without the dust" then STEP RIGHT UP!

Up Close...

VERY Close Conjuring

Everyone gets a great seat. We've created a cozy setting to allow you and the rest of the lucky ticket-holders the opportunity to "feel the magic". The performers are NOT on a raised stage, so the magic happens inches from the front row! But hurry, due to the popularity and intimate audience size SHOWS SELL OUT!

Audiences 8 Years & Older

This is a "clean show" for the "young at heart", not the young. For audiences 8 years and older. (Booster seats are not available, raised or tiered seating suggested. No lap seating allowed, everyone must have a ticket.) Get a babysitter and enjoy an adult fun night out without the kids!

Audience Participation

Once upon a time there was an intimate illusion show, a place so kind to their audience that people traveled near and far for a magical adventure. This was a rare and happy theater where the audience had so much fun, they enjoyed participating. Many were given gifts of thanks and everyone had a swell time. They all lived happily ever after!

Fun Private and Corporate Events

Whether you are looking for a unique holiday party, a clever team building experience, an exciting awards banquet, or any other reason to celebrate, commemorate or congratulate, Carnival of Illusion has you covered. CLICK HERE to get the party ball rolling!
Hey Film Buffs...
...and Tongue-Twister Fans! Here's a tempting teaser at the tantalizing Tempe theater (say that ten times!) Check out the "cinematic version" of Carnival of Illusion: think sentimental nostalgia with a heart-wrenching musical score. This 60 second film juxtaposes both the grand and the intimate nature of our Tempe shows. Go full screen for the epic Steven Spielberg experience.
Spoiler Alert! The performers and guests(!) share the stage at this magical theater. CHECK AVAILABILITY!