As featured on...

What makes THIS Sooo Magical?
It's a UNIQUE Old-School night of Illusion perfect for anniversaries, date nights, birthdays, and special evenings! Thanks to YOU, Carnival of Illusion is the #1 Theater Experience on TripAdvisor and the longest-running Arizona theater show in history.
This 60-second film, featuring Sarlot & Eyed, combines the grand, medium, and intimate nature of our venues. Go full screen for the epic Steven Spielberg experience. CHECK AVAILABILITY AND FEATURED GUEST ARTISTS!
I highly recommend for date night, family night, special celebrations, or even go by yourself.

Lisa H. -

Yelp

They have a great style and personality to their act that you won't find anywhere else.

Keir M. -

Google+

It was entertaining, something different, and new to do for a date night! Absolutely GO!

Veronica E. -

Facebook

It was such a fun time! I had a smile plastered from ear to ear the entire evening.

Kitcat -

TripAdvisor

I loved the audience participation. My dad was on stage and it cracked us up.

Allie M. -

TripAdvisor

We attended this for our 4th anniversary, and we had the most amazing time.

Judd S. -

Facebook

There were lots of laughs and lots of magic. Would definitely recommend to a friend.

Andrew -

TripAdvisor

Saw this in Tucson a few years ago and LOVED it! Roland and Susan are amazing!

Susan E. -

Facebook

Just saw this gorgeous evening again after 5 years. It's somehow even BETTER than it was before!

Amy O. -

Yelp

This was so entertaining and awesome, this is a must see for anyone in AZ who hasn't already seen it!

Marie M. -

Yelp

We had such a great time!

Erica E. -

Google+

Funny, entertaining, & magical! These two put on a great performance.

Matt S. -

Google+

Roland and Susan are true professionals that always deliver jaw-dropping magic.

Crystal -

TripAdvisor

So much fun! Roland and Susan you were Amazing!.

Vickie S. -

Facebook

So many mystifying tricks and illusions with fun, laughter and audience participation!

Nancy -

TripAdvisor

Masterful with the art of illusion yet far different than what one typically expects from a magician.

John E. -

Facebook

Not a single person left the room without a smile.

Miranda U. -

Facebook

The was amazing, very entertaining, and very interactive!

Mariko U. -

Google+

Roland's illusion skills are exceptional and Susan is the perfect partner to counterbalance him.

Jen C. -

TripAdvisor

Splendid! A few of their illusions simply blew our minds!

Maggie F. -

Yelp

Perfect evening! The is very well done.

Elizabeth S. -

Facebook

We loved it! Some of the tricks really blew me away, I was audibly impressed!

Angela -

TripAdvisor

Old world charm - a magical experience - highly recommended!

John W. -

Yelp

Great, wonderful to be so close and things just "happen" that you can't explain.

Kim W. -

TripAdvisor

Amazing! Definitely worth seeing!

Sadie Mae S. -

Google+

Roland and Susan were awesome! What an awe-inspiring evening.

Catherine M. -

Google+

Roland and Susan are true aficionados—masters of their craft.

Dorothy W. -

Google+

Highly recommended. Fun for the whole family.

Tim B. -

Google+

The Carnival of Illusion Theater was a real experience! Highly recommended.

John A. -

Google+

Definitely would recommend for all! Come and be amazed!

Solinda -

TripAdvisor

An amazingly enjoyable night of fun and magic.

John G. -

Google+

What a great time to spend with family or friends.

Isor3 -

TripAdvisor

Thank you Sarlot & Eyed for such amazing night. I will be back with my friends.

Alen-Jasmina. -

Google+

The performance was very engaging and exciting and they are both seasoned entertainers.

Marshall H. -

Google+

We absolutely loved the night!

Nadine Z. -

Facebook

Such a unique and spellbinding time!!

Megan Y. -

Facebook
Hurry, ALL SELL OUT!
Select your City and Date for pricing
Where Are The Carnival Of Illusion Theaters?
Phoenix

The beautiful Wrigley Mansion
2501 E Telawa Trail, Phoenix AZ 85016

Phoenix Downtown

The trendy Renaissance Phoenix
100 N 1st Street, Phoenix, AZ 85004

Mesa

The grand Mesa Arts Center
1 East Main St, Mesa, AZ 85201

Tucson

The landmark Scottish Rite Grand Parlour
160 S. Scott, Tucson, AZ 85701
Have Questions? I Have Answers! Click on my

Magic Lamps...
How do I receive FREE invitations and discounts?

Join the 28,000+ others who signed up for our FREE VIP NEWSLETTER and receive occasional discounts, invitations, and funny behind-the-scene stories. Subscribers recently received FREE tickets to our performances at the World-Famous Magic Castle, an invitation only private club in Hollywood.

How long is the performance?

The performance is approximately 1 hour and 30 minutes including a short 10 minute intermission.

Is dinner included?

No, however there are many restaurants within a short driving distance to all theaters giving you the BEST option for your tastebuds.

Can I change my reservation?

Yes! Parties of six or less may exchange their tickets to another date with a minimum of seven days notice and a $10 per person fee. Call the box office at (480) 359-7469 to request an exchange. All sales are final. No refunds can be issued.

Why is there an 8-year-old age limit?

Recommended for mature 8+ years old. Although there is no "blue material", we cannot accommodate booster chairs, height issues, short attention spans, or boogie-man nightmares.

What is the cost of tickets?

Pricing depends on location and availability so click a location and time above. There is a per ticket service fee of $4.50 for Tucson, $5.00 for Phoenix, plus appropriate city and state taxes. (Sorry we can't make those disappear!) Tickets purchased in advance may cost less than shows nearly sold out. Pricing does not include beverages or meals but does include souvenir hand-printed tickets as your entry to a magical evening!

Do you offer group discounts?

Yes! We offer discounts for groups 10 or more for select shows. Remember to include family, friends, colleagues, and community groups. For more information on discounted group tickets CLICK HERE.

Is there a dress code?

Business casual or better. Please, NO flip flops, shorts, t-shirts or beach attire.

How much is parking?

The Wrigley Mansion has valet and self parking (with an uphill walk to the venue.) Renaissance Downtown Phoenix visitors will receive the exclusive rate of just $10 for valet parking (no, this is NOT an illusion!!!) Tucson parking has dedicated free parking lots. Mesa has nearby parking on their surface lot, adjacent streets, and on several public parking lots within an easy two-block walk.

Is there wheelchair accessibility?

Carnival of Illusion provides all patrons access. For Mesa and Tempe, please call our office as we have reserved seating. For Phoenix and Tucson, please write a note at the end of your purchase so we can make accommodations. You can always call us, we're here to assist!

Is there hearing-impaired accessibility?

Four weeks notice are requested for an ASL interpreted performance.
Tempting Teaser...
Imagine a vaudeville-inspired experience with old-world magic, add a twinkling hint of humor, shake and stir for 100 minutes to fill your passport with FUN (and a bit of Skullduggery!) With a happy dose of audience participation, you are a VIP in this captivating Theater of Illusion.
Climb aboard the magic carpet and CHECK TICKET AVAILABILITY!
Secrets in 60 Seconds
This quick clip shares (EXPOSES????) the never seen attention to detail that occurs even before the Carnival of Illusion entertainment even begins. We think you'll love the groovy music too, so... turn up the volume!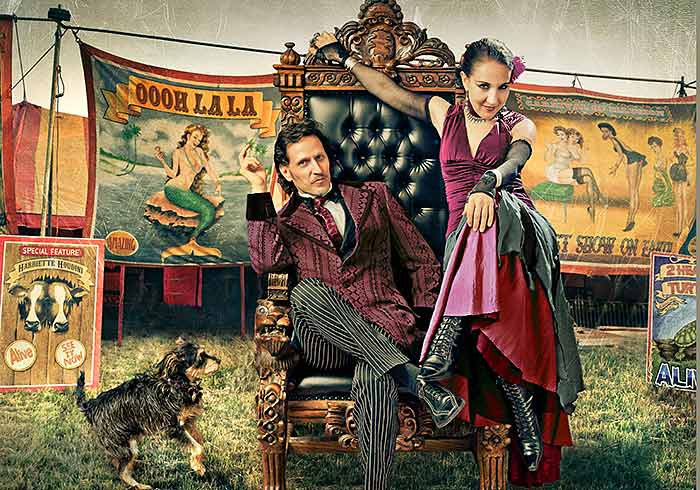 Let Us Help You
Have questions about your nearest location? Best seats? Special events?
Call Us
Phoenix: 480-359-SHOW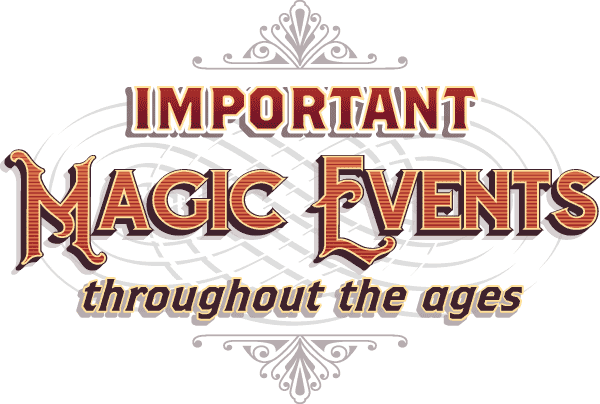 In the year...
200 ~ To aid healing, savant, physician, and tutor, Sammonicus, advocates the use of an amulet inscribed with "Abracadabra" which becomes the chicken soup for the Iron Age.
1000 ~ The Chinese invent playing cards. "Pick a card, any card" becomes grounds for divorce.
1400 ~ Handpainted Tarot cards create a fury. Sadly, the all-powerful Magician card, with its the ability to bridge the gap between heaven and earth, forever takes a back seat to the cards of Fortune and Love.
1584 ~ Tattle-tale Reginald Scot publishes magic secrets in The Discoverie of Witchcraft, saving a few showoff prestidigitators from being burnt at the stake.
1610 ~ Bad boy playwright, Shakespeare, creates havoc with Protestant England and set-designers alike when featuring a conjuror as the main character in The Tempest.
1797 ~ Goethe completes Sorcerer's Apprentice inspiring Mickey Mouse (143 years later) to sport a wizard's hat and robe for his comeback role in Fantasia.
1814 ~ The oldest/most tired/cheesiest magic cliche is born when wise-guy Louis Comte pulls a rabbit out of his hat.
1856 ~ Napoleon orders the father of modern magic, Jean-Eugene Robert-Houdin, out of retirement to suppress a rebellion. The illusionist completes the task without a speck of dirt on his highly-starched cravat.
1926 ~ After stealing his idol's name, Erik Weisz AKA Harry Houdini steals the hearts of his fans to become the greatest magician/escape artist. The "Handcuff King" fails to escape death on Halloween.
1934 ~ The very first comic book superhero is born (in a tux). Mandrake the Magician was out saving the planet way before Batman, Spiderman or Superman put on tights.
1961 ~ The Magic Castle opens in Hollywood and invites the world's greatest magicians to perform including all magicians at the Carnival of Illusion Theater.
1964 ~ DC Comics crime-fighting illusionist, Zatanna Zatara, casts her spells fighting the dark arts by reciting magical incantations backward (and often perplexing operators while ordering take-out.)
1969 ~ Without smoke, mirrors, or camera tricks, the first person walks on the moon.
1989 ~ Not keen on being violated by magicians walking through, the Berlin Wall opens. Unites not only Eastern and Western countries but the entire European magic community.
1997 ~ J.K Rowling publishes her first book in the Harry Potter series spawning world-wide magic wand shortage.
2002 ~ With a handshake, the partnership of the century begins. Sarlot & Eyed combine the ancient arts of magic and dance to create Dance of Illusion.
2003 ~ At their first Arizona event, Susan escapes (barely) from a sword and spear-laden spinning basket; the audience at the private party is amazed and raucous (probably due to free alcohol.)
2004 ~ The road of trial and error continues with cross country performances at county fairs, festivals, retirement centers, Veterans hospitals, children's wards, schools, busking, etc... Humiliation keeps the duo humble, hungry, and honing their craft.
2005 ~ Roland's sleight of hand delights the rich and famous as house magician at Miraval, one of the top resorts in the world to magically rejuvenate. Seeds of Carnival of Illusion begin sprouting.
2008 ~ The (not so) "Great Recession" hits. As the economy tanks, Sarlot & Eyed hire their first employee. The office hunkers down & goes into overdrive to create an intimate parlour experience.
2009 ~ Honored with the "Excellence in Magic" award in Colon, Michigan. Yes, Michigan has a Colon and it's the home of the oldest magic convention in the US.
2009 ~ The "Magic, Mystery and Oooh La La" of the Carnival of Illusion parlour opens its 30 seat boutique theater. Bearded-lady, Miss Harriette Houdini (their sometimes-trusty canine) makes her debut.
2010 ~ Invited the 1st time as "Featured Performers" to the "Mecca for Magicians" AKA the world-famous Magic Castle in Hollywood, California.
2012 ~ Headline performance before 1,000+ attendees at the national convention of the Society of American Magicians in Las Vegas.
2013 ~ Sick of hearing "get a room", Sarlot & Eyed plan their greatest and most daring magical endeavor. The marriage takes place on 1313, of course (January 3rd, 2013).
2016 ~ The longest-running Arizona theater show in history is Carnival of Illusion with weekly magical entertainment in one of their four 125+ seat boutique theaters!
2020 ~ Carnival of Illusion surpasses 1,000th show milestone, hip hip HOORAY. After thousands of performances throughout the years, Sarlot & Eyed continue to keep the art of magic alive.
TODAY ~ YOU become part of magic history. Our Genie predicts... "Your future is magical and filled with WONDERFUL DELIGHTS!"
Bully for you! You've scrolled this far down and are still curious. You're OUR kind of peeps! We invite you to subscribe to our FREE VIP Newsletter and be the first to know when more mysteries are revealed.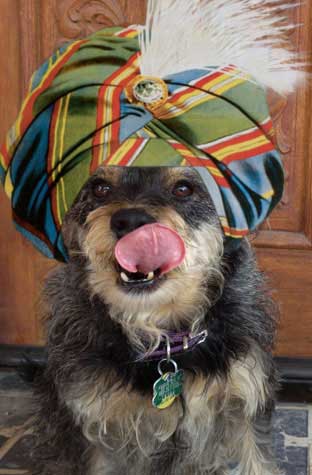 My Crystal Ball Says...
We will SOON be Friends
How Delicious!
(No genies were harmed during this Photoshop session)
Add your Name and Email below...