What is "Magic, Mystery & Oooh La La"?
A UNIQUE Old-World Illusion Show perfect for anniversaries, birthdays, date nights, and special evenings!
Imagine a vaudeville-inspired theater show with old-world magic, add a twinkling hint of 1900's Parisian humor, shake and stir for 100 minutes for your passport filled with FUN! You are a passenger in this entertaining theater of illusion. CHECK SHOW TIMES.
I highly recommend for date night, family night, special celebrations, or even go by yourself.

Lisa H. -

Yelp

They have a great style and personality to their act that you won't find anywhere else.

Keir M. -

Google+

It was entertaining, something different, and new to do for a date night! Absolutely go to the show!

Veronica E. -

Facebook

It was such a fun time! I had a smile plastered from ear to ear the entire evening.

Kitcat -

TripAdvisor

Not a single person left the room without a smile.

Miranda U. -

Facebook

The show was amazing, very entertaining, and very interactive!

Mariko U. -

Google+

Roland's illusion skills are exceptional and Susan is the perfect partner to counterbalance him.

Jen C. -

TripAdvisor

Splendid Show! A few of their illusions simply blew our minds!

Maggie F. -

Yelp

Perfect evening! The show is very well done.

Elizabeth S. -

Facebook

We loved the show! Some of the tricks really blew me away, I was audibly impressed!

Angela -

TripAdvisor

Old world charm - a magical experience - highly recommended!

John W. -

Yelp

Great show, wonderful to be so close and things just "happen" that you can't explain.

Kim W. -

TripAdvisor

Roland and Susan are true professionals that always deliver jaw-dropping magic.

Crystal -

TripAdvisor

So much fun! Roland and Susan you were Amazing!.

Vickie S. -

Facebook

So many mystifying tricks and illusions with fun, laughter and audience participation!

Nancy -

TripAdvisor

Masterful with the art of illusion yet far different than what one typically expects from a magician.

John E. -

Facebook

I loved the audience participation. My dad was on stage and it cracked us up.

Allie M -

TripAdvisor

We attended this for our 4th anniversary, and we had the most amazing time.

Judd S. -

Facebook

There were lots of laughs and lots of magic. Would definitely recommend to a friend.

Andrew -

TripAdvisor

Saw this show in Tucson a few years ago and LOVED it! Roland and Susan are amazing!

Susan E. -

Facebook

The Carnival of Illusion show was a real experience! Highly recommended.

John A. -

Google+

Definitely would recommend for all! Come and be amazed!

Solinda -

TripAdvisor

An amazingly enjoyable night of fun and magic.

John G. -

Google+

What a great time to spend with family or friends.

lsor3 -

TripAdvisor
Secrets in 75 Seconds
"Behind the Magic" shares (EXPOSES????) the never seen attention to detail that occurs even before the Carnival of Illusion entertainment begins. We think you'll love the groovy music too, so... turn up the volume!
Hurry, Shows SELL OUT!
Select your City and Date for pricing.
Don't miss shows again!
Sign-up for your FREE VIP MEMBERSHIP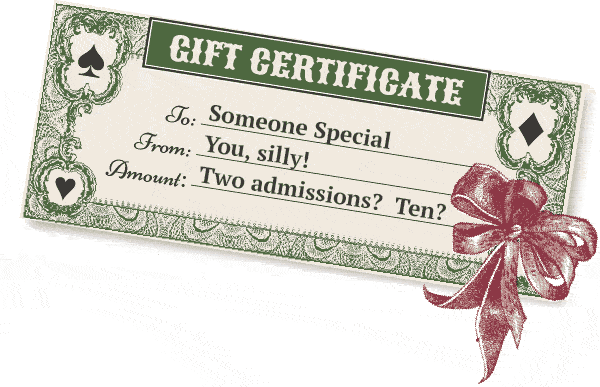 Gift Certificates
Looking for a magical gift? Carnival of Illusion gift certificates are perfect for family, friends, co-workers, or any other "Muggles" who would love fun, up-close magical entertainment. It's easy and you're a step closer to crossing one more item off that "to do" list! Perfect for birthday & anniversary celebrations. PHOENIX Gift Certificates or TUCSON Gift Certificates.
Hey Film Buffs...
...and Tongue-Twister Fans! Here's a tempting teaser at our tantalizing Tempe theater (say that ten times!) Check out the "cinematic version" of Carnival of Illusion: think sentimental nostalgia with a heart-wrenching musical score. This 60-second film combines both the grand and the intimate nature of our Tempe theater shows. Go full screen for the epic Steven Spielberg experience.
Spoiler Alert! The performers and guests(!) share the stage at this magical event. CHECK AVAILABILITY!