Best Magicians (AND Illusionists!) Ever
SEE ALSO: Most Famous Magicians
SEE ALSO: BEST Card Magicians
ALSO: Most Famous Magicians
ALSO: BEST Card Magicians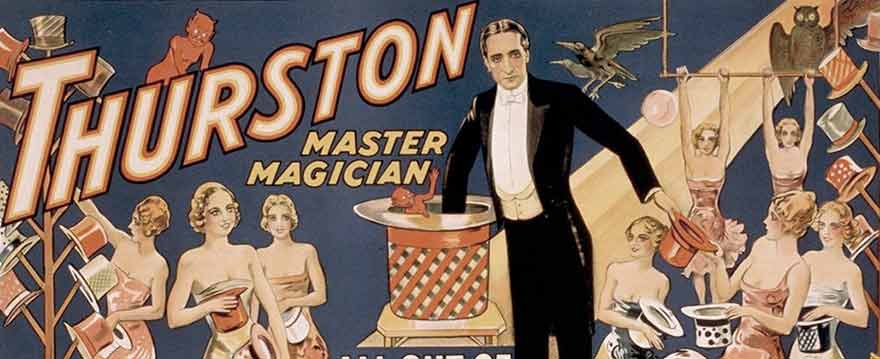 After performing thousands of magic shows as well as much international travel performing and watching illusion shows and magic contests around the world, we are quite knowledgeable about performing magic and magical history. Nonetheless, we wanted to give you a magic historian's perspective of The Greatest Magicians of All Time. If you want to see the the MOST FAMOUS MAGICIANS click the link at the top of this page. (Famous and best aren't always the same thing!) So we asked a friend, author, and Ph.D. to share his perspective. Will's UCSD dissertation is on the impact of new technologies on magic during the Belle Epoque in France and is a specialist in magic and theater history. Read on...
by Dr. Will Given
University of California, San Diego
It takes quite a bit to make it onto The Top 10 Magicians of All Time list. Here you will find those individuals who have helped shape the field of magic. Some of these magicians have elevated the art form to new levels. Some are innovators. Some are famous. Others were masters of self-promotion. The fact is though, without any of these performers, magic would have taken a much different trajectory. Here is my list of The Top 10 Magicians of All Time:
Notable Mention
The Magical Mystery Show conjures up the world's best magicians at the best hotels around the world. Step into an elegant, intimate setting and be transported back in time to the Victorian era, when traveling parlour magicians were the kings of entertainment. Prepare to be stunned as miracles happen just feet away! Seating is limited, providing for a thrilling, close-up, and magical experience, with all the laughter and joy of a bygone era. Childlike wonder will be evoked, created by miraculous feats of prestidigitation, as the lines between fantasy and reality become blurred. Perhaps you will be chosen from the audience to participate, sharing with the audience the thrill of making magic!

What do you get when you introduce The Amateur Magician's Handbook to a kid with a whole lot of bravado? You get Jonathan Todd, who was a successful, professional magician at the young age of 15. Jonathan went on to become one of the Magic Castle's elite Junior Magicians before the age of 21. Learning from some of the world's best magicians like Blackstone Jr., Jules Lanier, and Vernon, Todd honed his skills in close-up magic. He was soon producing his own magic tricks along with a friend, coming up with first ever calculator force trick called Calculating Genius. Jonathan's love of magic and uncanny business skills have led him around the world, working with cruise lines, banks, the music industry, and most notably with Mick Fleetwood and Fleetwood Enterprises. Now Jonathan is returning to his first love... magic. His brainchild Hotel Magic LLC will be bringing the golden age of magic back to an intimate parlor setting in the best hotels around the world, with The Magical Mystery Show, and the Museum of Curiosities and Oddities.

Lance Burton

(1960-)

Though he has retired from performing now, Lance Burton helped bring magic to millions. In 1982 he was the youngest magician to win the Grand Prix award at FISM, the Olympics of magic. He was also the first American to win the top prize. Burton later became a Vegas magic show fixture as the resident magician at the Monte Carlo in Las Vegas, Nevada, signing the longest performance contract ever given to a magician at the time. While he performed grand illusions (including one involving $10 million in gold), Burton is best known for his amazing sleight of hand work and his dove magic.
TOP 10 GREATEST Magicians of All Time
10. Harry Kellar

(1849-1922)

Known as "The Dean of American Magic," Kellar toured the world performing large-scale illusions. Kellar is the first in the Royal Dynasty of Magic. This American dynasty involved the top performer of the time passing "The Mantle of Magic" to a successor; Kellar named Howard Thurston as his. After Thurston passed away, Dante assumed the Mantle (though he was not "officially" named by Thurston). Lee Grabel likewise assumed the Mantle unofficially after Dante's death. In 1994, Grabel passed the Mantle on to Lance Burton in an official ceremony. While Kellar was one of the top performers of the time, many of his famous illusions, including his levitation, were "borrowed" from other performers such as John Nevil Maskelyne.

9. David Devant

(1868-1941)

Devant was a British magician who rose to prominence as a member of the Maskelyne & Cooke company. He later became business partners with John Nevil Maskelyne when the company moved to St. George's Hall in London. Devant was an exceptionally popular magician who gave numerous performances for royalty. He challenged established performing personas of the magician by introducing humor into his routines. Adept at sleight of hand as well as large illusions, one of Devant's signature pieces was Mascot Moth. Check out a description of this famous trick on our list of The Top 10 Magic Tricks of All Time.

8. Doug Henning

(1947-2000)

Canadian magician Doug Henning was largely responsible for the resurgence of popularity of magic in the 1970s. Henning appeared on Broadway in The Magic Show before beginning a successful run of World of Magic television specials in 1975. In his first special, Henning recreated Houdini's famous water torture cell escape. Henning's enthusiasm for the wonder of magic, coupled with his rainbow lycra jumpsuits, led to many parodies, but his passion helped inspire countless young magicians. Though he later left performing to study Transcendental Meditation, Henning's name is still synonymous with magic.

7. Dai Vernon

(1894-1992)

Known as "The Professor," Vernon is responsible for helping create the modern look of close-up magic. As the house magician at the world-famous Magic Castle in Hollywood, Vernon mentored and developed many of the best close-up magicians in the latter part of the 20th century. A master of cards, Vernon consistently studied sleights from card cheats and other magicians alike. He used this knowledge to create new tricks that are still a standard part of many performers' repertoires. Vernon once performed a card trick for Houdini that Houdini could not figure out. This led Vernon to bill himself as "The Man Who Fooled Houdini."

6. Alexander Herrmann

(1844-1896)

When you think of the quintessential classic look of the magician, you probably picture Herrmann the Great. With pointed goatee and formal evening wear, Herrmann established an enduring visual aesthetic for magicians. Herrmann the Great toured the world with his illusion show. He had a very public rivalry with Kellar (see #10 on this list). This led to the practice of designing elaborate posters to announce performances in a town. These posters are now highly collectible and created a strong focus on the visual branding of the magic act. One of Herrmann's most famous (and dangerous) tricks was the bullet catch, in which he would catch a signed bullet fired from a gun with his teeth.

5. John Nevil Maskelyne

(1839-1917)

John Nevil Maskelyne was a British magician who had an amazing thirty-one year run at the Egyptian Hall in London with George Cooke. After the Egyptian Hall closed, Maskelyne moved to St. George's Hall where he continued to stage magic shows. Both venues quickly became tourist attractions for those visiting London. Maskelyne presented magic as theatre, incorporating illusions into short plays such as Will, The Witch, and the Watchman. An outspoken critic of Spiritualism, Maskelyne was also an inventor. Among his innovations was the levitation illusion, now a staple of illusionists around the world.

(1956-)

It would be difficult to find a harder working performer, in any field, than David Copperfield. Copperfield has appeared on Broadway and in twenty television specials. He is most famous for creating large original illusions including making the Statue of Liberty disappear and walking through the Great Wall of China. Copperfield also owns the largest collection of magic memorabilia and books in the world that he houses in a private museum. Despite being one of the wealthiest performers in the world, with an estimated fortune of $800 million, Copperfield still performs over five hundred shows a year at the MGM Grand in Las Vegas and on tour.

3. Howard Thurston

(1869-1936)

Thurston was arguably one of the last performers of the Golden Age of Magic. At the time of his death, he had the largest touring illusion show in the world. The second in line of the Royal Dynasty of Magic, Thurston expanded the show he inherited (or more correctly, purchased) from Kellar to make it truly his own. The Levitation of Princess Karnac that Kellar appropriated from Maskelyne (see our list of the Top Magic Tricks of All Time) was a key element of the Thurston show. Whereas Kellar focused primarily on large illusions, Thurston was skilled at sleight of hand as well. His shows, even though performed in large theatres, incorporated grand illusions and more intimate magic to create a truly unique experience.

2. Harry Houdini

(1874-1926)

Wait. Is this correct? How can Houdini come in at only #2 on this list? You will need to read on to find out! What can be said about Houdini? The man was the ultimate performer and was a master of self-promotion. He understood phenomenally well how to build the myth around both the performer and the performance in order to draw audiences in. He positioned himself as the everyman fighting against the odds. He escaped from straitjackets while suspended over cheering crowds in the street as a way to generate publicity for his shows. He incorporated local businesses into his act by having crate-makers, paper-makers, coopers, etc. build the inescapable for him. Houdini, without a doubt, knew that an audience needed to be emotionally invested and to care about the magician for the performance to be successful.

1. Jean-Eugene Robert-Houdin

(1805-1871)

THE TOP SPOT... on our list goes to the performer Houdini derived his performing name from. Robert-Houdin was a French magician who helped establish magic as a legitimate theatrical art form. Robert-Houdin brought magic from the streets, where it was often performed by unsavory characters, into the theatre. He dressed in elegant evening attire and presented magic as not only mystical, but also scientific and intellectual. He brought new technology to the stage including automatons. Most famously, Robert-Houdin used magic to help avert a war in Algeria with his Light and Heavy Chest (see our list of the Top 10 Magic Tricks of All Time). Without Robert-Houdin, magic would look much different today.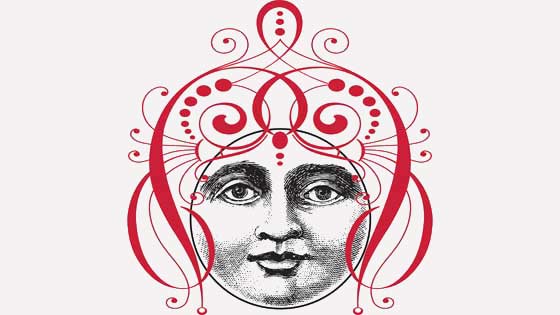 The Magic Oracle is a FREE site but I still must pay dastardly server fees! Please, donate ANY amount... $1, $5, $10, why not $1 million?
THANK YOU for keeping magic alive... and me, a Jolly Genie!
How did we do? Did your favorite magician make the list? There are so many amazing performers who make magic such a rich and vibrant art. What about Chung Ling Soo? Penn & Teller? Blackstone? Tommy Wonder? Write to us. We would love to hear who would be on your top ten list of best magicians ever!
Now Trending...