BEST Magic Shows Las Vegas Nevada 2019
Posted:
Welcome to the Entertainment Capital of the World! Since you're looking for the best magic shows in Vegas, we have the complete list for you. Check out the small intimate shows to the grand theatre productions and special performances you will ONLY find here in Sin City. So forget the comedians and the crooners and catch the Top Las Vegas Magic Shows. Isn't that why you came here in the first place?
CURRENT Vegas Magic Shows
Mirage Las Vegas
3400 S Las Vegas Blvd
Las Vegas, NV 89109

Select Dates from May 31 through July 28

This talented young performer really made a name for himself when he won the 13th season of America's Got Talent. His magic skills took him all the way to the million dollar prize, and it was all done with a few decks of cards. Shin, whose dream it was to be a pianist was dashed when diagnosed with carpel tunnel, went on to truly perfect his 2nd love... card magic. And everyone is so glad he did. He is self-taught and manipulates cards in ways that can only be described at artful. Shin is in Vegas for a short run of shows but it wouldn't be surprising if he ends up sticking around.

Excalibur Hotel
3850 S Las Vegas Blvd
Las Vegas, NV 89109

Saturday through Thursday

Hans Klok brings his show and his title, The World's Fastest Magician, to Las Vegas. He packs in a wolloping 50 illusions into a 70 minute show, so you can imagine this is a fast paced and upbeat spectacle. The showroom has been remodeled to be immersive and state-of-the-art, adding a modern edge to the show, as Hans navigates the world of illusion and the other-worldly realms of good and evil. Hans is such a popular international entertainer, that he is ranked in the Top 10 Richest Magicians in the World. Suitable for the family, although children under 18 must be accompanied by an adult.

Harrah's Las Vegas
3475 S Las Vegas Blvd
Las Vegas, NV 89109

Tuesdays through Saturdays

Catch the Mac King Comedy Magic Show and you'll get two shows in one... comedy and magic! Mac has been winning accolades such as the "top" and the "best" for more than 11 years now at Harrah's. Before his long-running show in Las Vegas, Mac spent 200 days a year as a corporate and traveling magician. His current show was recently voted the 6th best show in all of Las Vegas, which is pretty swell considering the competition! He's been voted Magician of the Year by the Magic Castle in Hollywood and has performed on the Late Show and is on his 7th TV special for NBC. Treat yourself to an afternoon show of the best deal in Vegas and be amazed!
Rio Las Vegas
3700 W Flamingo Rd
Las Vegas, NV 89103

Saturdays through Wednesdays

The "bad boys of magic" have been wowing audiences in Las Vegas for over 20 years. Why bad boys you say? Well, they have the bad habit of revealing how it's done! But it never seems to take away from the amazing wow factor of what they do! Their act is surprising, clownish, and well... unconventional. They have been making headlines for years with their many TV shows, Broadway performances, and sold out runs. The chemistry between this duo is magical. They love to meet their fans, so don't miss the "meet and greet" after the show.

Linq Hotel and Casino
3535 S Las Vegas Blvd
Las Vegas, NV 89109

Fridays through Tuesdays

Mat's show, "Magic Reinvented Nightly" all started when Mat was a kid obsessed with magic. He was creating magic shows before the age of 10 and had his first Las Vegas debut at the age of 15. His hard work and passion for magic continued until he became the season nine winner of the popular show, "America's Got Talent". His win propelled him into the spotlight, and now he is wowing audiences with his skills five nights a week at the Mat Franco Theater, which was renamed after him. He's been granted the keys to the Las Vegas Strip by the city of Las Vegas and July 10th is now officially Mat Franco day. Mat loves to improvise using the crowd as his source, bringing something fresh to each performance.

Flamingo Hotel and Casino
3555 S Las Vegas Blvd
Las Vegas, NV 89109

Select Days

Piff is instantly recognizable! Who wouldn't be dressed up in a green dragon suit, holding a fluffy white chihuahua? It goes without saying that Piff's show is part magic and a huge part comedy. The comedy is dry, sardonic, and well... British. After all, Piff hails from Great Britain where he first honed his skills. His show allows for some audience participation and a little good humored ribbing. And if you like especially cute dogs, Mr. Piffles the chihuahua is an extra bonus. You can meet and greet both Piff and Mr. Piffles after the show. Throw in a showgirl named Jade Simone, and you've got an all-around entertaining time.
Harrah's Hotel & Casino
3475 S Las Vegas Blvd
Las Vegas, NV 89109

Nightly

How can a guy that doesn't talk and has tape covering his mouth even entertain? The answer is... very well! Tape Face has taken Vegas a bit by storm with his impish sense of humor and Herculean abilities to engage audiences of all ages. Although not a magician in the traditional sense, Tape Face has a magical show that you'll find charming and touching.

Bally's Window's Showroom
3645 S Las Vegas Blvd
Las Vegas, Nevada 89109

Saturday through Thursday

Xavier Mortimer is a mime, magician, musician, artist and the winner of several international magic awards, as well as previously being a cirque performer. As in music, Mortimer's show Magical Dream is made of songs or skits, each using his talents to create a mood that has you guessing and engaged in trying to figure out what he's building. At the end of each, you will be blown away not just by his magic but by his clever unspoken creative mini-plays.

MGM Grand
3799 S Las Vegas Blvd
Las Vegas, NV 89109

Saturday and Sunday

The name David Copperfield is known the around the world. He has been amazing audiences for over 50 years. He is ridiculously successful and even owns his own chain of resort islands in the Bahamas. His early television shows were a huge success and launched him into stardom. Some of Copperfield's most famous illusions include making the Statue of Liberty disappear and walking through the great wall of China. His illusions are big, showy, and spectacular.
Planet Hollywood Hotel and Casino
3667 S Las Vegas Blvd
Las Vegas, NV 89109

Tuesday through Sunday

Nathan wowed his kindergarten class at the age of 4 and has been going strong ever since with numerous television appearances, and performances around the world. He finally got to realize his dream of having his own show in Vegas in 2008 when he opened Nathan Burton Comedy Magic at the Aladdin. He soon moved to the Flamingo, and you can now see him in the Saxe Theater in the Planet Hollywood Hotel and Casino. Nathan, along with his mother and his sister produce the show which is great for the whole family and plays at 4 pm Tuesday through Sundays.

Four Queens Hotel and Casino
202 Fremont St
Las Vegas, NV 89101

Tuesday through Saturday

Mike bills his show as "Comedy Magic with an Edge". It is fast paced, with plenty of laughs and surprises along the way. Mike combines comedic talent with magical intrigue. The show builds in complexity as it goes and culminates with the Pick Pocket Booth of Solitude. What's that you say? You'll have to see the show to find out. You might remember him as one of the founding members of Spike and Hammer, a well-known comedy magic team. He fills in his "spare time" as a host, presenter, and master of ceremonies. He was recently listed in Esquire Magazine as one of Las Vegas "45 Under 45".

Planet Hollywood Hotel and Casino
3667 S Las Vegas Blvd
Las Vegas, NV 89109

Select Days

Murray loves the limelight and has been on over 20 different reality TV shows. His appearances on America's Got Talent included turning a woman locked in a cage into a 450lb tiger and making vintage steam locomotive disappear in front of a live audience in a matter of seconds. He recently won the following 4 awards: The Hollywood FAME Award for contribution to Magic on TV, the LA Comedy Award for BEST COMEDY SHOW, TOP 100 Business Men of Nevada and 100 Most Distinguished Men of Nevada. His afternoon stage show is great for the whole family.
V Theater Planet Hollywood
3663 S Las Vegas Blvd #360g
Las Vegas, NV 89109

Thursday through Tuesday

Gerry's show The Mentalist started in New York City and migrated west to Las Vegas. Does the name The Mentalist ring a bell? That is because it was Gerry who wrote, produced and starred in NBC's hit show The Mentalist in 2004, that was based on Gerry's live show. Then the idea of a detective/mentalist was picked up by CBS for the hit weekly cop drama of the same name with Simon Baker. Gerry has been sharing his mind-reading powers with celebrities and audiences alike since the 1980s. He has been performing his show in Vegas since 2005 and is the longest running mind-reader on the strip.

Bally's Hotel and Casino
3645 S Las Vegas Blvd
Las Vegas, NV 89109

Friday through Tuesday

Frederic perfected his craft of being a mentalist while living in Europe and was voted best Mentalist in Europe. He has since brought his show Paranormal to Las Vegas where he plays five days a week. His shows are fast-paced and full of mystery. He has been known to guess what you have hidden in a pocket or has stopped a watch at exactly the time you have secretly envisioned in your mind. Is he really reading minds? We may never know, but he will have you wondering how it is all done so effortlessly and so accurately. Frederic's meet and greet after the show is an extra treat.

Westgate Las Vegas Resort
3000 Paradise Rd
Las Vegas, NV 89109

Wednesday through Saturday

With a charming smile and an upbeat attitude, Jen mystifies her audience with her award-winning magic. She has won the prestigious Merlin Award and has been seen on Penn and Teller's Fool Us. Her show is filled with audience participation, sleight of hand and pure fun. While studying theatre at Yale, she became the founder and president of the Yale Magic Society. She is also a member of more magical brotherhoods and societies to even mention.
Planet Hollywood Resort
3667 S Las Vegas Blvd
Las Vegas, NV 89109

Thursday, Saturday, Sunday, Monday

ALL SPANISH SHOW. Santiago Michel, a mind-reader and mentalist performs his show Ilusión Mental for Spanish speaking audiences. This 65-minute show is full of surprises and is great for all ages. As well as Vegas, Michel has performed in Russia and Mexico and this young charmer will have you mesmerized and laughing all at the same time. This show directed by Alain Bellon, casts the audience as the hero of the story. Take a trip into the supernatural with Michel Santiago.

Planet Hollywood
3667 S Las Vegas Blvd
Las Vegas, NV 89109

Wednesday through Sunday

This show is loud, big, raunchy and full of pyrotechnics. Yes, there is magic, along with dancers, acrobats and live musicians with wailing guitars. The age limit is 5 years old, but you might want to reconsider taking your youngest relatives along. The theater itself is all decked out and the technical wizardry is pumped up. If you are a huge Criss Angel fan, then this show will certainly please.

Stratosphere L.A. Comedy Club
2000 S Las Vegas Blvd
Las Vegas, NV 89104

Wednesday through Monday

James Michael is the Redneck comedy magician. He has traveled the world with his unique style of magic and now he brings his farcical and somewhat racy show to Las Vegas, where it fits right in. Be forewarned this is a restricted show (21+). Yes there is magic but what James brings to the stage is something weird, crazy and simply hilarious. James adds bodybuilding and tattoo artist to his skills and accomplishments. An all-around interesting character and a fun, energetic show.
The D Las Vegas
301 Fremont St
Las Vegas, NV 89101

Every Afernoon

Adam London is a comic magician who will have you laughing out loud, hence the name Laughternoon. His show runs every afternoon at the D Las Vegas Showroom. This show is great if there are some younger family members along, as it is pretty clean. Adam just loves to make people laugh and does a good job at it. He pokes fun at the over-the-top shows and makes you laugh at yourself. Lots of audience participation and an all-around good time.

Brad Garrett's Comedy Club - MGM Grand
3799 S Las Vegas Blvd
Las Vegas, NV 89109

Wednesday through Monday

These two naughty Australian performers take the saying, "nothing up my sleeves" to a whole new level. There are no sleeves or pants for that matter in this R-rated magic show. The show is both hilarious and magical for oh so many reasons. Performers Christopher Wayne and Mike Tyler have performed their naked magic show around the world, and started out in show business fully clothed. They decided however it would be so much more fun if they were doing magic and comedy all while naked. Thus creating mayhem and hilarity wherever they go. This is a 21+ show.

V Theater Planet Hollywood
3663 S Las Vegas Blvd #360g
Las Vegas, NV 89109

Nightly except for Fridays

You should probably see at least one hypnotist show in your life, and Marc's Comedy Hypnosis show will certainly have you laughing (or doing a riverdance). Is it magic? Well in a way, getting anyone to believe they are getting married onstage or that their crotch is on fire is really quite magical. Marc will ask for volunteers (the brave ones) and then the fun begins. It is crazy, at times a little bit naughty and very hilarious.
Hard Rock Hotel and Casino
4455 Paradise Rd
Las Vegas, NV 89169

Wednesday through Sunday

Let's just start by saying this is NOT a magic show per se! Do NOT take the kids and there will absolutely NOT be any rabbits. The word magic conjures all sorts of images and ideas in our heads. . . from Harry Potter to Houdini. So you might be thinking well this must be a guy named Mike doing some magic, right? So very wrong! Frankly anything that seems too good to be true might be considered magic including some things that are well. . . frankly kind of naughty. Picture 13 drop dead gorgeous guys (yes guys), doing lots of naughty things like taking off their clothes, dancing wildly and even interacting with the audience in a very suggestive manner. Yup. . . this show is for women. . . or anyone that likes hot naked guys who dance and strip really, really well. Is it magic? Well that all depends if you leave the show going, "how is that possible?!? But if you are looking for disappearing tigers or helicopters you will most certainly be disappointed. If you are looking for disappearing clothes however, you will be very, very pleased!
The Las Vegas Magic Shows History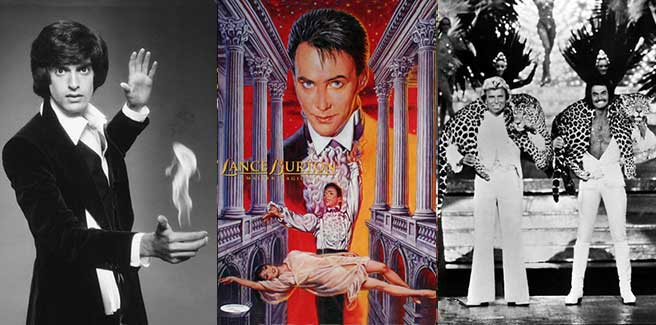 Not only did people make a home in the middle of the desert, they made a sprawling city filled with lights, entertainment, hotels, world-class dining, shopping and let's not forget... magic. The desert doesn't seem to be a place where people would want to live. The lack of water, intense heat and barren conditions are like a giant billboard that says, "go away." The fact that people can eke out a living in these hostile conditions is a magic act all its own.
Las Vegas started out as a watering stop between Los Angeles and the rest of the desert. The completion of the railroad and the building of the Hoover Dam was a turning point for the dry and dusty city. Men attracted to the promise of work made their way to the Hoover Dam project and made their way into Las Vegas. Cheap electricity, crowds looking for entertainment, and urbanization built up the city until Las Vegas became the entertainment and gambling capital of the US.
Magic found it's way into Las Vegas and started to grow as well. The first magic shows of Las Vegas were sleight of hand acts. Top hats that magically filled with white rabbits, interesting card tricks, and the ubiquitous sawing the attractive assistant in half were standard parts of the first magic shows offered. As people continued pouring into Vegas looking for entertainment between table games, expectations grew for more daring shows and never before seen tricks.
During the '80s and '90s magic became a major entertainment draw in Las Vegas. David Copperfield with his flair for theatrics was a major crowd-pleaser. His new brand of magic was one part fabulous spectacle and two parts amazing illusion. Audiences were stunned and wanted more.
Siegfried and Roy took the same approach of spectacle and illusion but added one new element—tigers. While most magicians were still getting by with rabbits and birds, Siegfried and Roy Siegfried and Roy weren't just performing amazing acts of illusions, they had a team of well-trained tigers as key parts of their show. The crowds were thrilled and just kept coming.
While the spectacle of the '80s and '90s has faded, magic hasn't died out in Vegas. The best magic tricks have changed and now focus on tricking perception, drawing in crowds with a throwback street magic feel. Modern magicians have migrated away from the usual magic shows and focused on illusion and warped perception, shocking audiences, and of course adding comedy. Lots of comedy.
Whether in Las Vegas to win big, or hit a few nightclubs, take a moment to find a great magic show. There is a rich history that just begs to be discovered. This page lists a few of our favorite things to do in Las Vegas around magic and magic shows.
PAST Vegas Magic Shows
David Goldrake

David is known around the world as the International Man of Magic, aided by the fact that he speaks seven languages and has performed in 20 countries around the world. He has appeared on stages both big and small and has been seen by millions as an international television personality. He is a regular at the famed Magic Castle in Los Angeles and has received both a Merlin award and the coveted Mandrake D'Or award. His show Imaginarium is full of grand spectacles and awe-inspiring feats of illusion. David also finds time to commit to and promote many philanthropic organizations.

Masters of Illusion

See five fabulous acts rolled into one evening's performance. The Masters of Illusion brings five top-named magicians to the stage, with large-scale effects and awe-inspiring feats. You will be treated to thrills, comedy and modern illusions that will take your breath away as well as having you laughing out loud. The show has traveled throughout the US to huge audiences. It also is a popular show on the CW Network.

Adam Trent

Adam is well known for his work with the Broadway smash show The Illusionists, touring with them for their first two fabulous U.S. seasons. He has since then created a solo show "The Illusionists Present the Magic of Adam Trent" which is fun for the entire family and includes many of his pieces from The Illusionists as well as new material. He is also known for his 10 episode TV series on Red Bull TV, called The Road Trick: The Magic of Life on the Road. You get to travel with Adam around the world while he mystifies the people he meets with his magical abilities.
Las Vegas is known as one of the most important entertainment cities in the United States and they feature some of the most amazing magic shows. We trust we've inspired you to see a few new faces on your next trip and hope you enjoy all the great Magic Shows in Las Vegas!
Now Trending...