What are the BEST Magic Shows (in New York City) for 2022?

Posted:
New York is home to great magicians old and new including Dan White, Speakeasy Magick, Monday Night Magic, A Taste of Magic and more. Touring magic shows can usually be found in New York's many performing arts theatres, but if you are looking for something more local, there are several wonderful and stylish hotels with a resident magician like the Nomad Hotel, McKittrick Hotel or Lotte New York Palace Hotel.
Or visit one of the oldest magic shops in New York, Tannen's Magic, and catch a show. Other venues for magic include restaurants, comedy clubs and festivals. And if New York City is the cultural center of the United States, shouldn't it have the best magic shows in the country too? Well it does, with magic and illusion shows from Broadway-size touring shows to small, intimate "parlor shows" for a handful of select guests, with the magic happening right in YOUR hands! So, forget that cheesy musical and catch some of the top New York magicians. This is THE Magic Show NYC list for you!
ALL New York Magic Shows TODAY
Fairmont Kea Lani Hotel, Maui, Hawaii
4100 Wailea Alanui Dr
Wailea, Maui, HI 96753

Spice up your vacation to Maui with The Magical Mystery Show!, which is conjuring up the world's best magical entertainers at the best hotels around the world. Step into an elegant, intimate setting and be transported back in time to the Victorian era, when traveling parlour magicians were the kings of entertainment. Prepare to be stunned as miracles happen just feet away! Seating is limited, providing for a thrilling, close-up, and magical experience, with all the laughter and joy of a bygone era. Childlike wonder will be evoked, created by miraculous feats of prestidigitation, as the lines between fantasy and reality become blurred. Perhaps you will be chosen from the audience to participate, sharing with the audience the thrill of making magic! Visit the site for ticket availability.

Show Duration: The show is approximately 2 fun hours.
Food and Drink: The resort has several restaurants and bars onsite for a lovely evening of dinner, drinks, and fabulous entertainment.
Age Restriction: 21+


Count Basie Center, Redbank NJ
99 Monmouth St
Red Bank, NJ 07701

Piff is instantly recognizable! Who wouldn't be dressed up in a green dragon suit, holding a fluffy white chihuahua? It goes without saying that Piff's show is part magic and a huge part comedy. The comedy is dry, sardonic, and well... British. After all, Piff hails from Great Britain where he first honed his skills. His show allows for some audience participation and a little good humored ribbing. And if you like especially cute dogs, Mr. Piffles the chihuahua is an extra bonus.

Various New York Area Venues
New York City, NY

Masters of Illusion is a popular television show that started on the CW network. From there it has become one of the most popular traveling illusion shows on the big stage. Thoroughly modern and utterly mind-blowing, you will enjoy an evening of grand magic. The current stage show features Ben Blaque, Farrell Dillon, Dan Sperry and Titou. You could travel all the way to Las Vegas to see this show, but why not catch it while on tour? You'll be glad you did.
State Theatre, New Brunswick NJ
15 Livingston Avenue New Brunswick, NJ 08901
New Brunswick, NJ 08901

The "bad boys of magic" have been wowing audiences in Las Vegas for over 20 years. Why bad boys you say? Well, they have the bad habit of revealing how it's done! But it never seems to take away from the amazing wow factor of what they do! Their act is surprising, clownish, and well... unconventional. They have been making headlines for years with their many TV shows, Broadway performances, and sold out runs. The chemistry between this duo is magical and P&T tricks are some of the best in the business. They love to meet their fans, so don't miss the "meet and greet" after the show.

New Amsterdam Theatre
214 West 42nd Street
New York City, NY 10036

Immerse yourself in a whole new world at ALADDIN, the hit Broadway musical. From the producer of The Lion King comes the story of Aladdin. This thrilling production is filled with unforgettable beauty, magic, comedy and breathtaking spectacle. With something for everyone, take a journey where one lamp and three wishes make the possibilities infinite.

Age Restriction: Recommended for ages 6 and up.
Parking: Parking garages and metered parking nearby.


Lyric Theatre
214 W 43rd St
New York City, NY 10036

This is the 8th book in the beloved Harry Potter series by J.K. Rowling and the first of the stories to be made into a live stage performance. Witness the magic and mystery that is Harry Potter and enter the wizarding world. Harry is now much older and married with three children. His troubles are far from over as his son Albus struggles with his families past. Adapted for stage by John Thorne and Jack Tiffany, Harry Potter and the Cursed Child is pure enchantment and wildly theatrical. The secret to this magical theatrical experience is that it is in two parts. So if you want to get the full story, you have to see two plays.
The Gym at Judson
243 Thompson Street
New York City, NY 10012

David Blain Presents Asi Wind's Inner Circle—the most intimate magic show you have ever experienced. As you enter the theatre space, you become a part of the show. This is magic and so much more, due to the unique theatre setting. It is mysterious and hilarious, and something all-together different. Join Asi Wind's unforgettable Inner Circle. "The kind of magic I create needs to be experienced up close; that is why we are creating the most intimate theatrical space in New York," says Wind. Each show is unique, so be sure to join this influential magician as he takes you on a magical ride in the heart of New York City.

Nomad Hotel
1170 Broadway
New York City, NY 10001

Dan's shows sell out fast! His show, "The Magician" is in collaboration with Theory II. This intimate show will have you totally fooled, baffled and surprised. Audience participation is a big part of the show and guests are included in almost every illusion. Dan has been a consultant for David Copperfield in Las Vegas and has created magic for stage and screen, being featured on both the Discovery Channel and the Travel Channel. Dinner and/or cocktails can be enjoyed on-property but are not included in the ticket price. Recommended for adults 18 and older. COVID UPDATE: Dan's show is now online for the time being, so you can experience the same great magic from the comfort of your home.

Show Duration: The performance is approximately two hours long with one brief intermission.
Food and Drink: Tickets are for admission only. Available for sale will be wine, beer, and a selection of cocktails. There will be a light snack provided and the option to purchase small items from a limited food menu.
Age Restriction: 18 Years and older.
Parking: There is no parking at the Nomad Hotel, but there are several parking garages nearby.


The Players Theatre
115 MacDougal St
New York City, NY 10012

Monday Night Magic in Greenwich Village is the longest running off-Broadway magic show in New York City. It has been host to several hundred different performers, both young up-and-coming acts as well as seasoned performers. Each week on Monday night the show will feature three different artists who each bring their own brand of wow to the stage. During intermission, the audience is also treated to some up-close magic at various locations in the theatre. And as an extra bonus, you can take your ticket for the evening and use it to get a discount that night at several select restaurants close by.

Food and Drink: There is a lounge on the premises where drinks may be purchased.
Age Restriction: This show is not recommended for children under 12, and children under 8 will not be admitted.
Parking: There is free parking on the street after 6pm. Be sure to secure your vehicle and don't leave valuables in the car.

Guild Hall at the Little church
1 E 29th St,
New York City, NY 10016

Sam is a skilled mentalist and his show the "Quantum Eye" will have you mesmerized. This show is suitable for all ages and Sam makes full use of the audiences, asking them to join him on stage, while he works his magic on them, reading their thoughts and leaving them stunned and asking, "how did he do that?" The off-broadway theatre, Theatre 80 started life as a speakeasy and has a colorful history as a theatre. It is the perfect space for Sam's intimate and interactive show.

Show Duration: The show is 90 minutes with no intermission.
Food and Drink: This show does not include any food or beverages.
Age Restriction: The show is sophisticated and family-friendly, but may not be visually entertaining for children under 7 years of age. No children under age 5 admitted in theatre.
Parking: There is free parking at nearby parking garages.


The McKittrick Hotel
530 W 27th St
New York City, NY 10001

Join Todd Robbins as he welcomes visiting magicians and illusionists for a magical soiree. An intimate evening of magic. Todd is a sideshow master who helps to bring the evening alive with his historical knowledge, insights and expert showmanship. Each evening a different guest magician is invited to share their own brand of close-up magic and illusionist's delights.

Show Duration: The show is approximately two hours long.
Food and Drink: Cocktails can be purchased and enjoyed at your table.
Age Restriction: This show is geared towards and adult evening out.
Parking: There is no parking at the McKittrick Hotel, but there are several parking garages nearby.


Select Restaurants in New York
New York City, NY

Close-up conjuring and wonderful cuisine come together in an evening to be remembered. Enjoy a fabulous meal and a show all for one price. You will be treated to up-close magic right at your table... between courses of course. This is a treat for everyone in the family and there are two times each night to choose from. Also, choose from several restaurants in the New York area. Impress a date or bring a crowd, it is certainly a fun way to spice up just another night of dining out.

Show Duration: Dinner and the show are approximately two hours long.
Food and Drink: The price includes the show, a three course meal, and tax. It does not include beverages.
Parking: Please check with the hosting restaurant for their parking availability.

Lotte New York Palace Hotel
New York City, AZ

Steve's show, "Chamber Magic", takes place in an elegant "salon" inspired by Manhattan magic in the early 20th century. Limited to just 60 guests per show, you will be treated to "a demonstration of modern conjuring". Dress up in cocktail attire, arrive at the famous New York Palace and find yourself mesmerized by mind reading, conjuring and sleight of hand. Steve's show has been seen by a long list of celebrities and Woody Allen called it "a religious experience"! This show is for adults only.

Show Duration: The show is 90 minutes.
Food and Drink: The Lotte New York Palace Hotel has several food and beverage options on site including a restaurant, bar and pastry shop.
Age Restriction: Adults only.
Parking: There is parking at the adjacent parking garage.


Tannen's Magic
45 W 34th St #608
New York City, NY 10001

Now in a digital format... Imagine heading into an old office building at night. All the doors are locked and a few workers are still leaving. You arrive at your floor, walk down the hall, and open an unmarked door and inside is a magical treasure chest. It's Tannen's, the oldest magic shop in New York lined with books, DVDs, props, and magical secrets. You grab a drink, sit down, and the lights dim so only one remains, lit above a card table. Noah begins with a deck of cards.

Show Duration: The show is 70 minutes.
Food and Drink: Drinks are available for purchase at your table.
Age Restriction: Age 16 and older.


Houdini Museum
1433 N Main Ave
Scranton, PA 18508

This out of the way, but charming museum, is dedicated totally to Harry Houdini and his life and magic. They offer a full afternoon of fun for all ages with a movie, guided tour and a full hour magic show in their special showroom. They recommend making reservations ahead of time for this historically educational entertainment package. The movie includes rare footage of Houdini. This little day-trip gem is great for the whole family, so why not take a drive and check out the Harry Houdini Museum in Scranton PA.
The Spot Karaoke Lounge
34 West 32nd Street
New York City, NY 10001

Society of Conjurers And Magicians NY: An Immersive Magic Experience is just that... immersive. You'll get to unravel the secrets of this supposedly secret society that is not so secret. I think I've said secret one to many times. Regardless, you will some of the best magicians in the world. The cast rotates each week, so you can keep coming back for more secret sauce. So join the Society of Conjurers And Magicians (otherwise known as SCAM), in their sort of hidden location for a great evening of fun and magic.

Show Duration: 3 Hours


Morley's Magic Theatre
18 Boonton Avenue
Butler, NJ 07405

The Morley family has been entertaining families for 20+ years, and now they have brought it all back home to Butler NJ with their very own Magic Theatre, and Magic Shop. This kid friendly venue is the perfect place to have a party, or host a special event. Stay tuned for dates for public performances and holiday specials. Scott and Britni both have degrees from top theatre schools in the country, and together have written dozens of magic, puppet and circus shows.

The Cauldron
47 Stone Street
New York City, NY 10004

Not a show, but an experiential magical bar! We've included it since it has a wickedly fun magical theme. Upon entering you will receive a magic wand with which you will make your very own magical potion. This interactive experience includes spell-casting 101 and potion making tutorials, where you will be brewing your very own concoction, as well as other wild and crazy experiences that your wand and your magic skill will help to unfold around you. Your potions can be alcohol infused or non-alcoholic... your choice. The resident potion master will be on hand to help guide you in this wonderful new world of magical fun.

Show Duration: 1 Hour and 45 Minutes
Food and Drink: Yes!
Age Restriction: Some family friendly events and times available.

The Magic Show NYC History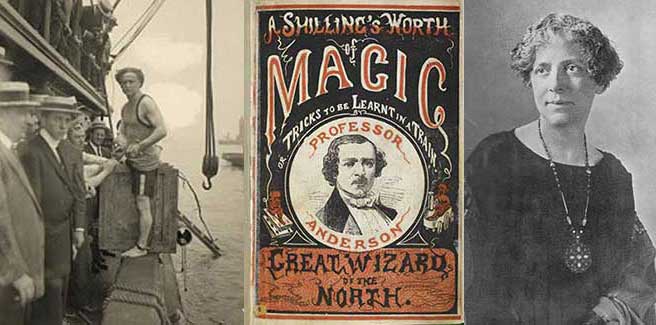 Magic, especially in New York, was originally seen as a lower-class, street level spectator sport. People would stop on the street to watch a magic card trick while street urchins would pick the pockets of the staring crowd.
It is speculated that the first magic act was performed around 2700 BC. Recorded from fragmented accounts, a renowned Egyptian magician known as Dedi performed what many believe to be the very first ball trick, that is making one appear or disappear (the details are pretty sketchy). From there, noble men and women looked for and employed magical entertainers within their court. From these humble starting grounds modern magic was eventually born.
As magic traveled around the globe, and performers perfected and created new and entertaining acts, the demand for magic grew. The desire to be wowed fueled magicians to develop more daring shows, better tricks, and even more dangerous stunts. These magic shows stayed in New York longer because of the interest and size of the audience.
As magic shows moved from neighborhood to neighborhood in New York, so too did petty crime. Not many "genteel" people liked these magic shows, feeling that it only appealed to the lower classes and had no place among decent New York society. By the late 1800s that all changed.
The birth of Erik Weisz in Budapest Hungary in 1874 probably seemed like any other birth for that era. Erik migrated with his family to America and moved from Wisconsin to New York. At the age of nine young Erik became a trapeze artist and later in 1891 started his career in magic, changing his name to a more suitable stage name, Harry Houdini.
New York wasn't exactly excited about young Harry's magic career so he set out on the road, earning his fame as an escape artist in Europe before returning to New York in 1904. Now the city that wasn't so supportive of magic, wanted Houdini and his amazing escapes. One of his most popular escapes was the escape from the sunken box on the banks of Manhattan in the East River. Harry Houdini had converted New Yorkers into magic lovers.
From sketchy beginnings to the world-famous Harry Houdini, New York became a town where magicians and magic shows could grow. Establishments like Martinka's Magic Shop and Tannen's became stores that catered to up-and-coming magicians. Later magicians like David Copperfield, Chris Angel, and David Blaine found New York to be the birthplace of their fame and fortune.
Modern magic shows featuring illusions, escape artistry and even mind-bending thought suggestion are now considered the height of entertainment throughout the Big Apple.
As with many things in life, where you start out isn't always where you end up. This is true for magic in New York City. Once maligned as a breeding ground for criminal activity, now magic shows and performers are sought after entertainment throughout the world.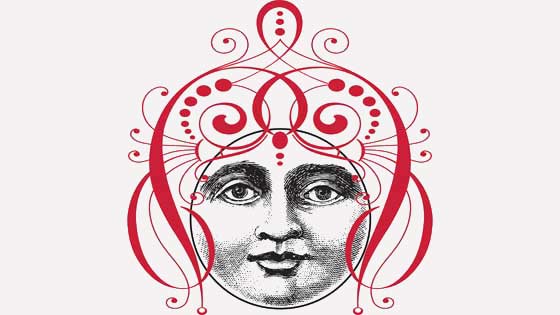 The Magic Oracle is a FREE site but I still must pay dastardly server fees! Please, donate ANY amount... $1, $5, $10, why not $1 million?
THANK YOU for keeping magic alive... and me, a Jolly Genie!
Now Trending...