BEST Magic Shows in NYC 2018
If New York is the cultural center of the United States, shouldn't it have the best magic shows in the country too? Well, like all things New York, it does! This city has magic and illusion shows like no other city in the world, from the large-scale Broadway-size touring shows to the small, intimate "parlor shows" for a handful of select guests with the magic happening right in YOUR hands! So, forget that cheesy musical and catch some of the top New York magicians. This is THE Magic Show NYC list for you!
CURRENT Magic Shows in New York City
Daryl Roth Theatre - Wednesdays through Sundays

Produced by Neil Patrick Harris and directed by Frank Oz, Derek's show is receiving rave review by the New York Times, Vogue, and the Huffington Post. The show is called "In and Of Itself: Identity is and Illusion". Secrets, memories and inexplicable events all combine to create a perpetual paradox. A wonderful piece of theatre and a magical delight. This off-Broadway show has been extended four times and this show encourages wonder, participation, and discovery.

Nomad Hotel - Thursdays through Saturdays

Dan's shows sell out fast! His show, "The Magician" is in collaboration with Theory II. This intimate show will have you totally fooled, baffled and surprised. Audience participation is a big part of the show and guests are included in almost every illusion. Dan has been a consultant for David Copperfield in Las Vegas and has created magic for stage and screen, being featured on both the Discovery Channel and the Travel Channel. Dinner and/or cocktails can be enjoyed on-property but are not included in the ticket price. Recommended for adults 18 and older.

The Blue Door, 59 Canal St. - Select Evenings throughout the Week

Joshua's new show, Six Impossible Things, is now playing in the performance space Wildrence. The very small audience of just 20 people is guided through each room in the space, revealing a new mystery in a very immersive experience. There is some sitting and some walking and some oohing and aahing along the way, and each guest is only allowed to see the show once! So pay attention and enjoy. Jay has a long list of accolades and experiences in magic under his belt, including being consulted on the new set of stamps for the US Post Office which celebrates all things magic.
Lotte New York Palace Hotel - Fridays through Saturdays

Steve's show, Chamber Magic, takes place in an elegant "salon" inspired by Manhattan magic in the early 20th century. Limited to just 60 guests per show, you will be treated to "a demonstration of modern conjuring". Dress up in cocktail attire, arrive at the famous New York Palace and find yourself mesmerized by mind reading, conjuring and sleight of hand. Steve's show has been seen by a long list of celebrities and Woody Allen called it "a religious experience"! This show is for adults only.

The Players Theatre, 115 Macdougal St. - Monday Nights

Monday Night Magic in Greenwich Village is the longest running off-Broadway magic show in New York City. It has been host to several hundred different performers, both young up-and-coming acts as well as seasoned performers. Each week on Monday night the show will feature three different artists who each bring their own brand of wow to the stage. During intermission, the audience is also treated to some up-close magic at various locations in the theatre. And as an extra bonus, you can take your ticket for the evening and use it to get a discount that night at several select restaurants close by.

Westside Theatre, 407 W. 43rd. St. - Seven Days a Week Until Sept. 30th

Vitaly's show, An Evening of Wonders, is a limited engagement show, so don't wait too long before going to see it. Vitaly's unique style blends illusion with art, bringing to life enchantment, beauty, and wonder in a fresh new way. He touches on poignant themes like love, loss, and aging and instills a transformational quality to everything he does. With his show, you enter the world of pure imagination. His pieces are his own original creations, each uniquely creative and mesmerizing.
Tannen's Magic, 45 West 34th Street - Tuesdays and Wednesdays

Imagine heading into an old office building at night. All the doors are locked and a few workers are still leaving. You arrive at your floor, walk down the hall, and open an unmarked door and inside is a magical treasure chest. It's Tannen's, the oldest magic shop in New York lined with books, DVDs, props, and magical secrets. You grab a drink, sit down, and the lights dim so only one remains, lit above a card table. Noah begins with a deck of cards...

McKittrick Hotel - September 14 - October 25

Scott has been intrigued with the mysterious since a young age and wishes to bring that same sense of wonder he felt as a child to the stage. He studied hypnotism in Italy at the age of 15 and by the time he was 19, he was garnering attention from top magicians. He has performed for royalty and headlined in one of the UK's most prestigious theatres. He is charmingly young and a name to keep an eye on as he pushes the boundaries of his craft.

Select Restaurants in New York - Select Friday and Saturdays

Close-up conjuring and wonderful cuisine come together in an evening to be remembered. Enjoy a fabulous meal and a show all for one price. You will be treated to up-close magic right at your table... between courses of course. This is a treat for everyone in the family and there are two times each night to choose from. Also, choose from several restaurants in the New York area. Impress a date or bring a crowd, it is certainly a fun way to spice up just another night of dining out.
Count Basie Theatre, Redbank NJ - September 7-9, 2018

Some of the UK's finest magicians have come together for a funtastic, spectoramic, supermagical show. Forget Mary Poppins... this is eye-popping stuff and tons of fun for the whole family. The magic spectacle has toured the world and will be doing several US dates. You will see levitations, disappearances, mind-reading and more. Each of the acts brings their own unique style and skills to the experience, with plenty of grand illusions and special effects.
New York: The Magic City History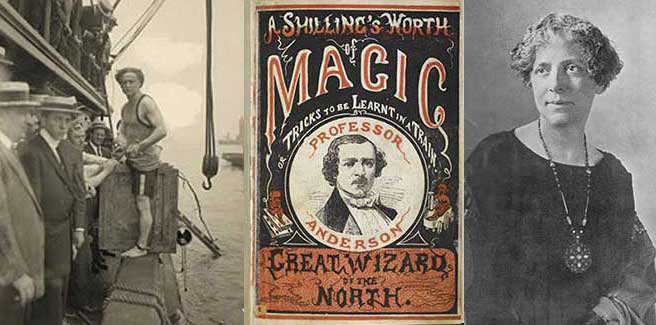 Magic, especially in New York, was originally seen as a lower-class, street level, spectator sport. People would stop on the street to watch a magic card trick while street urchins would pick the pockets of the staring crowd.
It is speculated that the first magic act was performed around 2700 BC. Recorded from fragmented accounts, a renowned Egyptian magician known as Dedi performed what many believe to be the very first ball trick, that is making one appear or disappear (the details are pretty sketchy). From there, royalty—noble men and women—looked for and employed magical entertainers within their court. From these humble starting grounds, modern magic was eventually born.
As magic traveled throughout the globe, with performers perfecting and creating new and entertaining acts, the crowds grew. The demand to be wowed only fueled magicians to develop more daring shows, better tricks, and even more dangerous stunts. These magic shows stayed in New York longer because of the interest and size of the audience.
As magic shows moved from neighborhood to neighborhood in New York, so too did petty crime. Not many "genteel" people liked these magic shows, feeling that it only appealed to the lower classes and had no place among decent New York society. By the late 1800s that all changed.
The birth of Erik Weisz in Budapest Hungary in 1874 probably seemed like any other birth for that era. Erik migrated with his family to America and moved from Wisconsin to New York City. At the age of nine, young Erik became a trapeze artist and later in 1891 started his career in magic; changing his name to a more suitable stage name—Harry Houdini.
New York wasn't exactly excited about young Harry's magic career, so he set out on the road, earning his fame as an escape artist in Europe before returning to New York in 1904. Now, the city that wasn't so supportive of magic, wanted Houdini and his amazing escapes. One of his most popular escapes being the escape from the sunken box at the East River. Harry Houdini had converted New Yorkers into magic fans.
From sketchy beginnings to the world-famous Harry Houdini, New York became a town where magicians and magic shows could grow. Establishments like Martinka's Magic Shop and Tannen's became stores that catered to up-and-coming magicians. Later magicians like David Copperfield, Chris Angel, and David Blaine found New York to be the place where their fame started.
Modern magic shows featuring illusions, escape artistry and even mind-bending thought suggestion are now considered the height of entertainment throughout the Big Apple.
As with many things in life, where you start out isn't always where you end up. This is true for magic in New York City. Once maligned as a breeding ground for criminal activity, now magic shows and performers are sought after entertainment throughout the world.
PAST New York Magic Shows
Derren Brown

Atlantic Theatre Company

Derren hails from the UK where he has been bamboozling audiences with psychological manipulation and hypnotism for several decades. His TV show Mind Control in the UK was hugely popular and he has performed such stunts as successfully predicting the National Lottery and literally sticking TV viewers to their sofas. Derren's show "Secret" played off-Broadway in 2017. Derren is also an accomplished portrait painter and photographer, with his works being shown in prominent London art galleries. Quite frankly, if you missed his first and only US appearance in NYC, you lost out BIG TIME. Be sure to stay in touch with us so we can keep you in the loop!
As everything in NYC, there is a plethora of options of everything and magic here is no different. Whether you originally were looking for a small theater show near you or looking for an elaborate illusion show on tour, we hope we've introduced you to the Best Magic Shows in New York!
Now Trending...