BEST Magic Show NYC 2019
If New York City is the cultural center of the United States, shouldn't it have the best magic shows in the country too? Well, like all things New York, it does! New York has magic and illusion shows like no other city in the world, from the large-scale Broadway-size touring shows to the small, intimate "parlor shows" for a handful of select guests with the magic happening right in YOUR hands! So, forget that cheesy musical and catch some of the top New York magicians. This is THE Magic Show NYC list for you!
CURRENT New York City Magic Shows
The Magic Show NYC History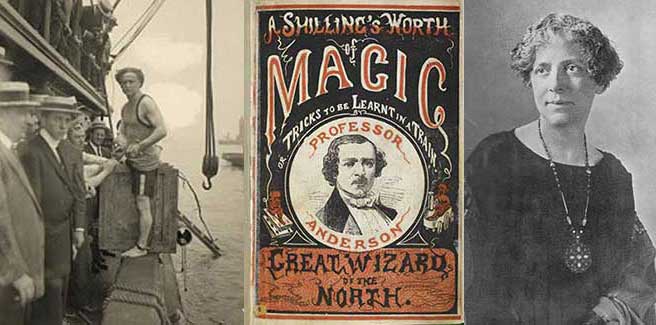 Magic, especially in New York, was originally seen as a lower-class, street level, spectator sport. People would stop on the street to watch a magic card trick while street urchins would pick the pockets of the staring crowd.
It is speculated that the first magic act was performed around 2700 BC. Recorded from fragmented accounts, a renowned Egyptian magician known as Dedi performed what many believe to be the very first ball trick, that is making one appear or disappear (the details are pretty sketchy). From there, royalty—noble men and women—looked for and employed magical entertainers within their court. From these humble starting grounds, modern magic was eventually born.
As magic traveled throughout the globe, with performers perfecting and creating new and entertaining acts, the crowds grew. The demand to be wowed only fueled magicians to develop more daring shows, better tricks, and even more dangerous stunts. These magic shows stayed in New York longer because of the interest and size of the audience.
As magic shows moved from neighborhood to neighborhood in New York, so too did petty crime. Not many "genteel" people liked these magic shows, feeling that it only appealed to the lower classes and had no place among decent New York society. By the late 1800s that all changed.
The birth of Erik Weisz in Budapest Hungary in 1874 probably seemed like any other birth for that era. Erik migrated with his family to America and moved from Wisconsin to New York City. At the age of nine, young Erik became a trapeze artist and later in 1891 started his career in magic; changing his name to a more suitable stage name—Harry Houdini.
New York wasn't exactly excited about young Harry's magic career, so he set out on the road, earning his fame as an escape artist in Europe before returning to New York in 1904. Now, the city that wasn't so supportive of magic, wanted Houdini and his amazing escapes. One of his most popular escapes being the escape from the sunken box on the banks of Manhattan in the East River. Harry Houdini had converted New Yorkers into magic lovers.
From sketchy beginnings to the world-famous Harry Houdini, New York became a town where magicians and magic shows could grow. Establishments like Martinka's Magic Shop and Tannen's became stores that catered to up-and-coming magicians. Later magicians like David Copperfield, Chris Angel, and David Blaine found New York to be the place where their fame started.
Modern magic shows featuring illusions, escape artistry and even mind-bending thought suggestion are now considered the height of entertainment throughout the Big Apple.
As with many things in life, where you start out isn't always where you end up. This is true for magic in New York City. Once maligned as a breeding ground for criminal activity, now magic shows and performers are sought after entertainment throughout the world.
PAST Magic Shows NYC
As with everything in NYC, there is a plethora of options, and magic is no different. Whether you originally were looking for a small theater show near you or looking for an elaborate illusion show on tour, we are thrilled to have introduced you to the Best Magic Shows in New York!
Now Trending...