Here's to you Carnival Friend!
November is here and before Thanksgiving arrives we want to THANK YOU and let you know how grateful we are that you have shared your magic with us:

YOU have SOLD OUT every parlour show this 3rd Season!
YOU have recommended Carnival of Illusion to friends and family!
YOU have written stellar reviews!
YOU have "liked" us on Facebook!
YOU have partnered with us to keep the magic alive!

THANK YOU!
TEACHER'S PET Ms Harriette Houdini has been up nights studying to become a therapy dog! She has just one more hoop to jump through before she can wear the Delta Society vest. The big test is on Sunday. Her beard and moustache are shaved off which had nothing to do with the "Grooming" section. Actually, she got into a fight with some nasty burrs and they won. Guess she's temporarily no longer the "bearded lady."

IN THE NEWS We're honored that two national magic magazines ran feature articles on the Carnival in October! Check them out on our Press Page.
SHE KNOWS HOW TO THROW A PARTY! December is our busiest month for banquets and private parties and our calendar is filling up! Alisha Stoddard, our business development coordinator, worked for many years at the Tucson visitor's bureau and in the hotel/resort industry. She will put a magical spin on your event. No, we don't do "kiddy" shows, these are her twins. Look at the smiles; now those are satisfied guests! Alisha makes magic happen, give her a jingle at (520) 490-7757 or alisha@carnivalofillusion.com.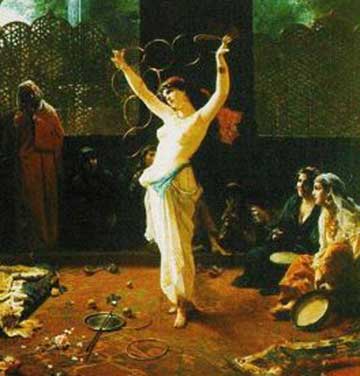 REINCARNATION or ANCESTRY? We love this incredible image our magic-inventor friend sent us. Hmm... quite a peculiar resemblance. Do you think this was Susan in a past life or one of her ancestors?

We love what we do and appreciate YOU for allowing us to continue to share our passion. We will be forever thankful and grateful. Wishing YOU the best and the tastiest of Thanksgivings ever!

-Susan, Roland, Alisha and Ms Harriette