Greetings from the road Carnival Friend!
THE DAY HAS ARRIVED Show tickets are once again on sale for Parlour Shows, YIPPEE! As a thank you for subscribing to our newsletter, the next time you purchase tickets, use the secret code "friend" to receive $5 off each ticket. For ticket availability click here. To read the latest press release click here and the latest article click here.
RAINY DAY IN PHILLY Here we are in the "city of brotherly love" at one of Ben Franklin's favorite haunts. Once again we're performing our way cross country for our yearly Summer tour. We headed East where we closed the Saturday evening gala show for the Magician's Alliance of Eastern States (MAES) convention in New Jersey then dropped across the river for a theater show in Philadelphia. Next stop, the Adirondacks. If you're near upstate New York this week, drop us an email and we'll give you our schedule for our Adirondacks' theater tour.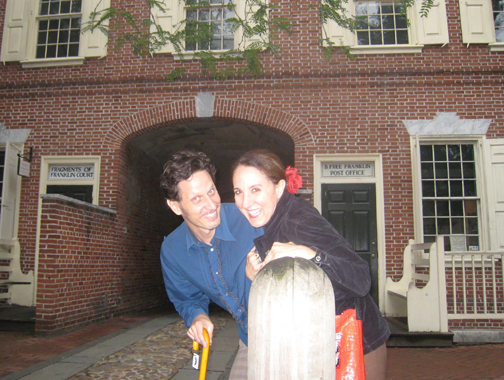 HUMBLE BEGINNINGS We bid a fond and nostalgic fare-thee-well to the original spinning basket (made from a clothes hamper, shhhh.) Along with the butterfly finale, this was the first illusion we ever performed together over 7 years ago this month. Goodbye old friend, we know you'll make a lovely home for a lucky kangaroo mouse, tarantula, or gila monster. On the right is our latest custom basket.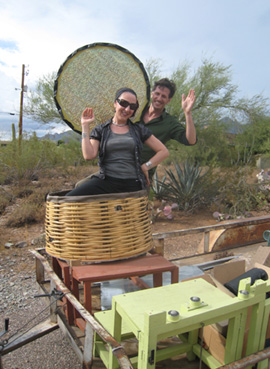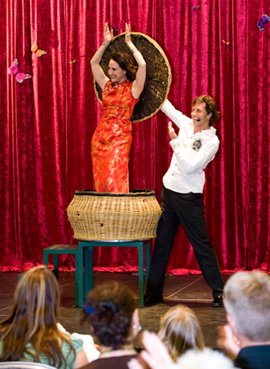 Roadside attractions and funky fun spots always make for a memorable cross country trip. If you have any unique locations let us know, we may just be going in that direction. Brooke is holding down Arizona headquarters, if you have any hot spots we shouldn't miss, questions on parlour shows, or want to get the jump on holiday parties, give us a call. We always love to hear from you!
Buckle up and we'll see you in the Fall,
Susan, Roland and Miss Harriette our backseat driver (in the bottom right)