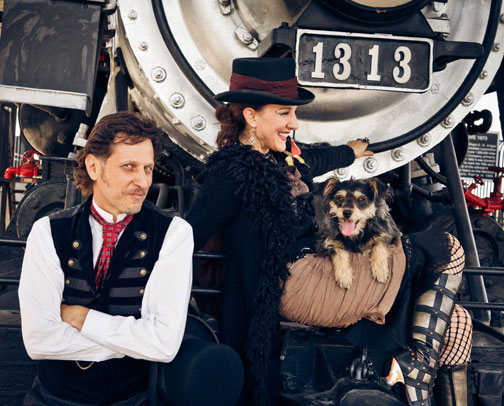 JOIN CARNIVAL OF ILLUSION FOR ITS 225th SOLD OUT PERFORMANCE IN A ROW
Phoenix, AZ – Join Carnival of Illusion on Saturday, April 26 at 5:30 and 8 p.m. at ASU Kerr Theater in Scottsdale to celebrate its 225th sold out performance in a row. As a thank you, all guests will receive a complimentary autographed poster as well as a celebratory cupcake. As a thank you to the community for being such loyal fans, Carnival of Illusion will donate a portion of tickets to the milestone weekend performances to Vettix, a non-profit that provides free entertainment to family members of troops killed in action. Tickets start at $45.
Carnival of Illusion is an evening of Old-World Magic, Mystery, and OOOH La La! This Old-World intimate magical theater show transports guests on a magical journey "around the world in 80 minutes".
ASU Kerr General Manager Tracey Mason says, "We're excited to celebrate Carnival of Illusion's historic milestone at our venue. Mrs. Kerr would be proud to see so many new faces coming to celebrate in her theater."
From 2011 to today, Carnival of Illusion has sold out every show at all three venues including the Arizona Biltmore Resort in Phoenix, the Doubletree Hotel in Tucson, and their newest location the ASU Kerr in Scottsdale. "These past few seasons have been a very exciting time for our boutique theater," says owner Roland Sarlot. Susan Eyed, one of the few female magicians in the world added, "What began as a concept of an intimate illusion show has turned into a weekly attraction in three cities for tourists and locals."
Sarlot and Eyed are the National Recipients for "Excellence in Magic" and have performed as house entertainers at the world's top resorts. Carnival of Illusion plays Fridays and Saturdays during high season. In addition to entertaining thousands of guests every year, Sarlot and Eyed are supporters of charities with their philanthropy dedicated to bringing joy to Arizona and beyond.
Tickets and show times at www.carnivalofillusion.com and (480) 359-SHOW.
Media information at
www.carnivalofillusion.com/press/
Interviews and media downloads available upon request.
Media Contact: (480) 359-SHOW