Carnival of Illusion Celebrates their 250th Performance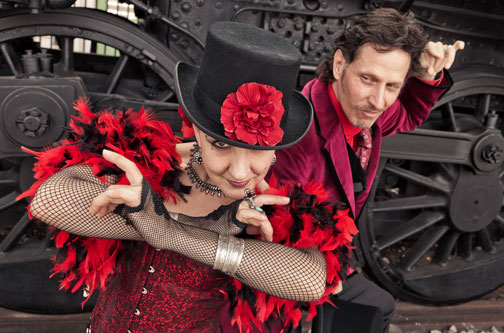 Carnival of Illusion will celebrate the 250th performance of their blockbuster vaudeville-inspired illusion show in April 2013. The magic duo's milestone will be celebrated in Tucson on April 12th and 13th at the Doubletree Reid Park Hotel and in Phoenix on April 20th at the Arizona Biltmore Resort.
"This is absolutely fantastic. We have sold out every single show over the last two seasons. That's 180 sold out shows in a row," stated Roland Sarlot. Susan Eyed, one of the few female magicians in the world, said, "They say time flies when you're having fun but it feels like we're traveling at the speed of light!"
"It's exciting to see a unique, fun and dynamite night time attraction to highlight the creativity and expertise that we have in Arizona. We're ecstatic that Sarlot and Eyed created this audience generator in our state," said Reini Marsh, President of the Southern Arizona Attraction's Alliance.
Carnival of Illusion plays Fridays and Saturdays during high season. In addition to entertaining thousands of guests and performing 90 Carnival of Illusion performances and an additional 60 private events every year, Sarlot and Eyed are supporters of charities with their philanthropy dedicated to bringing joy to Arizonans.
Tickets and showtimes at
www.carnivalofillusion.com
or (520) 615-5299 and (480) 359-SHOW.
Interviews available upon request.
Media photos and downloads available upon request.
Media information at
www.carnivalofillusion.com/press/
Media Contact: (520) 615-5299
###