Carnival of Illusion Announces Eighth Season With Added Friday Performances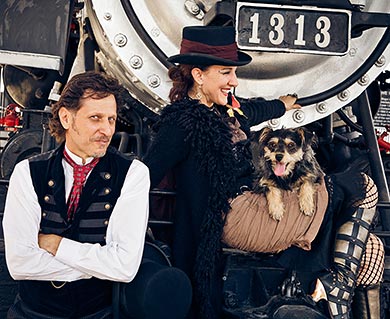 PHOENIX, AZ –On September 23rd Carnival of Illusion launches its eighth season of their blockbuster vaudeville-inspired illusion show now playing at three Phoenix Valley venues with newly added Friday performances including: Phoenix's Arizona Biltmore Resort, Mesa Arts Center, Tempe Center for the Arts, and one Tucson venue Lodge on the Desert Resort. Carnival of Illusion starring Roland Sarlot and Susan Eyed has performed more than 425 packed shows since 2011. Performance schedules and tickets for each venue are on sale now at carnivalofillusion.com.
"Our boutique theater continues growing. After adding a third Phoenix venue in 2015, we are excited to add Friday performances because more people want to experience the show. The feedback from patrons has been more evenings, especially Fridays. We provide several Valleywide locations and performance dates," says owner Roland Sarlot. Susan Eyed, one of the few female magicians in the world added, "What began as a concept of an intimate illusion show has turned into a weekly sold-out attraction for tourists and locals for more than seven years."
Celebrate a magical night out with Carnival of Illusion filled with "Magic, Mystery and OOOH La La!" Carnival of Illusion stars Sarlot and Eyed who are the National Recipients for "Excellence in Magic" and have performed as house entertainers at the world's top resorts, Fortune 100 CEOs, to the 200 Most Powerful Women in America, and now one of the top attractions in Phoenix and Tucson. The show blends their "Around the world in 80 minutes" travel theme mixed with all the charms of a Vaudeville-inspired road show.
Tickets and show times at carnivalofillusion.com or call (480) 359-SHOW.
Media information at carnivalofillusion.com/press/
Media Contact: (480) 359-SHOW