Carnival of Illusion Ends its Fourth Season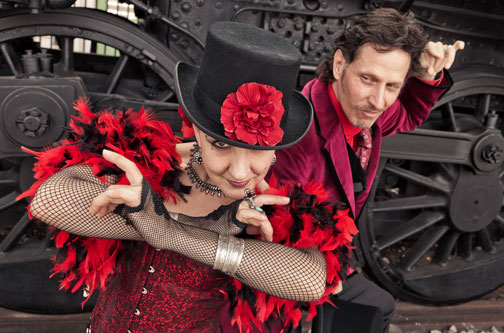 Carnival of Illusion ends the fourth season of its blockbuster vaudeville-inspired illusion show at the Arizona Biltmore Resort May 25th. This season they celebrated their 180th sold out show in a row and their 250th performance.
"These four years have been a very exciting time for our very special illusion theater," stated Roland Sarlot. Susan Eyed, one of the few female magicians in the world said, "What began as a concept of a boutique theater has turned into a weekly attraction for both tourists and locals."
The Carnival of Illusion presents an intimate illusion show at the Historic Arizona Biltmore Resort. Sarlot and Eyed are the National Recipients for "Excellence in Magic" and have performed as house entertainers at the world's top resorts, Fortune 100 CEOs, to the 200 Most Powerful Women in America. As one of the top attractions in Phoenix and Tucson, Carnival of Illusion is an evening of Magic, Mystery, and OOOH La La!
Carnival of Illusion plays Fridays and Saturdays during high season. In addition to entertaining thousands of guests and performing 90 Carnival of Illusion performances and an additional 60 private events every year, Sarlot and Eyed are supporters of charities with their philanthropy dedicated to bringing joy to Arizonans.
Tickets and showtimes at
www.carnivalofillusion.com
(480) 359-SHOW.
Interviews and media downloads available upon request.
Media information at
www.carnivalofillusion.com/press/
Media Contact: (480) 359-SHOW
###