MEDIA ADVISORY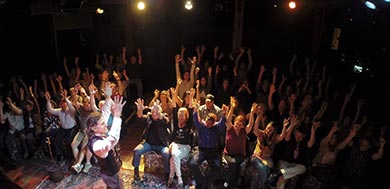 CARNIVAL OF ILLUSION PERFORMERS
FEATURED IN UPCOMING TRAVEL CHANNEL SHOW
WHAT: Carnival of Illusion – one of the longest running shows in the Valley – performers and Tucson residents Roland Sarlot and Susan Eyed will be featured on the Travel Channel's "Big Time RV" on Sunday, August 16 at 10 p.m. EST. Please check with your local cable provider for the channel listing in your area.
"Big Time RV" is a program about RV lovers looking to buy or rent the biggest, most over-the-top RVs. Sarlot and Eyed have made a career of moving their vaudeville inspired show from city to city which made them a perfect candidate for the cable series. "With our hands-on approach, we bring our unique show to various cities. Travel is a huge part of our daily lives and major aspect of our show," says Roland Sarlot.
Carnival of Illusion is set to launch its seventh season in the fall. This blockbuster vaudeville-inspired illusion show has sold-out shows since 2009. Carnival of Illusion presents at Phoenix's Arizona Biltmore Resort, Mesa Arts Center and just added Tempe Center for the Arts. In Tucson, they perform at the boutique hotel, Lodge on the Desert. Performance schedules and tickets for each venue are on sale now at carnivalofillusion.com.
Celebrate a magical night out with Carnival of Illusion filled with "Magic, Mystery and OOOH La La!" Carnival of Illusion stars National Recipients for "Excellence in Magic", Sarlot and Eyed, who have performed as house entertainers at the world's top resorts, Fortune 100 CEOs, the 200 Most Powerful Women in America, and recently awarded the Certificate of Excellence by TripAdvisor in both Phoenix and Tucson. The show blends their "Around the world in 80 minutes" travel theme mixed with all the charms of a Vaudeville-inspired road show.
WHEN: Sunday, August 16, 10 p.m. EST, check local cable listings.
INFO: For more information about Carnival of Illusion, visit carnivalofillusion.com/press.