Carnival of Illusion – Amazing!!!
by Jim Gressinger on Apr. 01, 2012
Tucson Citizen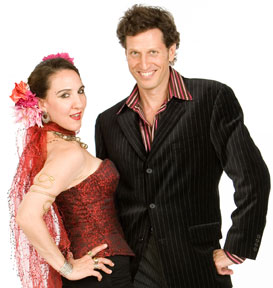 For some time, Ms. Karen & I had been wanting to see Roland Sarlot's and Susan Eyed's Carnival of Illusion. I had read so many rave reviews about their performance that, if the show lived up to the hype, I wanted to add it to our "Things To Do In Tucson" Section of our website: Southern Arizona Guide.
So, I purchased two tickets on their Carnival of Illusion website, which also offered us dinner for two at half price at the Cactus Rose Steakhouse in the Double Tree Inn on Alvernon where their performance takes place. This sounded like a real bonus because I love a good dinner and show close together so I don't have to drive and park twice. For me, this makes the whole evening much more relaxing and enjoyable.
Proximity to very good restaurants is one reason I highly recommend the Fox Theater downtown. There we have a choice of dining at two of my favorite restaurants, Cafe' Poca Cosa around the corner or Caffe' Milano next door, then walking the short distance to the performance. The Carnival of Illusion takes place in a small room only few yards from the Cactus Rose restaurant.
I'll make the dining review short. Even at half price, our dinner wasn't worth it. Cactus Rose Steakhouse in the Double Tree Inn... definitely NOT recommended. We've had worse meals... just couldn't recall when. Nevertheless, I want to emphasize that the Carnival of Illusion is NOT responsible for this hotel or its food. They are separate entities.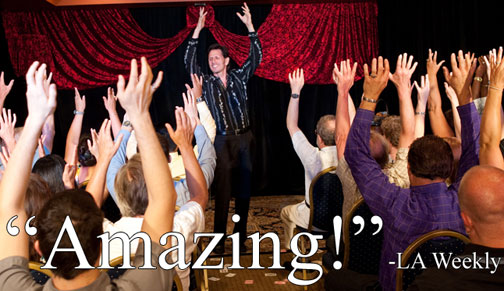 With dinner thankfully behind us, we checked in at the Carnival of Illusion ticket table and were told that we could bring drinks into the performance. Conveniently, the hotel's cocktail lounge was only a few yards away. Moreover, we could pre-order our drinks so that they would be ready for us at the brief intermission. This we did. Two glasses of a New Zealand Sauvignon Blanc. Very good.
Finally, it was time to enter The Parlor for the performance. Passing through some heavy, dark drapes, we were suddenly transported to a different time and place, perhaps Paris before the war. Ms. Karen & I were seated in the front row, for which I had paid a little extra. I wanted to be close enough to the performers to see if I could detect how they perform their illusions.
As it turned out, we were seldom more than 6 to 10 feet from Susan and Roland throughout the 80 minute performance. There was only one trick they performed that I think I know how they did it. Otherwise, it was an evening of complete mystery. One mind-boggling illusion after another much to the delight of an appreciative, but mystified audience. These guys are good!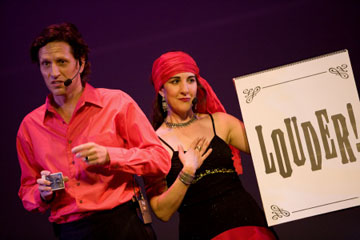 The venue was small – the whole room hardly bigger than our living room – which makes for a certain intimacy between some 40 folks in the audience and the two performers.
Susan and Roland clearly delight in involving their audience … and audience participation was half the fun. For example, Roland asked a gentleman in the audience to take out a bill. Said gentleman proceeded to extract a twenty dollar bill from his wallet. Roland then asked him to mark the $20 with a black marking pen. The obedient gentleman scribbled his initials and also the initials of the state from whence he came – FL.
Then, with the trust of a 3-year-old, he handed the marked bill to Roland who showed it to the rest of us for verification. In the meantime, Susan had asked a lady seated toward the back to pick a fruit from a basket. She picked a large grapefruit.
With sleight-of-hand, Roland make the marked twenty dollar bill disappear. Susan held up the grapefruit so all could see that it was a normal, unsliced grapefruit. Susan held it as Roland proceeded to cut it open. And from the open cut Susan pulled a bill dripping with grapefruit juice. Roland wiped the bill so it wouldn't drip all over the Persian rug and held it up so all could see. You guessed it. The gentleman's marked $20. How do they do that?
This was just one of dozens of amazing illusions – some might call it magic. I don't want to spoil the event by telling you too much. Let me just say that the finale involves butterflies … lots and lots of butterflies.
Susan's and Roland's performances were quaint, funny, vaudevillian, charming, energetic, and at the same time amazingly sophisticated and highly professional. Carnival of Illusion … highly recommended! Go. See if you can figure out how they do that. And take the kids. jg