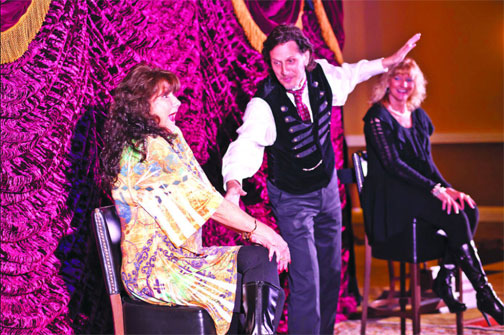 Magic couple takes audience across the globe
with 'Carnival of Illusion'
By Kaitlyn Thompson
East Valley Tribune Special to GetOut
October 18, 2014


Husband and wife duo Susan Eyed and Roland Sarlot are bringing their magic show, "Carnival of Illusion: Around the World in 80 Minutes," to the Mesa Arts Center.
After six seasons of performing "Carnival of Illusion," Eyed and Sarlot have honed their skills to bring the best possible show for their audience.
"We love performing all of our tricks, some more than others. Our show is always evolving," Sarlot said.
The show has been performed on both small and large stages, but the performers say they prefer the intimacy of a small room and unraised stage.
"It's close up, it's intimate and it's fun. It's all about them (the audience). Sometimes they're celebrating special events or are having a hard time. It's just that break, that wonderful chance to escape," Eyed said.
The two performers met while Sarlot was just beginning his magic career, and they began working together to create to their act. Eyed said she had always loved magic, and working together is both fun and enchanting.
Sarlot said the two are different than other magic couples because Eyed performs as a magician as well, rather than just an assistant.
"We perform together as magicians," he said.
Throughout the show, the two magicians collaborate to perform mind-boggling tricks and even include a trick from their rescue dog, Harriette. The couple brings the audience into the performance and allows them to experience the illusions firsthand.
This season of "Carnival of Illusion" draws on travel and the magic of different cultures around the world.
"This is an interesting show for people who are 'couch travelers' and it's also interesting for people who have traveled the world. It's really for everybody," Eyed said.
There are 12 performances of the "Carnival of Illusion" scheduled for the Mesa Arts Center this season, and several other performances at the Arizona Biltmore in Phoenix and DoubleTree Hotel in Tucson. Front-row seats to the show cost $60 per person and the remainder of the seats cost $45.
For more information or to buy tickets, visit carnivalofillusion.com.