Carnival of Illusion: An intimate evening of vaudeville

by Staff Sgt. Nestor Cruz
56th Fighter Wing Public Affairs

11/15/2013 - LUKE AIR FORCE BASE, Ariz. -- Say the words "magic show" and they conjure up images of children's parties, rabbits residing in top hats and Vegas performers in sequined outfits.

Master illusionists Roland Sarlot and Susan Eyed challenge audiences to throw away those notions as they bring their brand of entertainment to Phoenix for a fifth season of magic and wonder.

"Carnival of Illusion" by Sarlot and Eyed is housed within the historic Arizona Biltmore in central Phoenix. Dubbed "The Jewel of the Desert" when it opened Feb. 23, 1929, the Biltmore was designed by Albert Chase McArthur, who studied under Frank Lloyd Wright. Design details inside and outside the hotel show Wright's influence on McArthur's work.

Chicago chewing gum titan William Wrigley Jr. became the Biltmore's sole owner a year later. The hotel played host to celebrities, heads of state and captains of industry over four decades under ownership of the Wrigley family. Today, the Biltmore plays host to Sarlot and Eyed.

The magical pair describes their show as Victorian era inspired vaudeville theater, taking audiences on a worldwide journey filled with "magic, mystery and ooh la la."

"Our show is about world travel," Sarlot said. "We're a small boutique theater, very unique. We're about being up close, intimate and approachable. [Our style] is not big flash and electronics and blaring music. These are real people sitting inches away from us."

Intimacy is what sets "Carnival of Illusion" apart from the glitzy Las Vegas shows. To achieve intimacy, the show is staged within a small room large enough for two audience sections with four rows of seats each, totaling 35 seats. The "stage" is an ornamental rug that looks like it was picked up in a bustling Turkish bazaar.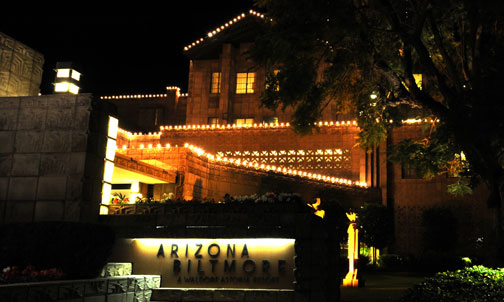 Throughout the 90-minute performance, audiences are swept away to exotic locales including France, Morocco and Japan. "Carnival" is a whimsical mix of vaudeville comedy and clever illusions.

The most important element in the show is the audience and Sarlot and Eyed are keen to remind attendees of this fact.

"People can feel they're part of the show," Sarlot said. "They can see us and we can see them. It's interactive in a way, people making jokes and we comment back. Part of our job is to connect with people, give them a bit of a vacation from the troubles of this world and show our appreciation for them."

Eyed echoes her partner's sentiments describing themselves as "magicians in the trenches."

"It's not about us, it's about their magical experience and they can feel that," she said.

Family is also important to the magical duo, and they consider the military part of their family. They hope to see more military members in the audience so they can connect with them and thank them for their service.

Sarlot and Eyed revealed their final illusion of the evening and immediately exited the room. As a final expression of their appreciation, they positioned themselves near the door to greet each member of the audience as they departed.

For more information about Sarlot and Eyed's "Carnival of Illusion" or to purchase tickets, visit www.carnivalofillusion.com or call 520-615-5299.