'Carnival of Illusion' Makes Magic in Scottsdale
Jennifer Haaland
Examiner.com Performing Arts
February 24, 2014


Mystery and intrigue were in the air at ASU Kerr Cultural Center in Scottsdale on Saturday night. Carnival of Illusion added two more to their consecutive run of well over 200 sold out magic shows. After a little levitating and conjuring, the magnificent duo sat for a couple photos and visited about the very real magic to which they've dedicated their careers.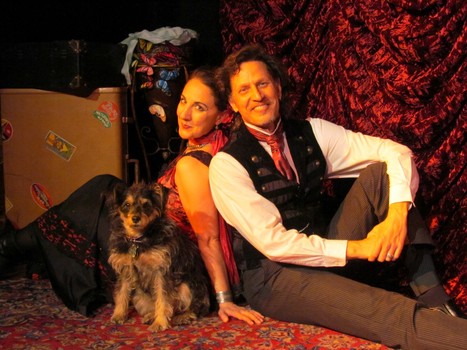 "They feel the magic happening to them, and we feed off of that," said magician Susan Eyed of the single-room, no-stage, eye-level performance that fifty or so guests still can't believe they'd witnessed. "They're just inches away, and we feel the amazement. Keeping it close and intimate is key."

Every week, Roland Sarlot & Susan Eyed have magic to do. Old-world, 'How-is-that-even-possible?!' parlour magic. It's the kind of magic people use to celebrate their golden wedding anniversary or their eighteenth birthday, if Saturday's performance is a fair barometer.

Though the pair have been known to travel widely, for the most part these days, they baffle and perplex here in the desert, back and forth between Phoenix and Tucson. The thing is, they're lovely people before they don the fabulous nineteenth century inspired costumes. Their kind hearts had in moments bound the group with a kind of easy rapport that takes neighbors sometimes years to fashion.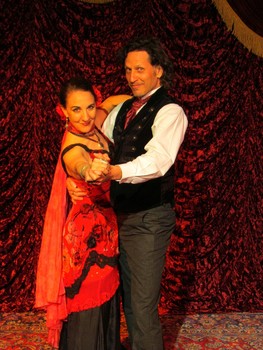 "We had a huge stage show for a long time, but we've scaled it way down," explained Sarlot about the Carnival of Illusion sleights for which they're national recipients of 'Excellence in Magic.' "We've found a pretty perfect niche right here at home."

Amongst vintage satchels and enchanting international melodies, Sarlot & Eyed pulled money from freshly peeled fruit, read minds, and caught the mystifyingly 'right' flying card on a sword tip. As breathtaking as the illusions were, the show was bigger, somehow more extraordinary, than the individual, mind-boggling tricks.

Self-professed "complete magic geeks" who honeymooned and traveled abroad researching magicians and magic shops from Paris to Buenos Aires, Sarlot and Eyed are the real deal. They admit fondly to lots of reading that offers them windows into "the old people in the art," according to Sarlot. "It's the magic underneath the show," he said.


"We're always tweaking to keep the show from growing stagnant; it's always evolving," said Eyed. "Some inventions are our own, others may be 'new' old tricks from ancient history or books."

The two have created story-based illusions, relaying snippets of their own world travels. A magical narrative ties the individual acts to one another, and allows the audience to traverse the globe along with them. To make the whole adventure one step more endearing, Sarlot & Eyed introduce their adorable little canine companion, Harriett the Bearded Lady Houdini, each evening.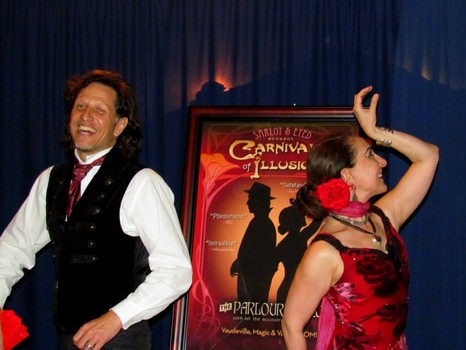 Carnival of Illusion is like a vaudevillian traveling Hogwart's troupe that Arizona alone is privy to. We've tasted Sarlot & Eyed's addicting elixir, and don't wish to let the secrets wander afar.

"They come back time and time again. Seven, eight times. It's not like it's a puzzle to solve; it's a magical experience," Eyed offered. "They feel something, watching through someone else's eyes that they've brought back with them."

Along with their Tucson engagements, Carnival of Illusion is playing at the Arizona Biltmore select dates in March and at ASU Kerr Cultural Center in April and May. Don't hesitate. Remember, tickets disappear in a flash.