One of the top attractions in Scottsdale!
National Recipients for Excellence in Magic, house entertainers at the world's finest resorts, & featured performers at the Magic Castle, Scottsdale magicians Roland Sarlot & Susan Eyed recreate a magical experience that began at the pinnacle of European magical artistry. Now you can experience these magicians in Scottsdale at their regularly running illusion show or have them charm your guests at your next event. Get your tickets now!
Here's what

they're saying...
Talk about Old-World charm! Like vaudeville actors, your connection with the audience is spot-on, so is the attention to detail and your travel-themed magic. Bravo! I'm ready for another "trip around the world".

Bill, Phoenix

My group had a delightful evening of comedy, mystery and illusions both big and small. We especially enjoyed being so close to the stage and we loved the audience participation. Thanks for making our night... magical!

Yuko, Scottsdale
(Awww, we have the BEST guests ever!)
Birthdays, Anniversaries

& Special Events

Do something different, celebrate in one of our boutique theaters! Grab your friends and family and head for a fun memorable evening. Write a note at the end of your order to recognize your special occasion and we'll give a shout out in the show! Special Evenings Made MORE SPECIAL!

100% Old School Fun!

No smoke, no mirrors, no divas. If you are expecting large-scale Vegas-style pyrotechnics, showgirls, wind machines, Tyrannosaurus Rex, or "hip" & "cool" attitudes... this is NOT your show! BUT, if you're up for unique entertainment with a sweet nostalgic feel, a "vaudeville road show without the dust" then STEP RIGHT UP!

Up Close...

VERY Close Conjuring

Everyone gets a great seat. We've created a cozy setting to allow you and the rest of the lucky ticket-holders the opportunity to "feel the magic". The performers are NOT on a raised stage, so the magic happens inches from the front row! But hurry, due to the popularity and intimate audience size SHOWS SELL OUT!

Audiences 8 Years & Older

This is a "clean show" for the "young at heart", not the young. For audiences 8 years and older. (Booster seats are not available, raised or tiered seating suggested. No lap seating allowed, everyone must have a ticket.) Get a babysitter and enjoy an adult fun night out without the kids!

Audience Participation

Once upon a time there was an intimate illusion show, a place so kind to their audience that people traveled near and far for a magical adventure. This was a rare and happy theater where the audience had so much fun, they enjoyed participating. Many were given gifts of thanks and everyone had a swell time. They all lived happily ever after!

Fun Private and Corporate Events

Whether you are looking for a unique holiday party, a clever team building experience, an exciting awards banquet, or any other reason to celebrate, commemorate or congratulate, Carnival of Illusion has you covered. Click Here to get the party ball rolling!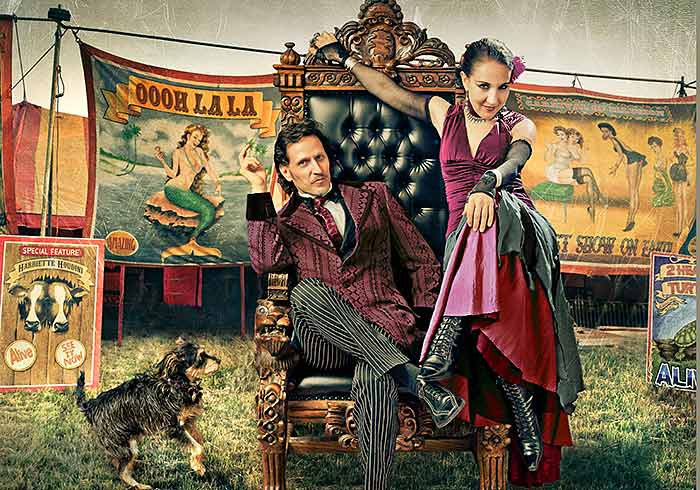 Let Us Help You
Have questions about your nearest location? Best seats? Special events?
Call us at
Scottsdale: 480-359-SHOW