This is a Must-See!
STEP RIGHT UP & get ready to Laugh, Have Fun, & Celebrate a magical night out with Carnival of Illusion! This top-rated attraction is "Revitalizing Magic" by blending their international travel theme with all the charms of a Vaudeville-inspired roadshow. Carnival of Illusion is an evening of Old-World Magic! Due to the popularity & intimate nature of this boutique theater, all shows sell out, so be sure to purchase tickets in advance. Get your tickets now for the THE BEST Magic Show in Arizona!
Want to know more?

Carnival of Illusion is a great treat for those who love the special art of magic, or are just looking for something fun and unique to do. It is a show that is sure to please, whether you are on a date-night out or are bringing the whole gang. Sarlot and Eyed have crafted a travel-themed show with plenty of magic, surprise and excitement. It is all about being up-close and personal, catering to small audiences and an intimate experience, and you might even find yourself on stage helping out. The best news is that you can see Carnival of Illusion in two Arizona cities at four different venues! In Tucson, see the show downtown at the Scottish Rite building. In the greater Phoenix area there are three great locations: The Mesa Arts Center, the Tempe Center for the Arts and in Phoenix at the Arizona Biltmore Resort. Carnival of Illusion is the longest running Arizona theater show in history and has been called The Best Magic Show in Arizona.

A Little History

It is hard to pinpoint when the first conjurers and magicians began to make a trade out of illusion and disbelief. Some references are made on Egyptian papyrus about unbelievable feats. It is certain that the ancient Romans performed the timeless trick of Cups and Balls, but after that magic fell into disrepute. It was considered witchcraft and who wanted to be burned at the stake? By the 1500s books started to appear on the subject, revealing conjuring secrets, but it is not until the 18th century that our modern idea of the magic show starts to be enjoyed. Magicians began to make a name for themselves, the most well known of course being Harry Houdini, whose specialty was as an escapologist. Since then magic has been getting bigger, better and more exciting with fans of this artform coming from around the globe.

What Other's Are Saying!

It was a wonderful evening! My residents are very hard to please and they LOVED the show, the performers and the experience. The colorful wardrobes added a fun flare to the mystery and wonder of the show.
-Shannon

This is a good show to bring your out of town guests to as well as the locals. I certainly recommend it for something different to do that is just a great time. SEE IT!!
-Carol

Fantastic experience. Great magic but more importantly, great people.
-Alexander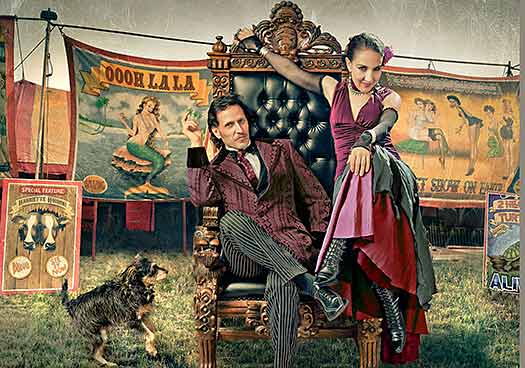 For further research, look at more Arizona magic shows in Phoenix and Tucson.