Conjuring the Best Arts, Entertainment, and Events!!!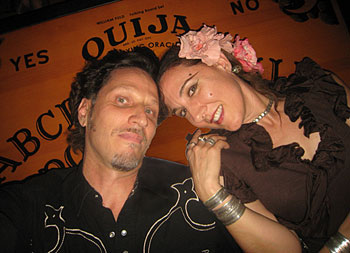 Welcome to the EventOracle, a series of web pages sharing stories and events across the globe presented by two national US-touring illusion performers. Based in Arizona, Carnival of Illusion is a theatrical magic act comprised of husband and wife Roland Sarlot and Susan Eyed. They started performing together full-time in 2002 with a touring illusion show and created Carnival of Illusion in 2009 which is best known for its intimate and up-close magic performed in a vaudeville-inspired parlour setting. The Event Oracle is one of their onine projects sharing their love of arts and entertainment around the world.

For more information or advertising requests, do you see that email link on the bottom of the page? (You know what to do.)

Phoenix is both the state capital of Arizona and the most populous of all capital cities in the United States. The Valley of the Sun, as it is also known, is a great place to find both indoor and outdoor adventures and events. Many museums, art centers, and festivals hold events outdoors since the weather in Phoenix is sunny and warm almost all year round. Famous for its desert landscapes and world-class museums such as the Musical Instrument Museum, you will also find a huge variety of things to do both day and night.

Not to be confused with Scottsdale on the other side of the world, Scottsdale Arizona is part of the Greater Phoenix Area. It is popular with tourists, snowbirds and those looking for a lively and upscale scene. Named after US army chaplain Winfield Scott, Scottsdale has transformed from acres of orange trees and cotton to art galleries and upscale restaurants, bars, and nightclubs. The "West's Most Western Town" is known for many western themed events such as the Parada del Sol and the Scottsdale Arabian Horse Show.

Tucson, otherwise known as The Old Pueblo, was inhabited as early as 2100 BC. Early native peoples gave way to missionaries, the military, and the Mexicans, but eventually settled to become the 2nd largest city in Arizona behind Phoenix. It is now also home to the University of Arizona, which is host to popular college sporting events as well as festivals. Speaking of festivals, Tucson has a continuous stream of diverse events such as the yearly Tucson Gem Show, the Dios de las Muertos All Souls Procession, and Tucson Meet Yourself to name just a few.

It's hard to believe but 180 years ago the first steamship rolled into Houston and visited the twelve residents and one log cabin. 100 years later, Houston had twelve oil companies and birthed Howard Hughes. Can you see the future in the crystal ball yet? Today, Houston is the largest city in Texas and arguably the most vibrant. Today it's known for it's major arts and sports complexes, international airport, business friendliness, and exciting international vibe.

Along the beautiful banks of Lake Michigan, Chicago is now the largest city in the Midwest and the third largest in the United States. With a long history of industrialism, gangsters, politics, and bootlegging, Chicago today is a vibrant center of trade, public art, and skyscrapers.
Keep your eye on the pulse of the BEST Events in Your City!