What are the BEST Magic Shows (in San Francisco) for 2021?

Posted:
As well as its rich history, San Francisco has great magic with shows such as Teatro ZinZanni, Bay Area Dinner Show, The California Magic Club and Magic Man at the Speakeasy. Add to it the Golden Gate bridge, its hilly streets, Alcatraz and its Chinatown and you have just a few of the reasons why San Francisco is a world-class travel destination.
And for magic fans, you'll be happy to know that there are plenty of opportunities to catch some magic. The fog alone will magically make things disappear and reappear! If you are seeking something with a little (or a lot) more entertainment value, many talented performers grace the Bay Area with their magic skills. There are weekly and monthly shows, dinner shows and variety shows. Explore the SF magic shows on our list and you are sure to find something that will make for a great date night, birthday celebration or a fun time with friends.
ALL San Francisco Magic Shows TODAY
Curran
445 Geary Street
San Francisco, CA 94102

This is the 8th book in the beloved Harry Potter series by J.K. Rowling and the first of the stories to be made into a live stage performance. Witness the magic and mystery that is Harry Potter and enter the wizarding world. Harry is now much older and married with three children. His troubles are far from over as his son Albus struggles with his families past. Adapted for stage by John Thorne and Jack Tiffany, Harry Potter and the Cursed Child is pure enchantment and wildly theatrical. The orignal version was experienced in two parts, but has now been reimagined for North American audiences, into a shorter one part show. If you still want to see the two play version, you will have to travel to London, England, Hamburg, Germany, or Melbourne, Australia. Bon voyage!

Sebastiani Theatre
476 1st St East
Sonoma, CA 95476

Sure David Blaine calls Mario "the best kids magician in the world!!" but it's a magic show for both kids AND adults! Mario has appeared on Sesame Street, and NBC's Universal Kids. His show is chock-full of magic, punk rock fun, robots and zany antics. This show is quirky fun, maker movement inspiration and more. So, even if you don't have children, gather up your nieces, nephews, cousins and friend's kids and bring them to the show! You'll all have an amazing time.

Age Restriction: All Ages Show


Gallo Center for the Arts
1000 I St
Modesto, CA 95354

Piff is instantly recognizable! Who wouldn't be dressed up in a green dragon suit, holding a fluffy white chihuahua? It goes without saying that Piff's show is part magic and a huge part comedy. The comedy is dry, sardonic, and well... British. After all, Piff hails from Great Britain where he first honed his skills. His show allows for some audience participation and a little good humored ribbing. And if you like especially cute dogs, Mr. Piffles the chihuahua is an extra bonus. Throw in a showgirl named Jade Simone, and you've got an all-around entertaining time.
The Embarcadero and Broadway
The Embarcadero and Broadway
San Francisco, CA 94111

While not exactly a magic show, this cabaret-style theatre has a little bit of everything, and you may just think it is magical none-the-less. Part circus, part vaudeville and part cabaret, this popular dinner theatre show is an event you won't soon forget. After many years of success in San Francisco, the Teatro Zinzanni had to close its doors due to the America's Cup preparations. The group has plans though to reopen in a permanent location in the Embarcadero, once again throwing open the doors to the Belgian Spiegeltent for an evening of dining and entertainment that is bold, brazen and just plain fun.

Show Duration: The evening is approximately 3 hours long.
Food and Drink: The ticket price includes dinner. Drinks and gratuity are extra.
Age Restriction: Recommended for ages 10 and older.


California Magic Club
514 Main St
Martinez, CA 94553

This is a dinner show theatre that includes a three course meal and an hour long magic show. Each weekend features a different performer, so you can visit time and again and always catch something new and exciting. One price includes it all, meal, entertainment, tax, etc. No hidden fees. You will get the added bonus of table magic between courses. This is a great all-in-one evening. Shows often sell out, so get your tickets early.

Show Duration: Doors open at 7:15pm and the evening ends at 10:30pm.
Food and Drink: The ticket price includes dinner, non-alcoholic beverages, tax and a show. Gratuity not included.
Age Restriction: Recommended for 13 years and older.


The Magic Patio
3264 Mission Street
San Francisco, CA 94110

Andrew Evans used to do magic in his backyard... on his patio. Now his show has gone underground, and you will find his special little place on Mission Street, but don't look for flashing signs and "this way to the magic show" arrows. Andrew is keeping things mysterious. His new magic patio is an intimate magic experience, and his talents are worth the visit. Whether you catch him in a virtual show, or live, you will enjoy his unique show wherein he gets to combine his talents as a Standford design school graduate, and his passion for magic.
Marrakech Magic Theatre
419 O'Farrell St
San Francisco, CA 94102

Enter the Oasis lounge to start your evening of magic, mentalism and comedy with Jay Alexander. You can purchase appetizers and cocktails in the lounge before the main show. Arrive a little early and be treated to some sleight of hand magic to start things off. Then you will be invited to enter the main showroom where Jay will delight you with and unforgettable show. Jay has performed for big and small, famous and the yet-to-be famous. Suitable for children 8 and up, a great date night, and a fun time for visitors to San Francisco.

Food and Drink: Drinks and appetizers available for purchase.
Age Restriction: Recommended for children 12+. (If you have an exceptionally smart child that is younger than 12 and well behaved, feel free to bring them.)
Parking: Close to public transit. Paid parking nearby.


Various Locations
San Francisco, CA

Nathaniel loves magic and loves performing. He performs all over the Bay area in places like libraries, community centers, magic clubs and tourist areas. With a degree from UC Berkely in applied math and theatre, he brings his love of magic to audiences of all ages. In fact Nathaniel loves magic so much, that he offers kids a two week summer magic camp in partnership with Firecracker Math. Sign up for a full day of math and magic, or just for magic camp in the afternoons.

Age Restriction: All ages are welcome. Family friendly.


Online Via Zoom
San Francisco, CA

Magic, Mind Reading, and a little bit of this and that and maybe a pirate! It's a joy-filled hour of entertainment filled with laughs and fun. The entire experience is hosted by Magician/Juggler Frisco Fred who's been thrilling audiences worldwide for the past 40 years. He brings you 2-3 of the best entertainers San Francisco has to offer. The show starts at 5pm pacific time.

Show Duration: One Hour

K-Elements Korean BBQ
2140 Clement St
San Francisco, CA 94121

Dubbed the Billionaire Magician, Dan Chan has performed for numerous corporate and private clients. His dinner show experience is one of a kind, in that each show is improvised, drawing from a "large bag of tricks". There are two choices for the evening. Enjoy dinner and a show at K-Elements Korean BBQ, or just come for the show. You will be treated to dinner before the show with some sleight of hand done at the tables before the show. After dinner you will leave the dining area and enjoy an intimate magic show with Dan. Even his young son James gets in on the act. Great for a family night out.

Food and Drink: Food and drink are available.
Age Restriction: Family friendly show.


Palace Theater
644 Broadway
San Francisco, CA 94133

The Illusionist at the Palace Theater, Kevin Blake's dazzling live show, is a modern, mind blowing, magic and mind reading show, guaranteed to impress the most skeptical adult audience. Guests enter through a secret passageway and discover a phantasmagorical wonderland of magic and mystery inside a Proibition-era club. With a deft combination of performing arts, manic theatrics and impeccable sleight of hand, kevin Blake transports the audience to an era of enchanting illusion, where close-up magic and mind reading create a spellbinding experience that is both mystical and unforgettable.

Show Duration: Approximately 80 minutes long with one brief intermission.
Food and Drink: A specialty cocktail pairing is available during the show. There is also a bar on property.
Age Restriction: The show is written for an adult audience.


Monterey Magic and Comedy Club
Stanton Center 5 Custom House Plaza, Old Fisherman's Wharf
Monterey, CA 93940

Just two hours south of San Francisco, Magic Fusion at the Monterey Magic & Comedy Club is a fast-paced, high-energy show that stars some of the world's most talented and award-winning magicians. All of the performers have graced the stages of the world-famous Magic Castle in Hollywood, CA, have had numerous television appearances including Masters Of Magic, The Tonight Show, Penn & Tellers "Fool Me", American's Got Talent, and sit-down residencies at some of the biggest resorts in Las Vegas. The magicians perform two-week runs so audiences can experience a different magician and new illusions each time they come to the Monterey Magic & Comedy Club. They are located in the historic Stanton Center, Downtown Old Monterey on the plaza next to Old Fisherman's Wharf.
San Francisco Magic History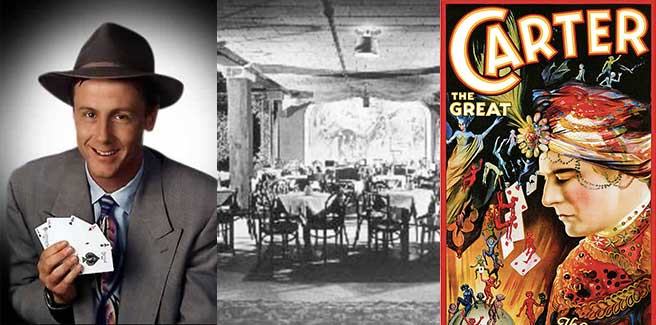 San Francisco. This town is serious fun. It is home to city blocks of delectable food, a mind-blowing music scene, cultural festivals and little niches of varying eras to visit. Hike, bike, walk, boat! There are mountains, beaches, scenic masterpieces, and wildlife. The culture is diverse; hip yet historical and energetic. It is no surprise that people flocked here in the early days to make this their home, including one very famous magician. Read on.
Traveling back to the late 1960s, two brothers Peter and Cedric Clute came upon the opportunity of a lifetime in an old San Francisco warehouse. Thirty-one tons of tricks, props, and crates full of magical delights once belonging to the famous magician Charles Carter, also known as Carter the Great. The brothers offered to buy the collection from the nephew of Mrs. Carter, but now they needed a place to put it all. It just happened that Peter was a piano player in Turk Murphy's Jazz Band whose home was a club called Earthquake McGoons. The magical cache soon came to be stored in the basement of the club. The brothers along with Turk Murphy decided after a time that something should be done with their bounty, and the Magic Cellar was born. The space was filled with classic magic posters and playbills, magic memorabilia, props big and small... a treasure trove of magic. Many magic lovers spent hours in the cellar coming for the first show and staying for the second, even though it was often the same show!
But how did all those crates of magical joy get there you may ask. The story goes that Carter the Great and his wife Corrine bought property in 1929 overlooking San Francisco Bay. On it they built what came to be known as the Carter Manor. It was a splendidly embellished Tudor manor style home filled with lush, expensive and exotic items from Carter the Great's many world tours. Little is known about the actual contents of the home today, but what is known is that it had a magic theatre in the basement that could hold 150 guests. Carter himself wrote a letter saying that the plans for the house included moving pictures, disappearing bars, and an electrically operated dining room floor that raised and lowered the table, among other magical delights. Other than the basement theater, it is unknown if any of his grand plans ever came to be part of the final home. Carter tried to sell the home shortly after building it but was never successful at getting the asking price of $90,000 which would have been a fortune back then. After Charles died his show moved from Carter Manor to the home of Larry Carter, Charles son, and then into a warehouse owned by Corrine Carter, moving from place to place until being discovered by Peter and Cedric Clute.
The history of the Carter treasure trove including some of the greatest illusions ever then continues, when after the Magic Cellar closes the items once again find themselves being moved from warehouse to basement to warehouse. They are offered for sale to the actor and well-known amateur magician Harry Anderson. Harry, who is known for the sitcom Night Court, was also a magician with some serious chops. He is purported to have honed his skills as a teenager traveling from city to city, often performing street magic. It is said he spent a year in San Francisco when he was 17 years old, making money as a street magician. Even with his success on TV, he went on to tour as a magician. It was common knowledge that he loved all things magic. But upon being offered the Carter collection, Harry turned it down. Harry's secretary then passed on news of the items to an unsavory LA magician, who eventually bought, cataloged and then promptly sold the collection. Carter the Great, one of the masters of the Golden Age of Magic, and the magic show that was his lifetime has now disappeared once again. Sadly, now you see it, now you don't.
PAST San Francisco Magic Shows
Champions of Magic

BroadwaySF Golden Gate Theatre
1 Taylor St
San Francisco, CA 94102

Five international magicians come together for one fantastically theatrical show. Included in the grand spectacles are levitation, disappearance, and teleportation, as well as some wonderful up-close magic and mind-reading. Together these top magicians have over 20 million online views between them, and they will be sure to thrill and surprise audiences everywhere. There are only three shows, so get tickets early to this world-wide touring illusion show. The Saturday matinee show is a great choice for a family treat, as this show is suitable for all ages.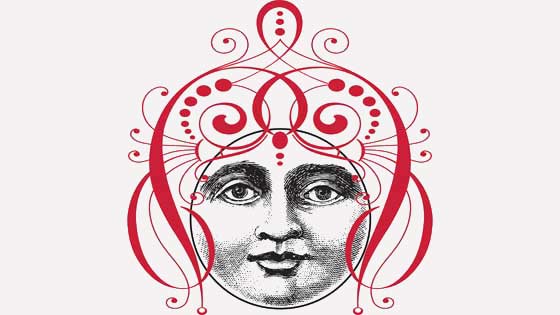 The Magic Oracle is a FREE site but I still must pay dastardly server fees! Please, donate ANY amount... $1, $5, $10, why not $1 million?
THANK YOU for keeping magic alive... and me, a Jolly Genie!
Now Trending...