What are the BEST Magic Shows in San Francisco California for 2020?
Posted:
As well as its rich history, San Francisco has great magic with shows such as Teatro ZinZanni, Bay Area Dinner Show, The California Magic Club and Magic Man at the Speakeasy. Add to it the Golden Gate bridge, its hilly streets, Alcatraz and its Chinatown and you have just a few of the reasons why San Francisco is a world-class travel destination.
And for magic fans, you'll be happy to know that there are plenty of opportunities to catch some magic. The fog alone will magically make things disappear and reappear! If you are seeking something with a little (or a lot) more entertainment value, many talented performers grace the Bay Area with their magic skills. There are weekly and monthly shows, dinner shows and variety shows. Explore the SF magic shows on our list and you are sure to find something that will make for a great date night, birthday celebration or a fun time with friends.
What are the Top Magic Shows in San Francisco Now?
San Francisco Magic History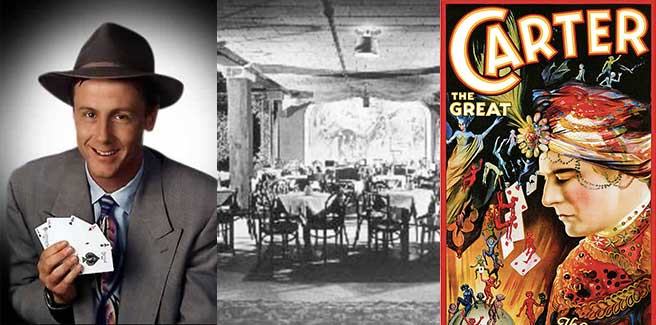 San Francisco. This town is serious fun. It is home to city blocks of delectable food, a mind-blowing music scene, cultural festivals and little niches of varying eras to visit. Hike, bike, walk, boat! There are mountains, beaches, scenic masterpieces, and wildlife. The culture is diverse; hip yet historical and energetic. It is no surprise that people flocked here in the early days to make this their home, including one very famous magician. Read on.
Traveling back to the late 1960s, two brothers Peter and Cedric Clute came upon the opportunity of a lifetime in an old San Francisco warehouse. Thirty-one tons of tricks, props, and crates full of magical delights once belonging to the famous magician Charles Carter, also known as Carter the Great. The brothers offered to buy the collection from the nephew of Mrs. Carter, but now they needed a place to put it all. It just happened that Peter was a piano player in Turk Murphy's Jazz Band whose home was a club called Earthquake McGoons. The magical cache soon came to be stored in the basement of the club. The brothers along with Turk Murphy decided after a time that something should be done with their bounty, and the Magic Cellar was born. The space was filled with classic magic posters and playbills, magic memorabilia, props big and small... a treasure trove of magic. Many magic lovers spent hours in the cellar coming for the first show and staying for the second, even though it was often the same show!
But how did all those crates of magical joy get there you may ask. The story goes that Carter the Great and his wife Corrine bought property in 1929 overlooking San Francisco Bay. On it they built what came to be known as the Carter Manor. It was a splendidly embellished Tudor manor style home filled with lush, expensive and exotic items from Carter the Great's many world tours. Little is known about the actual contents of the home today, but what is known is that it had a magic theatre in the basement that could hold 150 guests. Carter himself wrote a letter saying that the plans for the house included moving pictures, disappearing bars, and an electrically operated dining room floor that raised and lowered the table, among other magical delights. Other than the basement theater, it is unknown if any of his grand plans ever came to be part of the final home. Carter tried to sell the home shortly after building it but was never successful at getting the asking price of $90,000 which would have been a fortune back then. After Charles died his show moved from Carter Manor to the home of Larry Carter, Charles son, and then into a warehouse owned by Corrine Carter, moving from place to place until being discovered by Peter and Cedric Clute.
The history of the Carter treasure trove including some of the greatest illusions ever then continues, when after the Magic Cellar closes the items once again find themselves being moved from warehouse to basement to warehouse. They are offered for sale to the actor and well-known amateur magician Harry Anderson. Harry, who is known for the sitcom Night Court, was also a magician with some serious chops. He is purported to have honed his skills as a teenager traveling from city to city, often performing street magic. It is said he spent a year in San Francisco when he was 17 years old, making money as a street magician. Even with his success on TV, he went on to tour as a magician. It was common knowledge that he loved all things magic. But upon being offered the Carter collection, Harry turned it down. Harry's secretary then passed on news of the items to an unsavory LA magician, who eventually bought, cataloged and then promptly sold the collection. Carter the Great, one of the masters of the Golden Age of Magic, and the magic show that was his lifetime has now disappeared once again. Sadly, now you see it, now you don't.
PAST San Francisco Magic Shows
Champions of Magic

Five international magicians come together for one fantastically theatrical show. Included in the grand spectacles are levitation, disappearance, and teleportation, as well as some wonderful up-close magic and mind-reading. Together these top magicians have over 20 million online views between them, and they will be sure to thrill and surprise audiences everywhere. There are only three shows, so get tickets early to this world-wide touring illusion show. The Saturday matinee show is a great choice for a family treat, as this show is suitable for all ages.
Don't let the fog fool you, there is lots of magic going on in the San Francisco Bay area and a fun night out is just around the corner, even if the corner is a little hard to see through the mist. If you are visiting San Francisco, or are a long-time resident, be sure to check out one of these exciting SF magic shows that are sure to be a source of delight and wonder.
Now Trending...