10 BEST Coin Tricks of all Time!
SEE ALSO: BEST Close-Up Magicians
SEE ALSO: ALL Magic Podcasts!
ALSO: BEST Close-Up Magicians
ALSO: All Magic Podcasts!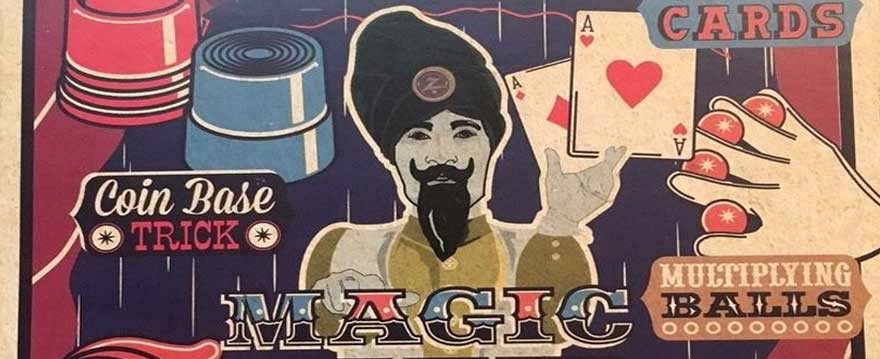 Let's be honest, who doesn't like coins? Ranging from simple and cheap-feeling tokens of exchange, to beautiful works of art in miniature, there's something undeniably fascinating and mesmerizing about the way they glint, look and feel. They also exercise an irresistible attraction – next time you're in public and have a hard floor, just drop a coin and see how quickly people react!
Best Coin Tricks of all Time
by Dr. Taliesin Coward © 2020
When it comes to super visual magic—where objects visibly morph, appear, vanish and teleport—few branches of the art can compare to coin magic. Often taking place within inches of the spectator and sometimes even in their own hands, coin magic ranges from the startling to pure poetry in motion, especially in the hands of an expert. Without further ado here are 10 of the best coin tricks ever, showcasing not only the greatest coin tricks but some of the greatest coin magicians ever...
10. Coin on Shoulder

Equally fun to watch as to have it done to you, the Coin on Shoulder effect is a particular favorite with magicians who have stage-pickpocket skills. More than just about any other effect, this elicits a "how did I not notice that!" reaction.

9. One Coin Routine

Few things are as mesmerizing to watch as a skilled magician with a single, solitary coin. While there are numerous one coin routine effects out there, those by master close-up magicians David Roth and Tony Slydini are undoubtedly among the finest.

8. The Tuning Fork

What if you could solidify sound? From the imagination of the man widely regarded as one of the greatest coin magicians ever, The Tuning Fork is weird, whimsical and utterly brilliant.

7. Coins Through the Table

A classic of magic with a name that says it all, this effect has probably been in existence as long as there have been coins and tables. While there are countless versions and performances including ones where coins pass through the table one-at-a-time, several coins pass all at once, or coins even pass visibly through a glass tabletop, I've opted for just one by the legendary Fred Kaps. Elegant, smooth, and shot in super close-up, this is poetry in motion.

6. The Coin Box

Ah, the coin box, capable of being fully examined, it's exactly what it seems: a solid metal box. The descendant of the antique pill-box (proof that if you leave magicians alone with any object for long enough they'll find a new use for it), this has been a staple of coin magic for over 100 years. Another masterpiece from the mind of David Roth, this effect employs nothing but a few coins, a solid brass box, and a master magician.

5. Coins Across

Just like Coins Through The Table, this is one of the absolute classics of coin magic. There are many, many different versions of Coins Across making it impossible to pick just one. I've instead opted for two of the finest and wildly different versions around: David Roth's Winged Silver where four coins travel, one by one, from one hand to another and Slydini's absolute knockout, Gemini Coins.

4. Chink-a-Chink

Another classic plot, this is a version of the Coin Matrix, also sometimes called a Coin Assembly. It's an effect where coins that are separated on a surface are then covered and somehow manage to assemble in one spot. While the classic version of the Coin Matrix employs not only coins and a table but a handkerchief and cards, the beauty of Chink-a-Chink lies in the fact that the only thing covering the coins is the magician's hands.

3. The Miser's Dream

Some effects have coins go through tables, others make them pass invisibly through the air. Some even cause coins to grow, shrink, bend or even break in half. However, if you ever wished to be able to pluck money from thin-air, then The Miser's Dream is for you. While versions of this trick date back to at least to the mid-19th century, the name by which it is now known and its current popularity is owed to the great T. Nelson Downs, "The King of Koins" [see Honorable Mentions below]. This is one of the few coin tricks that can be performed to a full theater. If you're going to see coin magic performed during a grand-illusion show, chances are it will be this one. For your delight, I've assembled two different approaches: Lee Grabel's classic stage presentation, and Teller's beautiful version employing a glass bowl and a fish tank.

2. Mo-Fly

By the child prodigy who puts most adult coin magicians to shame, Moritz Mueller's Mo-Fly is his take on the modern classic 3-Fly, (itself a novel spin on the Coins Across plot). Few things are more startling to watch than coins visibly vanishing and instantly reappearing, especially when they do so slowly and smoothly. Slow down the video, watch it again and again, this one's sure to leave you baffled.

1. Ryan Hayashi's Coin Matrix

There are Coin Matrix effects, and then there's the one by Ryan Hayashi. At some point words simply don't do justice. This one simply has to be seen to be believed.
Honorable Mentions
J.B. Bobo

If one name is associated with coin magic, then it's that of J.B. Bobo. His book Modern Coin Magic is considered to be the 'coin magician's bible', and is probably responsible for creating more coin magicians than any other text. This rare footage shows him performing a series of vanishes from his book.

T. Nelson Downs

The 'King of Koins', Thomas Nelson Downs, was undoubtedly one of the greatest and most influential coin magicians of all time. A legendary vaudeville performer, very little footage of him is available. However, that which is available (showing the great magician performing a bit of the Miser's Dream, and a series of short flourishes and tricks for family), demonstrates that even at an advanced age he'd lost none of his remarkable skill and dexterity.
Now Trending...