What are the BEST Magic Shows in Boston MA for 2020?

Posted:
Boston is full of both history and mystery, and is chock-full of great magic including Paul Gertner, The Mystery Lounge, Four Handed Illusions and the Salem Haunted Magic Show for starters. From Paul Revere and the Freedom Trail, to the oddities of the Market Museum and the debunked seances of Margery the medium, Boston has a lot to offer to both history buffs and magic fans alike.
In Boston, you'll find all things pilgrim to prestidigitation, Harvard to Houdini, and clam chowder to card tricks. It is full of American history, swanky schools, good food, and magic. So if magic is what you are looking for in Boston, you've come to the right place for the list of the Best Magic Shows in Massachusetts.
What are the BEST Magic Shows in Boston MA for 2020?
Capitol Center for the Arts
44 S Main St
Concord, NH 03301

Piff is instantly recognizable! Who wouldn't be dressed up in a green dragon suit, holding a fluffy white chihuahua? It goes without saying that Piff's show is part magic and a huge part comedy. The comedy is dry, sardonic, and well... British. After all, Piff hails from Great Britain where he first honed his skills but also has his own Las Vegas magic show. His show allows for some audience participation and a little good humored ribbing. And if you like especially cute dogs, Mr. Piffles the chihuahua is an extra bonus. Be sure to catch Piff and his Lucky Dragon Tour as there is sure to be sorcery, snacks and snark on hand.

Age Restriction: Recommended for ages 14+
Parking: Garage and street parking.


Omni Parker House
60 School St
Boston, MA 02108

Paul is a world-champion sleight-of-hand expert who has been on Penn and Teller's Fool Us a record-breaking three times, fooling them twice! Paul has also won three first-place awards including two close-up magician of the year awards from the Magic Castle in Los Angeles. This is a 75-minute show of close-up magic that will have you shaking your head in amazement. Book one of 10 VIP seats at the front of the house and you will be given the opportunity to be part of the action. The seating is extremely limited to only 34 seats, so make sure to book in advance. See Ticket Availability Here.

Show Duration: The performance is 75-minutes long.
Food and Drink: There is no food or drink during the show, but you can enjoy food and appetizers at the Parker Bar in the hotel before the show.
Age Restriction: Recommended for ages 13+, the show is designed for an adult audience.
Parking: Paid parking either at the hotel or nearby garage.


Sommerville, MA
1 Bow Market Way
Sommerville, MA 02143

The Mystery Lounge has been around for over 22 years and is Boston's original magic cabaret. Its founding producers were magicians Steve Kradolfer (see Four-Handed Illusions above) and Jon Stetson. Originally located in the Green Street Grille, The Mystery Lounge will be moving in from its long-time 2nd location above The Hong Kong Restaurant to a new location in Union Square in Somerville, MA. Tickets have traditionally been reasonably priced and the show was a nice and lengthy 2 hours long. It consists of several magic and comedy acts in an interactive show that is always changing and keeping up-to-date.
Hampshire House
84 Beacon St
Boston, MA 02108

Join illusionists Joel Acevedo and Steve Kradolfer as they present an intimate evening of magic and wonder. Arrive early for the pre-show reception in the Baker Bar for cocktails and drinks and then enter the library where you will be delighted by these two master magicians. Items will vanish, teleport and be transformed, minds will be read and general tom-foolery will be on hand. At 2 hours and 15 minutes, this show gives you a lot of entertainment value. You must be 21 years and older and cocktail attire is required.

Show Duration: The performance is approximately 2 hours and 15 minutes long, with a 15 minute intermission.
Food and Drink: The event starts with a pre-show reception in the Hampshire's House Baker Bar 30 mins before the advertised show time. There will be a vast selection of cocktails and beverages available for purchase.
Age Restriction: Ages 21+
Parking: Valet parking or nearby garage.


St. Peter's Church Hall Theater
24 St. Peter Street
Salem, MA 01970

Each year Salem Screams and the Salem Haunted Magic Show present a new show just in time to celebrate the spookiest time of year, right around Halloween. Each show is created around a hauntingly scary theme, such as asylums or phobias or the circus sideshow. Expect lots of audience participation as this is an interactive theatrical experience. Not suitable for children under 10 due to the fright factor, these shows are rated PG13.

Show Duration: The performance is 75 minutes long with no intermission.
Food and Drink: No outside food or drink allowed. Concessions available at box office including popcorn, candy, water, Snapple and surprise goodies. No alcohol available in the venue, no outside alcoholic drinks may be brought in at any time.
Age Restriction: There are no age restrictions, however it is recommend that children under 7 not attend.
Parking: Nearby parking garages.

Magic Shows in Boston: The Wicked and the Wayward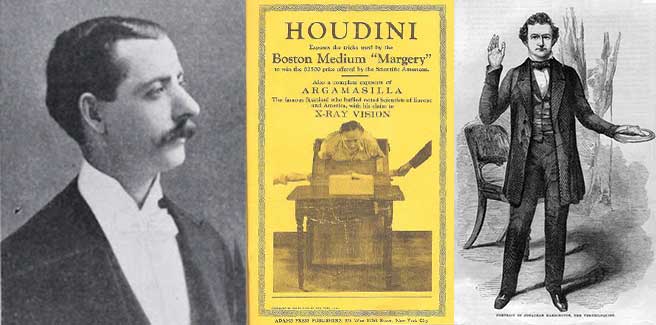 The United States really started in Boston, Massachusetts. A key location for the forming of America, Boston was founded by a group of religious-freedom seeking puritans looking for a land so far away England would stop bothering them. This group of uptight puritanical Puritans did important things to build up the city, but things of a mystic or magical nature were deemed unholy, satanic and just really bad; worthy of a proper shunning. This didn't stop the magic.
Sadly, the war on magic struck a homicidal fervor with the belief that witchcraft was running rampant among the female citizens of the city. While Salem was the epicenter of the witch trials and subsequent executions, Boston also joined in on the witch hunts. Women with too much knowledge, opinions, or who had the bad fortune of using bad grain for baking--causing quite the acid trip--found themselves on the tippy-top of a burning pile of wood. Magic wasn't just scandalous and forbidden but practicing anything resembling magic was a certain death sentence.
Thankfully, small-minded ideas were replaced by a more cosmopolitan view and the witch trials eventually ceased. As Boston grew into the early center of government and commerce, people from across the globe traveled to the city sharing ideas as well as money. Entertainment venues rose in prominence and the exotic illusions from far away lands filled audiences with awe and wonder. Replacing the hate for magic and the apparent evils it caused was the Market Museum. Ten parts oddity and one part mercantile, this unusual business combination appealed to the crowds who wanted to be wowed, scared and who needed to buy a little cement on the side. The exhibits ranged from the bizarre to the fanciful to the magical, with phantasmagorical performances, all surrounded by wax figures to really give people the creeps.
In the early 1800s Jonathan Harrington introduced his brand of illusion as well as ventriloquism to audiences around the Boston area. Described as comical, mysterious and magical, Harrington gave performances at notable theaters amusing and astounding as he went. In the late 1800s magic schools became popular in Boston among those trying to become illusionists. W.D. Leroy offered courses at his school teaching students how to escape handcuffs and other restraints. Leroy even had Harry Houdini as a customer, the latter wishing to buy several escape acts from Leroy. Leroy even created the Magic Mystic Fraternity for magicians, working to further the good name of reputable magicians.
As time marched on, so too did the entertainment value of magic shows in Boston. Smaller clubs like the Boston Mystery Lounge feature talented performers who wow and make the audience laugh. Indeed, from a rocky beginning, Boston has truly come to embrace magic.
PAST Boston Magic Shows
Tape Face

Wilbur Theatre
246 Tremont St
Boston, MA 02116

How can a guy that doesn't talk and has tape covering his mouth even entertain? The answer is... very well! Tape Face has taken Vegas a bit by storm with his impish sense of humor and Herculean abilities to engage audiences of all ages. Although not a magician in the traditional sense, Tape Face has a magical Vegas show that you'll find charming and touching.

Justin Willman

Wilbur Theatre
246 Tremont St
Boston, MA 02116

Justin Willman is on the road with his Magic in Real Life tour, a show with oodles of incredible magic, illusion, and laughs. What is special about Justin? Well, for one thing, his quirky sense of humor. You might have seen him on his latest Netflix specials, Magic for Humans where he levitates while doing goat yoga, (yes I said goat), and does some very funny stuff with kids and marshmallows. Beloved by TV hosts such as Ellen and presidents such as Barack Obama, Justin has made a mark with his sometimes silly, but always fabulous illusions. His touring show is for all ages.

Champions of Magic

Some of the UK's finest magicians have come together for a funtastic, spectoramic, super magical show. Forget Mary Poppins... this is eye-popping stuff and tons of fun for the whole family. The magic spectacle has toured the world and will be doing several US dates. You will see levitation, disappearances, mind-reading and more. Each of the acts brings their own unique style and skills to the experience, with plenty of grand illusions and special effects.
Boston has a great history of magic and that hasn't stopped to the present day. Whether you're looking for a big illusion show or an intimate parlor show, we are thrilled to have introduced you to the Top Magic Shows in Boston!
Now Trending...