What are the BEST Magic Shows (in Branson) for 2022?

Posted:
Branson is family fun-time city, with some of the best magic shows to be found including such acts as Rick Thomas, Reza, Taylor Reed, and the Hamners' Unbelievable Magic Show. Forty years ago you might have visited Branson for a gospel, country music or bluegrass show, but now thousands flock to this family vacation mecca for so much more, including great magic.
With over 50 theaters offering live entertainment morning, noon and night, you will find Branson to be a surprising competitor for some of that Vegas live entertainment sparkle and fun. If Branson is your family's next vacation destination, then be sure to catch one of the many magic shows Branson offers and we're sure you'll have a great time!
ALL Branson Magic Shows TODAY
White River Landing / Branson Belle
4800 State Highway 165 Branson
Branson, MO

Join the Branson Belle Showboat for a dinner theater cruise. The main show is a variety performance held in a dining theater and featuring tons of exciting elements. Guests will be able to enjoy everything from comedy and magic to music and dancing. The dock is found at White River Landing on Table Rock Lake. Enjoy the cruise, a fabulous dinner, and an exciting show, all for one price.

Show Duration: 2.5 Hours
Food and Drink: Dinner included
Age Restriction: Suitable for all ages


Grand Shanghai Theatre
3455 West 76 Country Blvd.
Branson, MO 65616

After years of traveling the world doing countless Vegas shows and doing numerous television appearances, Rick is back in Branson with his show Mansion of Dreams. His spectacular stage show is big, bold and beautiful. His years as a ballroom dancer add a grace and fluidity to his performances that few magicians can match. He has won numerous awards including Stage Magician of the Year given by The Academy of Magical Arts. His shows will keep the whole family enthralled from young to old. Rick's shows are also affordable, with a great children's ticket price and a family pass price as well.

Show Duration: The show is 2 hours.
Age Restriction: Family friendly show.
Parking: Parking on premises.


Branson's Famous Theatre
645 MO-165
Branson, MO 65616

Reza is back in Branson with his own stage show called Edge of Illusion. This young, cutting-edge magician is bringing something fresh to the world of magic. His show incorporates both large glitzy illusions and clever sleight of hand tricks. His charm and wit will win you over and there is something in his show for everyone. Reza has been on television all over the world and was voted Branson's Best Magician of the Year 2016. Come see this rising star of magic.
Hamners' Variety Theatre
3090 Shepherd of the Hills Expy
Branson, MO 65616

Yes, this is a magic show but it has a little secret! It is really a variety show that includes magic, acrobatics, ventriloquism, dancing and more. There is something for the whole family and you get lots of bang for your buck. This two-hour show will feature world-class magicians Dave and Denise Hamner who have received both a Merlin Award and a Bronze Lion Head Award. They were also featured on NBC's World's Greatest Magic and have performed at Hollywood's Magic Castle. This show has a bevy of birds, a gorilla, and a large cast of talented performers. This is clean family fun!

Age Restriction: All ages, family friendly show.


Branson Central Theatre
625 MO-165
Branson, MO 65616

Escape Reality with Garry and Janine Carson of Masters of Illusion fame, is now a fantastic new Branson magic and illusion dinner show. Voted best new show, and best dinner show in Branson in 2020. They have come straight from the MGM Grand in Las Vegas to bring their exciting new show, Escape Reality, to magic enthusiasts in Branson. This 90-minutes show also includes a delicious three-course dinner from chef Mike Roth. Great for the whole family! So escape for one evening into the fun and unique world of magic with Garry and Janine.

Show Duration: 90 minutes
Food and Drink: The show includes a 3-course dinner.
Age Restriction: All ages welcome


Dutton Family Theatre
3454 W 76 Country Blvd
Branson, MO 65616

Taylor's Magic and Comedy Show is truly a family fun experience. Taylor loves to bring up kids from the audience to participate, there's tons of youthful energy onstage and there is even a wonderfully sweet dog that assists with some of the illusions. His full team helps Taylor to showcase some fabulous illusions. Not only will the family enjoy seeing the show, but they will get to meet and greet the performers after the show. Taylor has over 4 decades of experience and has been seen on America's Got Talent.

Age Restriction: All ages, family friendly show.

That Old Ozark Magic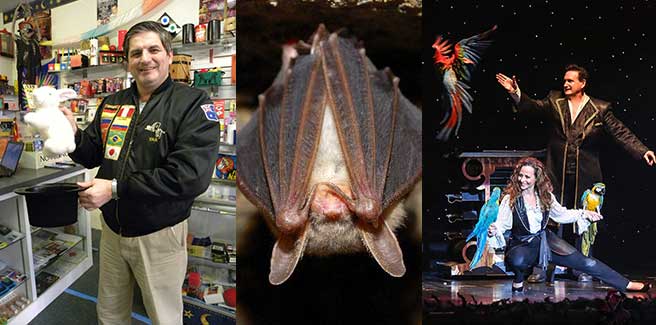 Deep in the heavily forested hills of southern Missouri, not far from the Arkansas border, lies a place of wonder, fun and especially magic...stunned? Most people are. That place, however, is Branson, Missouri. When thinking about the Midwest, words like "entertainment" or "magic" seem like a foreign concept. Oddly enough, this modest section of Missouri has always had some magic. Whether based on a dare, too much alcohol, or an impressive amount of forward thinking, Reuben Branson decided to put down roots in a small Ozark settlement in 1882. He later opened a general store and post office close to a riverboat stop on the White River. While the land was beautiful, it wasn't all that inviting until the promise of "free land" attracted settlers to the area looking for freebies. And the city of Branson was born.
Missouri's Ozark area is naturally prone to large caves (and lots of bats). In 1894, William Henry Lynch purchased one such cave (but not the bats) that he named Marvel Cave. The first Branson attraction was born. Travelers would come to see the magic of this natural wonder, starting Branson off on its path to entertainment mecca.
With the publication of The Shepherd of the Hills in 1907, Branson was soon visited by scores of people looking to experience the magic captured in the author's story. Local businessmen saw this opportunity and soon hotels started popping up. As more visitors came to Branson, more entertainment was needed to satisfy curiosity and ensure repeat customers. By the 1950s, and with the completion of the Table Rock Dam, flooding problems were solved and theaters were being built.
As musical entertainment dominated the scene, other theaters sought out diverse types of entertainment. Magic shows and illusionists were slowly added to Branson's growing list of attractions. Finally, people actually had a reason to visit Missouri--even in the summer. The 70s through the 90s saw Branson become the live entertainment capital of the Midwest. With literally hundreds of live shows weekly, magicians and illusionists came to Branson and set up their acts.
The illusionists Dave and Denise Hamner bought a small theater, featuring a variety of family-friendly and eye-popping magic shows. With Reza's Edge of Illusion, you get a quirky and fun magic show that takes an unconventional spin on traditional tricks. Or explore the humor and magic of Taylor Reed. For the young (or older...we're not judging) magic lover, there's the Magic Shop. Purchase simple to complex magic tricks to feed the inner Houdini.
While Midwest stereotypes may abound, Branson, MO shows that even the most unassuming place can hold unprecedented magic and fun.
PAST Branson Magic Shows
Taylor Hughes

Riverfront Playhouse
399 Silver Dollar City Pkwy
Branson, MO 65616

Join comedy illusionist Taylor Hughes for a wonderful family show that's great for all ages. He's well known for his work as a featured performer on the CW show, "Masters of Illusion". Taylor is known as the "clean magician" and happens to be an all-around nice guy. Be sure to catch this summer show while it is still available.

Kid Magic

Silver Dollar City Opera House
399 Silver Dollar City Pkwy
Branson, MO 65616

Silver Dollar City is a retro-themed amusement park with so much going on, it's hard to know what to do or see. One thing to see though, if you love magic is this young magical brother and sister act. Kadan Bart Rockett and his sister Brooklyn Rockett are the youngest professional magicians anywhere, and they already have tons of experience. They even made it to the semi-finals on America's Got Talent. Join them at the Silver Dollar City Opera House in the summer of 2019 for their kid-centric magic show. A show that all ages, especially the younger crowd, will enjoy.

Brad Ross

Branson's Famous Theatre
645 MO-165
Branson, MO 65616

Brad Ross has performed magic in more countries than we care to count and has been on literally hundreds of international television shows. It is not surprising to find out that he brands himself as an International Star Illusionist. One of Brad's many world tour experiences has been to perform as master illusionist for Disney Live! presents Mickey's Magic Show. He is also the recipient of the Merlin Award (magic's Oscars), for Best International Family Entertainer. Brad brings a boy next door charm and lots of enthusiastic energy to the stage in a show full of participation and family fun. Be sure to keep your eyes out for any future visits to Branson.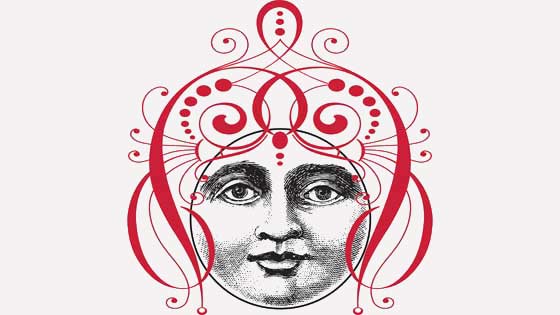 The Magic Oracle is a FREE site but I still must pay dastardly server fees! Please, donate ANY amount... $1, $5, $10, why not $1 million?
THANK YOU for keeping magic alive... and me, a Jolly Genie!
Now Trending...