BEST Pigeon Forge Magic Shows in 2023...

Posted:
Pigeon Forge has some of the best Magic in Tennessee including Eric Dobell, Terry Evanswood, Jason Hudy, and the Winter Carnival of Magic. Pigeon Forge may be a town with just over 6,000 residents but it receives 11 million visitors each year! A series of shrewd business deals and a few roads in just the right places have made it a tourist and entertainment mecca. If you are looking to find magic in Tennessee, look no further than the main street of Pigeon Forge. Enjoy the best magic that Tennessee has to offer.
ALL Pigeon Forge Magic Shows TODAY
Steven Best's Smoky Mountain Theater
157 E Wears Valley Rd, Suite 12
Pigeon Forge, TN 37863

Join this family favorite magic show, Unbelievable Magic, for a truly amazing show and unbelievable award-winning performance. Steven Best is direct from Las Vegas! Your Smoky Mountain vacation is sure to be a magical one when you grab tickets to this marvelous intimate magic show. Come witness one of the best magic shows in the US. The show is bursting with fun for any age! Venture into a truly magical moment in time as Steven Best will amaze you with spectacular magic and amazing illusions, comedy, and music. So come see this Merlin Award winning show, voted Best Family Magic Show in 2022.

Show Duration: 75-minutes.
Food and Drink: Grab a snack or lunch at the nearby eateries, including the Pigeon Forge Deli and the Country Roads Ax Co.
Age Restriction: All ages.
Parking: Free parking at The Shops of Pigeon Forge Shopping Mall


Iris Theater, Gatlinburg
115 Historic Nature Trail
Gatlinburg, TN 37738

Master Mentalist and Magician Erik Dobell presents a night of stunning magic, reality-shattering mind-reading, and hilarious mayhem. An evening of family fun where Impossibilities are brought to life right in front of your eyes. Erik Dobell has traveled from Las Vegas to South Korea performing shows for audiences and companies such as the NFL, Macy's, and Goodyear. Now he brings his critically acclaimed show to the Iris Theater. You do not want to miss the opportunity to be amazed and astounded by one of the best shows in Gatlinburg and Pigeon Forge!

Show Duration: This show is 75 to 90-minutes.
Food and Drink: Food and drink available at the Slice Pizza Bakery, for New York style pizza and Italian fare.
Age Restriction: Family show that is appropriate for all ages.
Parking: Paid parking in any Gatlinburg parking lot or take the Gatlinburg Trolley.


Mountain of Entertainment Theater
2135 Parkway
Pigeon Forge, TN 37863

Pigeon Forge's newest magic show is a MUST see! World class illusionist Jason Hudy presents Illusionation, where illusion and imagination collide in one fabulous and sensational family-friendly show. Jason will have you gasping and laughing out loud all at the same time, while you enjoy state-of-the-art magical effects. For an unforgettable vacation, and a chance to be part of the magic, experience Illusionation.

Show Duration: The Illusionation magic show starts at 3:00 PM. The total show time, including a 15 minute intermission is approximately 2 hours.
Food and Drink: The concession counter is open at 2 PM and offers a variety of refreshments such as hot buttered popcorn, hot dogs, Amish made pretzels, candy bars and much more. In addition, you can quench your thirst with a bottle of water or a selection of Pepsi products. No outside food or drink allowed.
Age Restriction: All ages from 1 to 100!

The Grand Majestic
2330 Parkway
Pigeon Forge, TN 37863

Now performing for his 25th season in the Smoky Mountains, Terry Evanswood brings his award-winning show to the stage at Grand Majestic. Featuring grand scale illusions, classic magic, comedy, sleight of hand, and incredible music and visuals; the show has been named the Best Family Attraction for over a decade. Illusionist Terry Evanswood is the recipient of the Merlin Award for his incredible skill and presentation. No matter how old you are, the art of magic is an escape from reality, a leap into the world of disbelief and a compass to uncharted destinations in your imagination.

Show Duration: 75 minutes.
Food and Drink: Dine-in service (food and drink) available at this performance. The extensive menu allows you to order a-la-carte, or get the dinner add-on ticket. Either way, you can eat at your showroom seating before or during the show. Choices include items like Fish and Chips, Pork BBQ Sandwich, and Nachos. Beer, wine and spirits also available for purchase along with your meal.
Age Restriction: All ages show.
Parking: Free parking in the lot out front.


Doc's Magic Shop
631 Parkway Suit A-11 Baskin Square Mall
Gatlinburg, TN 37738

This family business has been serving up magic for over 40 years in the Pigeon Forge community and beyond. Visit Doc and his family any day of the week, and you will be sure to be treated to some impromptu magic. You are likely to go home a magician yourself, with a bonafied permit to do magic! Take the kids, big and small, and head on over to Doc's Magic Shop. You'll be sure to have some fun.

Show Duration: The shop is open every day of the week from 11am to 9pm.
Age Restriction: Bring the whole family, especially the kids!


Make it Magic
1120 Glades Rd.
Gatlinburg, TN 37738

Established in 1992, this friendly magic shop is a great place to stop with the kids while in Pigeon Forge and the Gatlinburg area. Twinkles and Rick just love to help young magicians grow in their craft by suggesting tricks for their particular skill level. Don't forget to check out the chainsaw sculptures while you are there.

Show Duration: The store is open Monday through Saturday from 10am to 6pm.
Age Restriction: A fun place for the whole family to check out.

Pigeon Forge: A Place of Magic and Wonder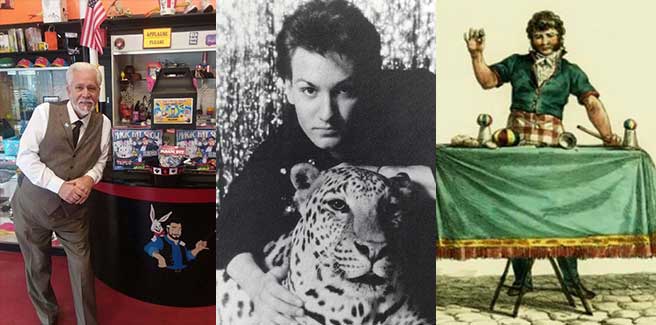 Pigeon Forge seems like a most unlikely place to establish a world-famous entertainment mecca. However, with amazing acts, music, theater, dancing, magic, theme parks and the help of Dolly Parton, it has become a true entertainment contender. Most people probably wonder, how did this happen? The answer to that is magic!
Pigeon Forge was originally Cherokee hunting grounds, with the Cherokee hunters making trails as they traveled. These trails were so good that early settlers used them to move in and set up house much to the Cherokee tribes' chagrin. The usual happened after that. White settlers started farming and building, and members of the native population started to mix it up with the settlers in hopes of them leaving. But like the weird kid who shows up after school and won't go home because your house has better snacks, the settlers didn't leave. The settlers settled, and the Cherokee were constrained to their own area through a series of treaties. Pigeon Forge itself stayed a relatively unknown and largely hard to access mountain town. . . that is until the twentieth century.
In 1961, two visionary brothers, Grover and Harry Robbins, saw a place for entertainment where everyone else saw hills and trees. The Rebel Railroad was the first official attraction in Pigeon Forge. Later changing to the Goldrush Junction, this interactive attraction brought in people from miles around. Seeing Pigeon Forge as a burgeoning entertainment center, soon other entertainers came to set up their acts. And then the magic began.
In 1969, Doc Waddell opened his first magic shop in Gatlinburg, and he and his sons have been encouraging young magicians and spreading the magic ever since. He now owns several magic shops including one at The Island in Pigeon Forge. When a child experiences magic for the first time, becoming a magician sometimes seems to be the only path in life worth living, which is exactly what happened to Doc as a young man. One day a magician was visiting his school, and when that conjurer pulled a coin from behind Doc's ear, it was as if he had been touched with a magic wand and his life changed. A visit to his magic shop has become a tradition for many families visiting Pigeon Forge.
Fast forward to 1985. Pigeon Forge was then a growing entertainment destination with Silver Dollar City and Magic Land competing for customers. The Herschend brothers wanted to obliterate the competition, so they proposed to partner with world famous country music star Dolly Parton to create a whole new park called Dollywood. With the help of the buxom-blond songstress, Dollywood became the crowning achievement of Pigeon Forge. And the acts just kept coming. Soon, the variety and number of shows exploded and magic acts became a prime attraction. The Comedy Barn was one particular place that hosted, and continues to host, multiple shows including fun and amazing magic acts.
Terry Evanswood, revered as the longest-running headliner, is Pigeon Forge's own Houdini. Terry was the youngest magician to perform at the Magic Castle and received a Merlin Award. After performing across the globe, Terry chose Pigeon Forge as the place to set down roots and perform. With his show, The Wonders of Magic, Terry astounds guests with sleight-of-hand, large illusions and escape artistry. He consistently provides fun and amazement with his brand of magic.
As the popularity continued to grow, more and more magicians and illusionists flocked to Pigeon Forge to amaze audiences with their magical craft. From comedy hypnosis to new performers Chris Collins and Erik Dobell, and their magic show Impossibilities, magic and illusion have taken hold in Pigeon Forge. Visitors and customers leave sore from laughing, amazed at the magic, and possibly clucking like a chicken due to being hypnotized in the show. Even the famous Smokey Mountain Opry got in on the magic act more recently with the addition of the show Magic Beyond Belief with illusionist Darren Romeo.
PAST Magic Shows in Pigeon Forge
Steven and Cassandra Best

Memories Theatre
2141 Parkway
Pigeon Forge, TN 37863

Steven and Cassandra bring their show Magic Spectacular to Pigeon Forge every Saturday afternoon for a great matinee experience. This husband and wife team have traveled the world doing magic in over 20 different countries and have headlined in Las Vegas, been seen on various TV shows as well as during NBA halftime shows. There's lots to see from big illusions to sleight of hand, with plenty of audience participation and laughs to boot. This magical family will bring plenty of joy and surprises to you during this family-friendly show.

Jessica Jane

Sweet Fanny Adams Theatre, Gatlinburg
461 Parkway
Gatlinburg, TN 37738

It is not often you see a lone female magician, never mind one who has talent, wit, charm and so much more. Jessica Jane's Magic, Comedy and Variety Show has it all. You will be thrilled with her mind-bending illusions, and love her for making you laugh as well. With over 10,000 shows under her belt, Jessica has perfected her chops and her talent really shines. Her show is for the whole family and is at one of the longest-running theatres in the Smoky Mountains. The "magic princess" of the conjuring world will delight, entertain and have you grinning from ear to ear by the time she is done.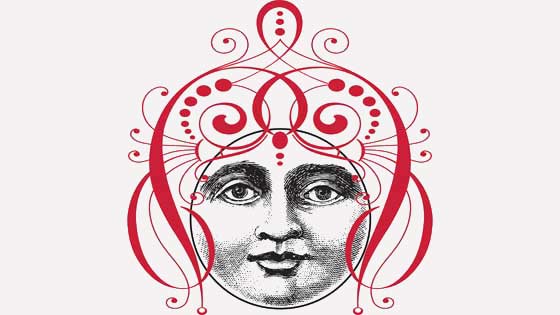 The Magic Oracle is a FREE site but I still must pay dastardly server fees! Please, donate ANY amount... $1, $5, $10, why not $1 million?
THANK YOU for keeping magic alive... and me, a Jolly Genie!
Now Trending...