BEST Pigeon Forge Tennessee Magic Shows 2019
Posted:
Pigeon Forge has some of the best Magic in Tennessee. Pigeon Forge may be a town with just over 6,000 residents but it receives 11 million visitors each year! A series of shrewd business deals and a few roads in just the right places have made it a tourist and entertainment mecca. If you are looking to find magic in Tennessee, look no further than the main street of Pigeon Forge. Enjoy the best magic that Tennessee has to offer.
CURRENT Magic Shows in Pigeon Forge
Country Tonight Theatre
129 Showplace Blvd, Pigeon Forge
TN 37863

This Magic Convention is a great opportunity for those wishing to learn more about magic, as it will feature lecturers, competitions and a dealer room. It is hosted every year by IBM Ring 58. And for magic fans that just like to sit back and enjoy, there will be two evening shows open to the public! You can see the shows even if you don't register for the convention. The shows will be in the modern and comfortable Country Tonight Theatre. The shows will feature a variety of magicians, mentalists and fabulous illusions.

Smoky Mountain Opry
2046 Parkway, Pigeon Forge
TN 37863

Tuesday through Sunday

Derren's show is for the whole family, and is sure to please with a menagerie of exotic animals, wonderful musical tributes and mythic creatures like mermaids and unicorns! Derren's multi-million dollar show Magic Beyond Belief is full of grand illusions and talented performers. Derren was the one and only protege of the famous Vegas magicians Siegfried and Roy and is the only magician allowed to perform Harry Blackstone's magical legacy of the floating light bulb. The show is enhanced by lots of special effects, lights, sound, and lasers.

Wonderworks
100 Music Rd
Pigeon Forge, TN 37863

Various Evenings

Terry's show the Wonders of Magic has been going strong and selling out for many years. Terry's professionalism and talent shine through, whether it be in a grand illusion or simple sleight of hand trick. The audience gets a chance to participate in some of the illusions. The show is not expensive and is great for the whole family. Seats are not reserved, so get there early to get the best seats. Then be sure to stay a little after the show to meet Terry and the performers, and get an autograph and/or photo.
Iris Theater, Gatlinburg
115 Historic Nature Trail
Gatlinburg, TN 37738

Various Evenings

The show is Impossibilities - An Evening of Magic, Mindreading and Mayhem! In it, you will find two wonderful, yet very different magicians doing some great stuff! Magical comedian Chris Collins will have you chuckling, laughing and snorting out loud! He gets silly while Eric gets serious. Eric Dobell will amaze with his mentalist powers and together the two of them will put on a great show for the whole family. While the show is not technically speaking in Pigeon Forge, Gatlinburg is a short 7 miles down the road and has some fun attractions, including this very entertaining magic show.
Pigeon Forge: A Place of Magic and Wonder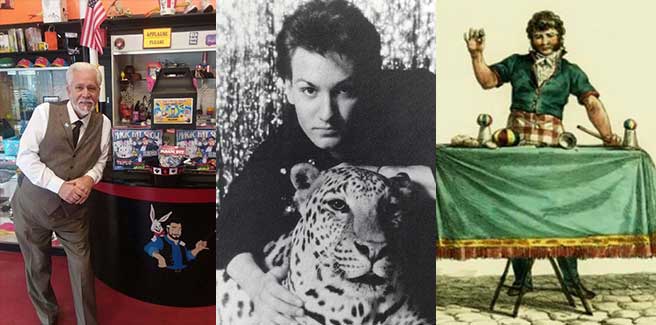 Pigeon Forge seems like a most unlikely place to establish a world-famous entertainment mecca. However, with amazing acts, music, theater, dancing, magic, theme parks and the help of Dolly Parton, it has become a true entertainment contender. Most people probably wonder, how did this happen? The answer to that is magic!
Pigeon Forge was originally Cherokee hunting grounds, with the Cherokee hunters making trails as they traveled. These trails were so good that early settlers used them to move in and set up house much to the Cherokee tribes' chagrin. The usual happened after that. White settlers started farming and building, and members of the native population started to mix it up with the settlers in hopes of them leaving. But like the weird kid who shows up after school and won't go home because your house has better snacks, the settlers didn't leave. The settlers settled, and the Cherokee were constrained to their own area through a series of treaties. Pigeon Forge itself stayed a relatively unknown and largely hard to access mountain town. . . that is until the twentieth century.
In 1961, two visionary brothers, Grover and Harry Robbins, saw a place for entertainment where everyone else saw hills and trees. The Rebel Railroad was the first official attraction in Pigeon Forge. Later changing to the Goldrush Junction, this interactive attraction brought in people from miles around. Seeing Pigeon Forge as a burgeoning entertainment center, soon other entertainers came to set up their acts. And then the magic began.
In 1969, Doc Waddell opened his first magic shop in Gatlinburg, and he and his sons have been encouraging young magicians and spreading the magic ever since. He now owns several magic shops including one at The Island in Pigeon Forge. When a child experiences magic for the first time, becoming a magician sometimes seems to be the only path in life worth living, which is exactly what happened to Doc as a young man. One day a magician was visiting his school, and when that conjurer pulled a coin from behind Doc's ear, it was as if he had been touched with a magic wand and his life changed. A visit to his magic shop has become a tradition for many families visiting Pigeon Forge.
Fast forward to 1985. Pigeon Forge was then a growing entertainment destination with Silver Dollar City and Magic Land competing for customers. The Herschend brothers wanted to obliterate the competition, so they proposed to partner with world famous country music star Dolly Parton to create a whole new park called Dollywood. With the help of the buxom-blond songstress, Dollywood became the crowning achievement of Pigeon Forge. And the acts just kept coming. Soon, the variety and number of shows exploded and magic acts became a prime attraction. The Comedy Barn was one particular place that hosted, and continues to host, multiple shows including fun and amazing magic acts.
Terry Evanswood, revered as the longest-running headliner, is Pigeon Forge's own Houdini. Terry was the youngest magician to perform at the Magic Castle and received a Merlin Award. After performing across the globe, Terry chose Pigeon Forge as the place to set down roots and perform. With his show, The Wonders of Magic, Terry astounds guests with sleight-of-hand, large illusions and escape artistry. He consistently provides fun and amazement with his brand of magic.
As the popularity continued to grow, more and more magicians and illusionists flocked to Pigeon Forge to amaze audiences with their magical craft. From comedy hypnosis to new performers Chris Collins and Erik Dobell, and their magic show Impossibilities, magic and illusion have taken hold in Pigeon Forge. Visitors and customers leave sore from laughing, amazed at the magic, and possibly clucking like a chicken due to being hypnotized in the show. Even the famous Smokey Mountain Opry got in on the magic act more recently with the addition of the show Magic Beyond Belief with illusionist Darren Romeo.
PAST Magic Shows in Pigeon Forge
Steven and Cassandra Best

Memories Theatre
2141 Parkway, Pigeon Forge
TN 37863

Every Saturday Afternoon

Steven and Cassandra bring their show Magic Spectacular to Pigeon Forge every Saturday afternoon for a great matinee experience. This husband and wife team have traveled the world doing magic in over 20 different countries and have headlined in Las Vegas, been seen on various TV shows as well as during NBA halftime shows. There's lots to see from big illusions to sleight of hand, with plenty of audience participation and laughs to boot. This magical family will bring plenty of joy and surprises to you during this family-friendly show.

Jessica Jane

Sweet Fanny Adams Theatre, Gatlinburg
461 Parkway
Gatlinburg, TN 37738

Various Days and Times

It is not often you see a lone female magician, never mind one who has talent, wit, charm and so much more. Jessica Jane's Magic, Comedy and Variety Show has it all. You will be thrilled with her mind-bending illusions, and love her for making you laugh as well. With over 10,000 shows under her belt, Jessica has perfected her chops and her talent really shines. Her show is for the whole family and is at one of the longest-running theatres in the Smoky Mountains. The "magic princess" of the conjuring world will delight, entertain and have you grinning from ear to ear by the time she is done.
The Smokey Mountains are considered a jewel in the crown of Tennessee, with the brightest jewel just a few miles away in a town called Pigeon Forge. This is a city filled with Tennessee magic.
Now Trending...